E.P. REVIEW:
Fifi Rong
Forbidden Desire
9.5/10
Forbidden Desire is available from 29th April 2016:
https://www.amazon.co.uk/gp/product/B01DTRJTSO?ie=UTF8&keywords=fifi%20rong%20forbidden%20desire&qid=1460987345&ref_=sr_1_1&sr=8-1
GENRES:
Hybrid-Electronica
ORIGIN:
London, U.K.
TRACKLISTING:
Forbidden Desire– 9.5
Holy– 9.5
You Hurt Me– 9.5
Forbidden Desire (Turnipbeet Remix) – 9.5
DOWNLOAD:
Forbidden Desire; You Hurt Me
STANDOUT TRACK:
Forbidden Desire
____________________________________
THERE is no denying what choice and variation…
you can discover in music.  If you get bored and tired of mainstream Pop and its limitations- there is no shortage of them- there is something waiting for you.  In my previous review- looking at Lola Coca's latest track, GQ– I stated how many great female artists are emerging.  It is pleasing to see something positive happening in music right now.  Many have stated how music is in a decline and not up to its previous peak.  Maybe things hit their heights around 2002/3:  following from the '90sl there was a residual energy that bled into the 21st century.  Maybe things are not quite as prestigious and wondrous as once was:  that is not to say music is not worth time and energy.  If you keep listening to Radio 1 and 2; you might start to get jaded and defeatist.  The mainstream/nationwide radio stations tend to focus on a particular audience and demographic:  the choice of music leaves a lot of listeners cold; does not push many boundaries.  Take a trip to stations like 6 Music and you see just what a breadth of music is out there.  From underground Indie bands to blistering solo talent:  a full spectrum of wonderful acts and musicians.  It is great to see Fifi Rong back on the scene.  She is an artist who has been in my sights for a while now.  Violently Silently was unleashed at the tail-end of last year.  An E.P. that provides emotion, colour and danger:  a myriad mix of emotions and sounds came together in something primal, raw and beautiful.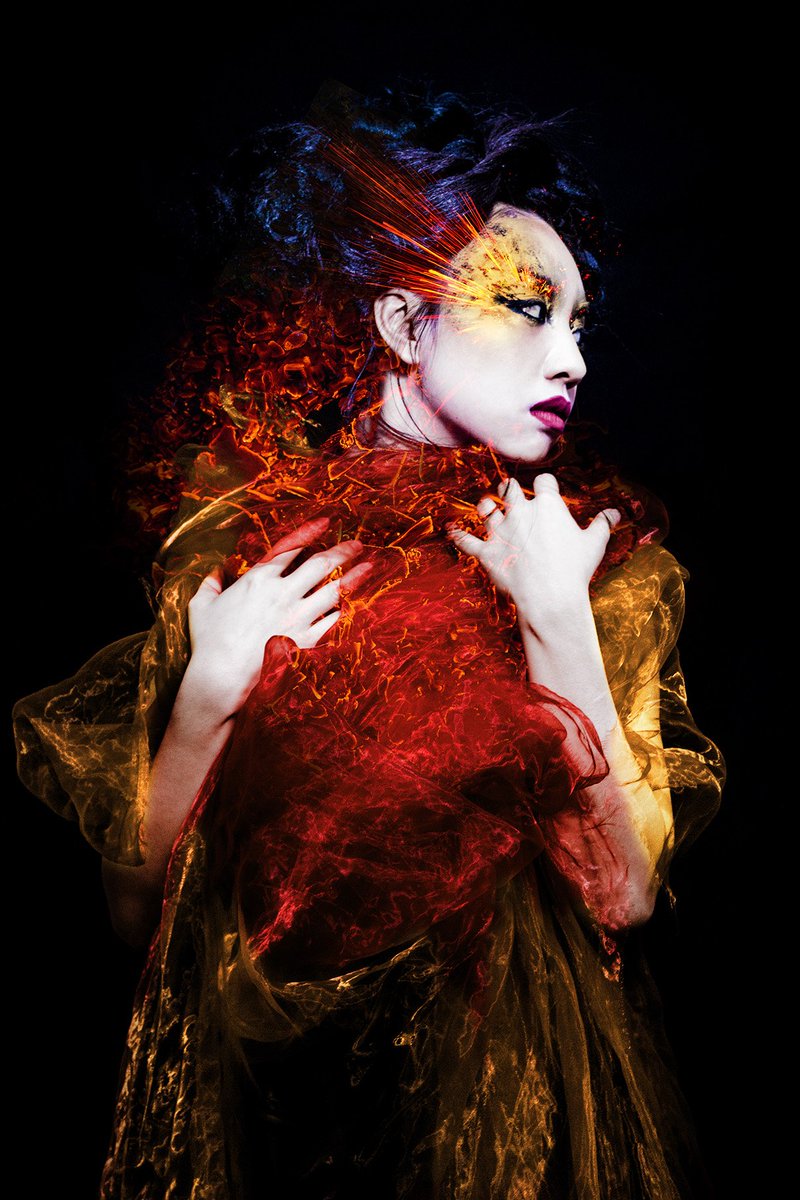 The reception- the E.P. gained from critics- was positive and effusive.  Fans and followers responded with praise and love.  Before I continue my point- and raise another one- let me introduce Fifi Rong to you:
"Fifi Rong is a unique artist and producer based in London.
Eccentric, deep and honest, Fifi brings pure emotional intimacy into her songs with a mesmerizing voice, nuanced with the flair of her Chinese heritage. Fifi incorporates a wide range of genres such as Electronica, Jazz, Dub, Hip Hop, UKG, Soundscape into her production, resulting in a singularly unexpected musical hybrid that draws its beauty from its one-of-a-kind unearthliness.
Fifi has been collaborating with many exciting artists including Tricky, Phaeleh, Skepta and Yello to name a few, and receiving vast support from a stream of blogs and radios including The 405, Clash, Fader Magazine, Hype Magazine, Pigeon and Planes, BBC Radio 1, BBC Radio 1 Extra, BBC Radio 6 Music and so on. She was also nominated as the best Electronic Music Artist and publicly voted into China's Top 10 of most popular new artists of 2014.
Having already established herself internationally as a stand-out live performer, with headline shows throughout the UK, Europe and China/Hong Kong, she released her much-anticipated new EP 'Violently Silently' in December 2015. Fifi's new EP Forbidden Desire will be released on 29 April 2016 with a special launch show scheduled for 28 April 2016 at O2 Academy Islington in London".
In spite of Violently Silently's progress and quality:  Rong viewed it as below her personal best.  Proud of what she had achieved:  there was the feeling that the best work was yet to come.  That new work arrives in the form of Forbidden Desire.  Whereas her previous E.P. (and its title) encouraged images of contradictions and self-discovery:  the follow-up has passion, lust and dangers at its heart.  Hybrid-Electronica is a genre that Fifi Rong fits perfectly into.  Here is a passionate and committed artist who has a lot of emotion and ideas inside her.  Were she restricted to Pop and Folk boundaries; one wonders whether she would exist as a musician.  It is all well and good playing these genres- there some exceptional artists to be found- yet Electronica provides a canvas for some of music's bravest and boldest.  Rong releases Forbidden Desire in six days and will give the world a chance to see how she has evolved and developed.  Ensconcing herself away from the noise of the outside world:  Rong immersed herself in silence to create the E.P.  With an album in-the-works; this is a statement that provides a window into what's to come.  It will be exciting to see where Rong goes after Forbidden Desire's release.  There is talk of an album and that will be wonderful to witness.  One of the most celebrated and exciting artists out of the capital:  no wonder the likes of Radio 1 and Clash have featured her music.  Everything about the heroine is striking and unforgettable.  In the flesh, you are captivated by the unique fashion and make-up.  Blending her Asian heritage with a bespoke sense of identity:  you get colour and contours; eye-catching clothing and something mystical.  Delve deeper into Fifi Rong and the music takes you even deeper.  A captivating voice is just one of the weapons at her disposal.  I feel there is a general move away from Folk and Pop artists- the like that are championed by the mainstream press- and towards more unique and edgy musicians.  Given the year that has unfolded- the passing of some musical giants- a new breed is emerging.  If music is to recapture its flame- and reach the heights of the past- we need to start breaking out of moulds and being more adventurous.  Too many listeners are selective and limited when it comes to finding music.  2016 has been a bit of a strange one.  While some of music's greats have left us:  new music has shown a marked improvement.  I hope this growth continues unabated:  we need a bit of a refurbishment and overhaul.  For now- and whether that sticky issue will ever be resolved- we should protect and foster those who deserve it.  Fifi Rong is one of those musicians who dedicates her life to the craft.  Every song resonates with nuanced flair and intricate details:  burning passions and total command.
Wrong was released in 2013 and is a 15-track creation that announced Fifi Rong with a bang.  Containing a wonderful blend of Jazz, Electronica; Trip-Hop and Folk (with so much more thrown in there)  Being one of her earliest works:  you might think there would be some nerves and weaker moments.  Surprisingly, not only does everything hold together and gel beautifully:  Wrong sounds completely effortless in every genre.  Next Pursuit was released in 2014 and was a more honed- six tracks here- and greater confidence.  The production values were reliably glossy and atmospheric- not too shiny; allowing room to breathe- whilst the songwriting hit new peaks.  Themes of broken love and hopeless desire were being explored in more detail.  By the time Violently Silently was unveiled (last year); Rong was even-more concentrated and committed.  Again, love was explored but with a  more haunted and unsettling set of lyrics.  The earliest work explored relations and discovery but had some light at heart.  Although Silently Violently's compositions contained range and contrasts:  the lyrics stemmed from a mind overcome with anger and uncertainty.  Forbidden Desire sees the heroine evolve and present her most accomplished and assured set of songs.  The compositions contain a reliable inventiveness and flair; the nuance is all present and correct- the vocals dependably sturdy and emotive.  What we get- on the new E.P.- is the linking of past and present.  Elements of Wrong and Over You (her 2013 single) fuse with Violently Silently electricity and darkness.  That contrast of light and dark; emotive and defiant:  all coalesces in a wonderfully rich and vibrant E.P.
Forbidden Desire begins with bubbling beats and a real immediacy.  Things get underway right off the bat:  the listener is involved and gripped.  The song looks at a particular subject in our heroine's mind.  Whether a current sweetheart or lusted-for hero- you are never quite sure.  What you do get is an immense amount of emotion, passion and shiver.  The vocals do not so much strike:  they seduce, whisper and slur.  Rong is at her most affected and dreamy:  one of her most awed and affecting vocals to date.  Even though it can be hard deciphering some of the lyrics- mixed down a little low inside the composition- you get caught and captured by the stunning sound.  The composition dips and rises:  little electronic beeps and thudding beats unite in a fury of movement and emotion.  As the lyrics unfold- and you get more involved in the story- you wonder whether Forbidden Desire is strictly about a particular bond.  Maybe a metaphor for the desires of life and music- passions of Rong- you start to wonder and imagine.  The song's title is delivered with incredible lustre and breathlessness.  With every piece of the puzzle- stark images and dreamy scenes- you start to conspire.  Part of my brain was committed to that husky and alluring vocal- that seems entranced and deep in a state of desire- whilst the composition continues to spark and ignite.  The chorus is one of the most memorable and catchy Rong has ever created.  The desire that runs deep and wide- whether towards a man or something taboo- is delivered like a mantra.  You can tell l how much this song means to Fifi Rong.  Being the title track; it is essential it makes an impression and represents what the E.P. will contain.  As lead-off songs go, it is a stunner that will bring in the new listener and keep her existing fanbase very happy.  Combining elements of Lana Del Rey- especially the vocal sound- it has a very current and contemporary vibe.  Although Rong has a great love of past music:  her sounds are ostensively ultra-modern and contemporary.  From the hard-hitting, burbling electronics; to the stunning production values- a song that could sit on any radio station.  Not just a revelation upon first listen:  Forbidden Desire grows stronger and more astonishing with every new spin.  I know Fifi Rong wanted to change her sound after Violently Silently:  explore new ground and cover new themes.  Gone are the accusations, anger and torment:  here, there is something more optimistic, redemptive and hopeful.  There is still pain at her heart- anyone who feels that much love and passion will hurt to a point- but the music is less suffocating and intense.  The openness and lack of repression lead to a more natural and effective performance.  It seems (some men) want to lie- whilst others just pass on by- and you always wonder what inspired the song.  Maybe the dissolution of love- a previous bond that has gone sour- sees Rong reflect and look around her.  Whatever the true catalyst for Forbidden Desire:  it kicks the E.P. with a real sense of authority and drama.
   Holy starts life with a lot of tenderness and tremulous desire.  Like Forbidden Desire:  there is that blend of heartache and hope; longing and reflection.  Our heroine is here to learn and teach; discover and play.  The coquettishness and kitten-like delivery prove what a unique force Rong is.  Once more- and perhaps an unavoidable issue- is the decipherability of the vocals.  Being so entranced and immersed (in the weight of the song) it can be quite hard to capture certain lyrics and ideas.  When the E.P. is officially released- and available on BandCamp– there will be accompanying lyrics- and a chance to cast new light on the songs.  It does not seem to matter- the clarity issues- as the effect of the song is fantastic.  Every Fifi Rong E.P./record shows new aims and stories; new emotions being revealed and fresh desires explored.  Holy is filled with contradictions and honesty.  Our girl has been strong and weak; she walks alone and wants to be set free.  A lyrics sheet will give full clarity, but early investigation is spent falling for another stunning vocal performance.  Holy is quite a sensuous and tender track.  Violently Silently had plenty of rush, explosion and fire.  Here- and across the E.P. – there is a move to something more scenic, restrained and tender.  Like Bjork- an artist that comes to mind when looking at Rong- every record has a new sound and sensation.  With the heroine's heart beating on- you start to put yourself directly into the song- the beats scuttle and tease; the electronics sway and breeze.  A song about discovery, soul-searching and dreaming- one of the most affecting songs across the E.P.- it sees Fifi Rong in a new state of mind.  Having experienced new events and feelings since her last work:  all these are brought into the music.  Maybe the anger and mordant reflection has gone:  it has been replaced by something almost spiritual and thoughtful.  Of course; Holy (and Forbidden Desire) explore dark themes and deep concerns:  the abiding feel is of light and hope; something primal and naked.  The composition- across Holy and the entire E.P.- is light and aerated whilst packing plenty of power and nuance.  Rong's voice is the star of the show and floats over the horizon.  Previous Fifi Rong records have put the focus on composition and sounds:  here, there is more concentration on vocals and lyrics.  With that being said, Rong injects enough colour and layers into her compositions.  Fizzing, rattling electronics sizzle inside sturdy percussion:  there are plenty of subtle details that go into a wonderful song.
You Hurt Me is perhaps Forbidden Desire's most overt and pained song.  Beginning with a degree of eeriness- fragmented vocals and finger-click percussion- it is a dizzying and entranced beginning.  Echoey vocals and ethereal chills lead to a sudden rush:  our heroine comes to the microphone and has a lot on her mind.  Having been hurt and disappointed; she is keen to let that fact be known.  It seems she will "never be the same" again.  That simple idea- being heartbroken- is repeated and built.  With every delivery you sense the tears flowing; the body is broken and aghast.  Few lyrics go into the song- it is built around codas and repeated lines- whilst the vocal is one of the clearest and most concise on the E.P.  Uniting some of her earliest sounds- together with shades of Violently Silently– this is Fifi Rong at her most engaging and urgent.  The E.P.'s most bracing and unsettled track:  our heroine has been scarred and trying to make sense of things.  Whereas the previous tracks had some light and hope in the lyrics- earthiness in the composition- here there is a contrast shift.  The foreground is a lot more suffocated and dark; the composition has anxiety and neon-lights-danger- a marked contrast that proves what depth and range Forbidden Desire has.  "You break me" is one of the starkest messages across Forbidden Desire.  Lesser musicians would throw vitriol and anger into a similar-themed song.  Rong does not get overcharged or too emotional.  Instead; there is  deliriousness and disquiet that makes her lyrics even-more-effective and memorable.  Past the half-way mark; the song gets more endangered and harassed.  The beats tighten whilst the electronics grow in stature and menace.  Everything gets darker and more shadowy.  By the closing moments, that sense of walls-closing-in does not abate.  Our heroine gets more lost in the mix:  her head is spinning and her heart is pulsating.  You are drawn into a troubled mind that is struggling to overthrow painful memories.
The Turnipbeet Remix of Forbidden Desire closes the E.P.:  giving new spin and light to the title track.  Instilling more clarity and concision into the song- the vocal and lyrics are clearer and more resonant- it ends Forbidden Desire with an impressive bang.  Here, the beats and electronics are sharper and more exciting.  There is more energy and dance; a swagger and coolness- that was absent from the original- which brings new perspective and spin into the song.  It is a perfect way to close a wonderful E.P.  Turnipbeet has shown faith and love for the title cut.  The interpretation and remix not only keeps the song's cores faithful and unchanged:  new beauty and passion is unearthed; Rong's soul seems more exposed and raw.  Congratulations must be given to Rong who has created a hugely impressive and memorable E.P.  Each track plays with different emotions.  From the lustful-cum-mysterious opening; through to the floating, spiritual sophomore cut; then the haunted and harrowed third track- ending with a beautifully reimagined take on the title.  Rong is at her peak as a singer:  she explores new territory and shows her full range.  Whereas previous releases have relied on one facet of her voice (or a few): here, every side is uncovered and brought sumptuously to life.  The compositions- compared to Silently Violently– are less abrasive and direct.  That is not to say there are fewer experimentations and innovation.  Rong is more subtle and assured on Forbidden Desire.  Not only does she bring in her previous sounds- the multicoloured electronics and myriad emotions- but introduces romance, soulfulness and lustfulness into the palette.  The overall effect is both unsettling and enriching.  Every song will make an impression and provoke the listener into reflection and contemplation.  Like all great records:  you have to keep playing it to get the bottom of everything.
I was a big fan of Violently Silently– even if its author felt she could top it- but Forbidden Desire is a step-up and topper.  It builds on Violently Silently's magic and mystery and adds new layers.  Fans of Rong's early/previous work will find much to love.  She has not created a huge departure, here:  instead, you have a record that has enormous consistency, nuance, and depth.  Forbidden Desire's title track is available and creating quite a buzz.  On April 28th, Rong will premiere her E.P. at O2 Acdemy2, Islington.  If you are in the vicinity, I advise you come along and check out that show.  There is still a sadness and anxiety that lingers in the world.  Following the deaths of David Bowie and Prince- alongside Lemmy for that matter- we realise how fragile and unpredictable life can be.  Those massive events have made us all feel a bit lonelier and empty.  If anything, the world has come together and shown how much (the music of those artists) truly meant.  Music will never stop inspiring and aiming to change the world.  The very best artists of our time have inspired legions of followers and youngsters to put pen to paper and enter the music world.  Given enough time; music will start to hone and focus.  At the moment; there are waves of artists and variable quality.  It is tricky deciphering the good from the bad:  finding treasure is a massive reward.  Fifi Rong is a musician that will never disappoint fans and lovers of great music.  Even in his earliest days; you could hear that desire and ambition.  Each new record marks an increase in confidence and quality.  Violently Silently was a firecracker release that captured many hearts and mind.  The depths within each song- beautiful details and repeatability- resonated with fans and brought in new ones.  Forbidden Desire's title track has been dropped and sees our heroine up her game and truly encapsulate herself in music.
Brushing the distractions of the world aside- and being locked-down and focused- you can hear the concentration and intensity in the record.  Not only do you get raw passion and energy:  there is beauty and tenderness underneath that beating (drum) heart.  I am not sure when Rong is putting her album out- or, indeed, which tracks will feature- but it is likely to include some of her past maneuvers.  I am excited to follow the career of one of music's most fearless and dependable artists.  There is a lot of love for Electronica/Electro.-Pop right now.  Take the time to listen to the lead from Forbidden Desire.  Once you immersed yourself in that gem:  anticipate the release of the E.P.  It is hard to really select that 'best track'- they all carry a similar weight- but the title cut would be my choice.  In reality, every listener will adore a different track:  there are so many variations and nuance to be discovered.  After the initial listen- sure in my assumptions and experience- I went back in to see if there's anything I missed.  Like all great music:  each new listen uncovers something; certain songs stand out and come into their own.  I can tell how much time and energy Fifi Rong has put into Forbidden Desire.  I am sure the E.P. will gain a lot of great reviews and fervent fan feedback.  From there, where does she go?  The question and speculation surrounding an album will always be there- followers are excited to see what a Fifi Rong L.P. will contain.  Until that day arrives; we have another stunning E.P. in our midst.  Forbidden Desire might be the finest thing she has created- no small praise when you look at her past work- and you feel an even-better record might be in the future.  If you are one of those listeners that is fearful of change- stuck in the comfort zone- I urge you to show some bravery and embrace something new.  Fifi Rong is one of those musicians that makes music for everyone:  she never excludes anyone; always drags people right inside the music.  For those nervous and unsure.  The water is very inviting:  make sure you…
TAKE the leap.
_____________________________________
Follow Fifi Rong
Official:
Facebook:
https://www.facebook.com/fifirongmusic/
Twitter:
Instagram:
https://www.instagram.com/fifirong/
________________________________
Music