TRACK REVIEW:
Racing Glaciers
 
Patient Man
9.5/10
Patient Man is available at:
RELEASED:
13th July 2016
GENRES:
Alternative-Rock
ORIGIN:
Macclesfield, U.K.
The album Caught in the Strange can be pre-ordered here:
https://itunes.apple.com/gb/album/caught-in-the-strange/id1124154958?app=itunes&ign-mpt=uo%3D4
RELEASE DATE:
August 5th 2016
____________________________________
EVERY time a new band arrives to my ears…
it allows me the chance to discover a new part of the world- where the act hail from and the local artists that inspire them. A lot of my time has been focused on London lately. My featured act (who I shall come to soon) is an arresting band that is setting themselves up to become one of the scene's most intriguing forces. Before then, I wanted to look at musicians in the North West of England; the importance of momentum and people sharing music; Alternative-Rock and its finest players. Let's consider the North West of England that has, in the past few decades, been overthrown by London (and other areas) when it comes to music hegemony. In the '60s, the likes of The Beatles made Liverpool synonymous: Manchester enjoyed an explosion throughout the '80s and '90s. Manchester is still creating a lot of brilliant acts but, to my ears, London is leading the charge for new music. I love discovering a stunning band; my mind has been obsessed with solo artists lately so it is good to refocus my attentions. The North West has shared quite a few treasures across the decades. From Oasis and The Beatles to The Hollies and Echo & the Bunnymen- the list goes on and on. I have been thinking about the reasons why North West England has so many great bands. Perhaps The Beatles and The Hollies started the ball rolling. So many subsequent bands were inspired by them; the legacy and influence hit hard and it has created a sort of chain reaction. What I find, that differs from London, is the community and openness of the people. There is such a warm and supportive vibe (not from everyone) that makes cities like Liverpool and Manchester great places to create music. The rise and proliferation of venues and local radio stations have made it easier and more accessible for young bands. It is the heritage and history that still creates the biggest impact.
Whereas The Beatles inspired Oasis; they have motivated a generation of fresh acts to get together and make music. The same is true of The Smiths and The Stone Roses made a gigantic statement in the '80s (The Stone Roses in the '90s, too) and I can hear their sounds in many young bands today. Current Manchester crop Whyte Horses, Spring King and Man Made are bands we should keep our eyes out for- Horsebeach, TVAM and PINS should be added alongside them. Perhaps Blossoms are the most notable Manchester bands of the moment- they release their debut album next week. My point remains: the North West should never be overlooked or underestimated. So many of us, me included, put so much stock in London and the music coming from there- at the expense of areas like Manchester and Liverpool. Racing Glaciers were formed in Macclesfield, which is to an extent, not steeped in classic bands and musicians.
Macclesfield is about 40 miles south of Manchester; 44-and-a-bit miles from Liverpool. Racing Glaciers are going to be conquering the world soon enough, but for now, they are happy where they are. The boys have released three E.P.s and gained plaudit and support from some hugely influential stations and figures. Before I carry on, let me introduce the band to you:
"Racing Glaciers return with another stellar new single 'Patient Man' this July, out just ahead of their debut album 'Caught In The Strange', released through Killing Moon on August 5th.
With well over 2million Soundcloud plays on just their first few tracks, Racing Glaciers quickly burst on to the scene with their track 'First Light', which featured on the Transformers 4: Age of Extinction movie and won the band widespread support from BBC Radio 1 and BBC 6Music DJ's including Annie Mac, Huw Stephens, Greg James, Fearne Cotton and Steve Lamacq.
The band have since performed lauded shows at the BBC Radio 1 Big Weekend, Liverpool Sound City, The Great Escape Festival, Secret Garden Party, London Calling in Amsterdam, Berlin Music Week, Y Not Festival, Wakestock and Beacons, as well as a mammoth 35-date headline UK tour late last year.
The new single 'Patient Man' is another exciting glimmer of what is to come from Racing Glaciers' debut album release, 'Caught In The Strange', and pulls together all that is great about the 5-piece from Macclesfield, as gloriously cinematic, inventive and essential as we need right now.
Racing Glaciers debut album 'Caught In The Strange' is released through Killing Moon on August 5th 2016. 'Patient Man' is available from all good digital stores now, or available free – along with the singles 'Seems Like A Good Time' and 'Samadhi (So Far Away') – with exclusive album pre-orders".
Few bands have achieved as much (in a short time) as Racing Glaciers. Just look at their biography and you can tell how much their music is resonating. Caught in the Strange will arrive soon and its current single, Patient Man, has been lauded and congratulated by reviews and D.J.s. Social media is such a powerful force; many of us are ignorant and ignore the importance of it. When we see a great musician or band come through: how often are we likely to share their songs or promote them? I see artists with thousands of followers and how fee actually get involved and share the music. Even if you 'like' a song or retweet a status update: it makes a difference and can reach some very important people. If you follow a band, it stands to reason you will be invested in what they have to say. Why see an update about a great new song and simply let it go by? I feel we are becoming naïve and lazy; too keen to support an artist and be very casual with our patronage. New musicians, more than ever, need backing and kindness from their fans. Racing Glaciers have got where they are for a few reasons. Of course, the music itself is tremendous and fresh: among the most original and urgent I have heard in a long time. I know their fans are very loyal and many have shared the music and proffered their craft- ensured people get buzzing and chatting about the boys. You cannot discount the relevance and importance of Facebook and Twitter. If you are passionate and excited about a musician, then you have an (unwritten and unspoken) obligation to do more than simply listen. If we do not make efforts to promulgate the finest out there; music is going to suffer and many terrific artists are likely to call time. I know of many bands that have called it quits due to lack of relevant support and love.
Racing Glaciers are on a roll now and are enjoying critical acclaim and heady promotional duties. Enjoying some incredible festival slots and making their name knows to the likes of B.B.C. 6 Music: the future looks very rosy for the lads. It always warms my heart when I discover bands that have such plaudit and backing behind them. Racing Glaciers are likely to grow larger and more successful as time elapses. Over the last four years, they have come from modest foundations to become one of this country's most-talked about propositions.  Of course, the Macclesfield crew is savvy and has not just relied on fan generosity and social media. They have set up their stall wonderfully: social media pages present; music easy to find across SoundCloud, BandCamp and YouTube; they keep themselves busy, no doubt. Aside from the organisation skills and intelligence; the guys' music redefines Alternative-Rock. I have become somewhat disenchanted by the genre over the last few months. Every time I see a band described as 'Alternative-Rock'; I approach the task with trepidation and weariness. So often I hear a group and within a few seconds recognise the song: it is simply a retread of another artist. Rock and Alternative are areas that have so much promise and room for maneuver. Pup, Wild Nothing and Chairlift are a trio of bands that mix Indie, Alternative and Rock together: making sure cross-pollination and mobility define their music. My problem is too many bands are rigid and unbending when they create songs. Maybe obsessed by their favourite bands: they are reluctant to do anything inventive, new and unexpected. As a result, Alternative Rock has gained an (unfair) reputation among some critics as being lackluster and tired. It is possible to craft crowd-pleasing, classic-sounding songs and do so with verve, uniqueness, and nuance. Racing Glaciers have suggestions of older acts but, by and large, are completely separate and stand-out; they owe a debt to nobody and have given spark and life to Alternative-Rock. Caught in the Strange is out on Friday and will demonstrate what a proposition they are. Stations and critics are liable to pick the album up and promote it readily; give it great reviews and enjoy people know about it.
Caught in the Strange is the first full-length release from the band. Patient Man is a tremendous single that gets into the heart and has an addictive quality to it. Racing Glacier's current work is, in my view, their best to date and sees them build on early promise and really strike. The eponymous debut E.P. came out in 2012 and picked up some impassioned reviews and admirers. Songs like South begin with far-off, dreamy vocals and rush off the blocks. "I can tie my shoes/I can wash you too" are words that are hard to forget. Our hero hears a ghost in the house; he is returning to the "burning south". As you get caught in the pace of the vocal and the beautiful composition- merry, jubilant horn blasts sit with rampant percussion- those lyrics intrigue and compel the senses. It is impossible not to picture scenes and interpret the meaning. Vivid, picturesque and romantic: South is a terrific song that defines the E.P. and the band. Talking About Space begins with more punch and clout (than South) and promises something epic. Before long, calmer, reflective guitars sit with brass and soothe the listener. Perhaps detailing a sweetheart or lonesome heroine: our lead poses questions and wonders whether she could cope on her own. The song's title gets you thinking about cosmic possibilities although the words seem directly to apply to love. Soft, teasing and nimble at once; energrised, rousing and spirited the next: a song that has plenty of atmosphere, layer and detail. An exceptional band performance makes the track (one of the E.P.'s) finest creations. Little River closes Racing Glaciers and gives us Led Zeppelin III-esque patrol acoustics to start. Seduced by the tumbling beats and feet-moving drive of the song: another song that details romance and desire. Little River seems to be the name given to the girl (a sobriquet perhaps) but could also apply to nature itself- embracing the outside world to the full. Waves crash and the water rushes: the duo are not alone and are surrounded by the natural world. A terrific, singalong track that ends the E.P. with a bold statement.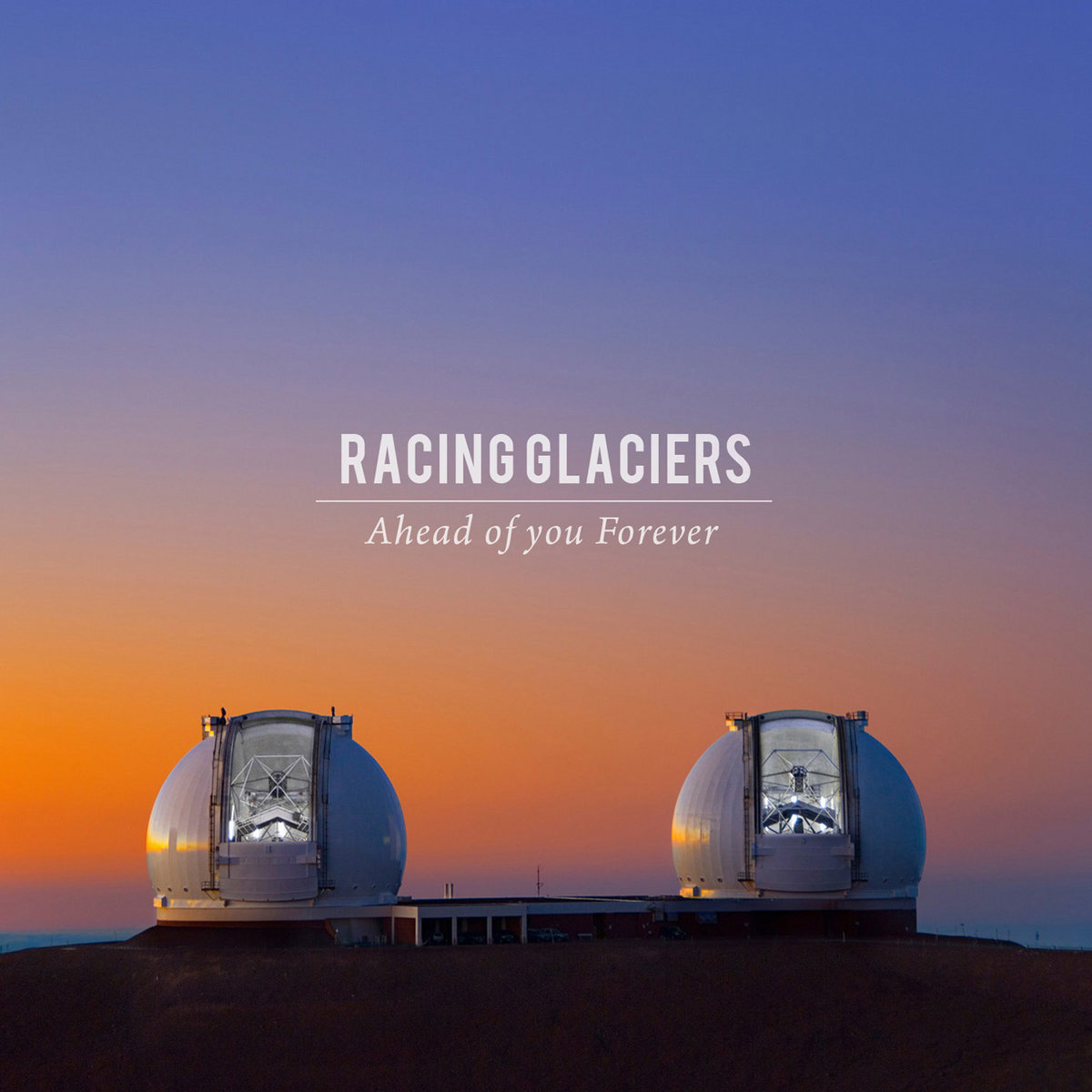 Ahead of You Forever was released in 2014 and saw the band increase in scope and confidence. The opening (title) track is a lush and evocative piece that is riparian, tender and gorgeous. The acoustic strings open up to proud and noble horns. Expansive, delirious and swooning: there is a gracefulness and emotion to the composition. It is impossible not to get swept up and let your mind wander freely. Reminding me of Pink Floyd in their early days: it has elements of '60s-'70s Psychedelic-Rock. New Country follows on from the opener- without pause at all- and sees the group at their lyrical finest- "Cold winged daughter/shaking in the morning sun". Our hero has been sitting on his hands too long and coasting: now is the time to get up and do something- "Silver girl. We're sailing on now". Like their debut, there is a geographical and physical element to the song. A lot of Racing Glacier's songs look at places, movement, and relocation. New Country refers to the east; previous songs have alluded to the south- the band is keen to immerse the listener in something physical, otherworldly and personal. The Falls enforces this and sees the lead escaping from home and trouble brewing; embracing a girl who is a "perfect failure"- he, as he admits, is a "freak, I'm a loner". It is an odd, if balanced, love that is replete with aching vocals and an incredible band performance.
Every release and move see Racing Glaciers grow in confidence and stature. Ahead of You Forever was a progression from Racing Glaciers and contained more memorability, nuance, and colour. The band had started brightly but really hit their stride here: a remarkable E.P. filled with wonderful stories, emotions, and festival-ready songs. Now, in 2016, the boys have released Patient Man: a song that naturally fits into their back catalogue but takes another step forward. It is hard to truly define but (Patient Man) has that extra spark and layer; the performance is tight and brilliant; the vocal more passionate and soulful- Racing Glaciers evolving and progressing another step. This all hangs well for their L.P. which is liable to contain that same brilliance, consistency, and improvement. Existing fans will be pleased to find little has changed with regards their established, solid sound. What has changed is the quality and brilliance. Previous outings have been met with applause; critics and fans are likely to love their latest material and find much to recommend. Bands that build and grow between records are a rarity. You either get groups that start promising and then start to weaken or hit their peak many years down the line. Racing Glaciers sound at their most assured and contented right now. Caught in the Strange is going to be an album that highlights one of the most astonishing and unique bands in the country.
Patient Man is the lead single from Caught in the Strange and is very much business-as-usual for the group. Right from the gates, you are settled and pleased: there is no such thing as a disappointing Racing Glaciers song. Suitable to their name; the initial offerings have glacial strings and a sense of energy. Folk-tinged acoustics give the song beauty and stillness; underlying it, you have plenty of energy and blood-rush. "Look so happy with your hands behind your back" are the first words; not ones you'd expect. Given the compositional nature; one might predict something more romantic and traditional. Those early words get the mind working and imagining; one thinks of someone casually standing or relaxing- further revelation provides something darker ("Where we tied them up"). Maybe sinister or not as one imagines: the song's subject "looks so good" laying on the table. Many might think of something deathly (somebody still and unmoving) or perhaps something less negative- perhaps with sexual overtones. That is the beauty and fascination of those words: the truth is not instantly revealed which means anyone can guess as to the origins. Racing Glaciers always make you smile with their music with all their songs. I have mentioned Racing Glaciers being Alternative-Rock but here, like many of their songs, there are more suggestions of Folk. Patient Man delineates its words to ensure maximum emotional resonance; the listener has the chance to drink it all in and immerse yourself in the picture. Our hero is patient and is keeping his emotions in check.
Constantly looking for revelation and truth: those lyrics still burn in the brain and get me wondering. Images of bondage or submission are inevitable but the composition and vocal restraint take your thoughts somewhere pure. Before too long, the song kicks up a notch and things get tenser and grittier. Whoever the heroine is; she is being given a bit of short shrift. The little pills she used to take- whether medicinal, hallucinogenic or suppressing- are being prescribed by our man. Maybe words of cruelty or causal annoyance: that initial patience is fading and the story gets more exciting and dark.  Patient Man is the band's biggest topographical shift. Their previous material has looked at more optimistic and itinerant themes. Here, they transpose their ethics and create something closed-in and nervy; a black drama that looks at a capture-hostage-like situation. The girl/heroine is being let outside (just for an hour) and has been advised not to try anything- maybe she will run and evade the scene. It is at this point you realise the band has subsumed a very unsettling tone into the song. Perhaps not as clear-cut as one would imagine: again, it is impossible not to raise a sly smile. Words are never delivered with forceful malevolence or aggression: there is a playfulness and sense of detachment to be heard. "They don't understand" are ironic words considering the next verse: the heroine is rolling on the floor as our man considered using a tranquiliser.
Maybe intended for comedy or sarcasm: it is a very tense atmosphere that is offset with a light and (almost romantic) presentation. We get plenty of detail about the shackled girl and the waning patience; no explanation as to the situation and back-story. This leaves the listener to come to their conclusions and speculate. Perhaps the relationship has been going a while and the girl has taken a lot: the lead has reached his tether and been as stoical as he can. One cannot take Patient Man to be a violent and cold song; throughout every stage, you smile at the exaggeration and ludicrous nature of the song- maybe not what the band intended but the fact remains. If there is some brainwashing and conditioning (the girl looking so good doing "what we taught you") the fascination levels increase and the song becomes more filmic. Rather than attacking strings and funereal organs; we have a loose and relatable composition that will not put the listener off. More than that; Patient Man is the best song I have heard from Racing Glaciers.
The closing moments see the mantra ("They don't understand") repeated and becoming more appealing and hypnotic with every cycle. I can see crowds and festival-goers unified, shouting those words: perhaps ignoring the severity and true meanings behind the words. As hooked as I was by the sentence; the 'we' part of "what we taught you" gets into the mind. Who are these other people? Again, you feel like a gang or cult is being ascribed- such an unusual basis for a song but something that you cannot forget. Vocals get layered, choral and rousing; the composition remains light but adds plenty of emotion and story- the song reaches its peak and you are caught in an odd Stockholm Syndrome. From disquieting and unusual beginnings: by the end, you are on the hero's side and submitted to the catchiness and sway of the song. No matter what your impressions of the song's origins- something troubled and dark; more oblique and fictional- Patient Man is the most complete and authoritative song from the Macclesfield band. Differing from their early work- that looks at escape, romance, and nature- we have something left-field and against-the-grain. If that reflects the direction of the album (might be a red herring) it will be interesting to see.
I started this review by looking at bands of North West England and how Alternative-Rock is on shaky ground. If you link the two together- consider the classic bands of the '80s and '90s- there is no real evidence to suggest a huge about-face will occur. London might have the critical ear (and lead the charge of new artists) but the North West has always been a vital, historical part of the U.K. It is not just Manchester and Liverpool that is throwing terrific artists our way. Macclesfield, as we have seen, has quite a few; Wigan is pretty fertile with regards great music- the same can be said for Lancaster. Rock and Alternative are two of my favourite genres and feature heavily in my record collection. Lately, I have been more interested in Electronic music and Pop; getting more involved with Folk and Grunge. It is those culpable, tepid bands that have caused this abandonment. So many new acts are fans of Queens of the Stone Age, Foo Fighters, and Oasis; they do not make any effort to differentiate themselves and just duplicate their idols. Worse than that, there are so many groups that are plain boring, formulaic and stuffy. Those that stick in the mind and campaign for years are those that have their own mind and way of working. You do not need to be defined and one-dimensional when playing Alternative-Rock. Lyrically, musically and vocally; there are so many options and possibilities. Viola Beach are probably the best example of what I am trying to say.
The Warrington band gained a reputation throughout 2015 and started to get some great gigs under their belt. Not consciously influenced by anyone- they count The Coral and Hooton Tennis Club among their favourites- they were taken from us far too soon. After playing Where's the Music? Festival in Sweden; the boys were involved in a fatal car crash. It was a tragic event for two different reasons. For one, they were a young band that were enjoying life and working hard to make a name for themselves. In another sense, you should hear the music they left behind. Their debut album (a collection of songs they were planning to release in the future) shows the group had a huge future ahead. Their basis was Rock but they incorporated Pop and Indie into the pot to produce something affirmative, happy and visceral. So few bands possess their sense of optimism and wonder- few argue we may never see their like again. What Viola Beach left behind was a very clear message to their contemporaries: you can get into people's hearts readily by taking time to work on your music and create something new. The imperious, riff-obsessed bands- concerned with introversion and woe-is-me songs- should take note and learn from the Warrington heroes.
I shall step away from such sad remembrance, but Viola Beach's memory will live on and inspire. Racing Glaciers remind me a lot of Viola Beach. The way they approach music and connect with fans- both happy-go-lucky bands that connect with the audience- it is the quality and originality of the music that defines them both. Patient Man is a stunning song that shows just what their album will provide. The band market is such a varied and unpredictable thing. There are some wonderful acts playing but there are many more that are not worthy of any attention. Discovering the ones that are genuinely interesting is a hard task. What sets Racing Glaciers aside from their peers is a combination of work-rate, identity, and personality. The boys are tirelessly pounding and never stop grafting. They do not sit back and let fans promote them alone; they do not have P.R. companies hyping them and creating false ideals. The band is the real deal and is determined to get their music across as many stations and towns as they can. Racing Glacier's music has a blend of positivity and reflection; there are classic and contemporary shades. It is the boys' personalities and love of music that supersedes it all and shines brightest. One of those groups you just know will remain in music for many years to come. They have clear passion and zeal that is infectious and joyful. Like Viola Beach (last mention) the boys want to produce sounds that make people thoughtful and happy. Patient Man has serious edges and a sense of introspection but plenty of energy and excitement. Their L.P. will expand on that and showcase a very rare force in British music. If you are like me (my apologies) you want your Rock bands new and imaginative; you cannot go wrong investing time in Racing Glaciers. Music is looking for bands that can step up and have the potential to last and inspire a new generation. The guys from Macclesfield…
ARE easily capable of that.
________________________________
Follow Racing Glaciers
Facebook:
https://www.facebook.com/RacingGlaciers/?fref=ts
Twitter:
@RacingGlaciers
Instagram:
https://www.instagram.com/racing_glaciers/
YouTube:
https://www.youtube.com/channel/UCmwv-UoVXXMFcPWJRnx8Hvw
__________________________
Music: