TRACK REVIEW:
Colornoise
She Was Machine
9.4/10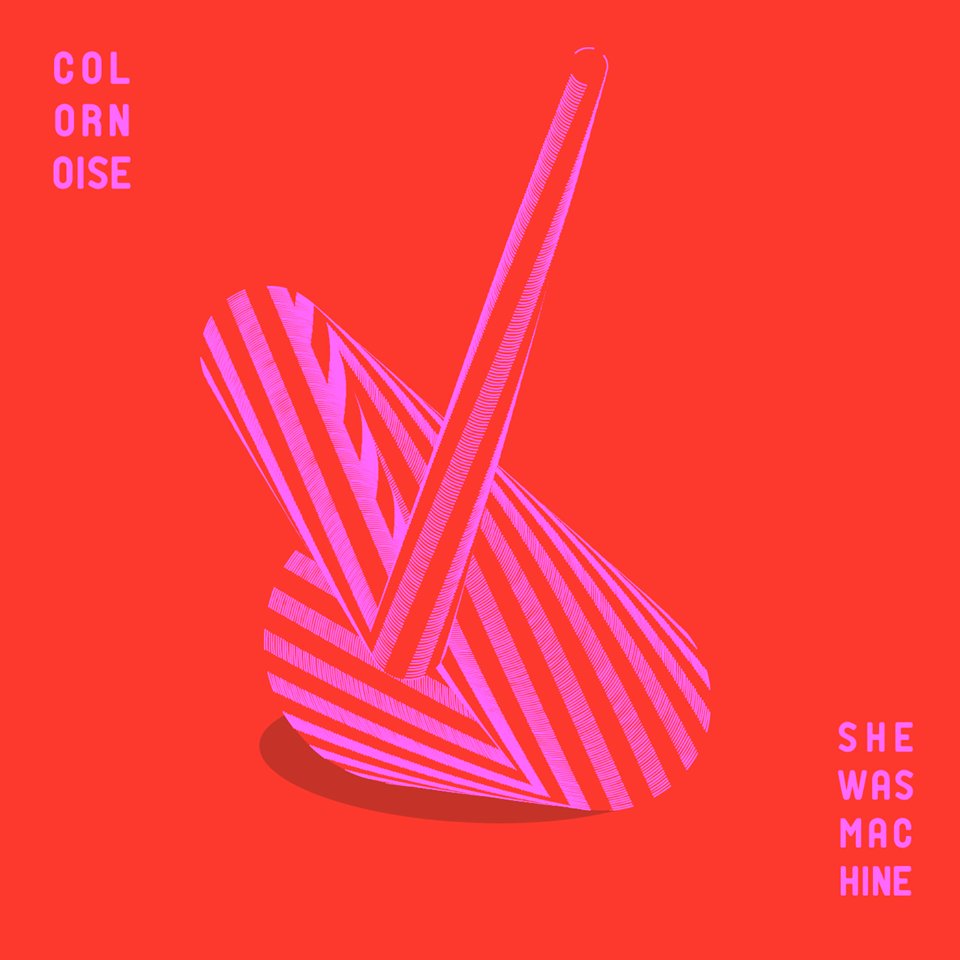 She Was Machine is available at:
http://colornoise.bandcamp.com/
RELEASED:
23rd May 2016
GENRES:
Experimental; Noise-Rock
ORIGIN:
Heredia, Costa Rica
Produced by Jorge Noguera & Colornoise
Recorded and mixed by Jorge Noguera @ Conquista Records, Costa Rica
Mastered by Alberto Ortiz. San José, Costa Rica
____________________________________
IT is unusual I get to check out a band from North America…
based outside of L.A. and New York. My featured artists hail from Costa Rica: a first for me. Before I come to them, it is worth looking at musicians from unexpected countries- places you would not look to normally- the importance of embracing distinct artists- how the best acts evolve in order to bring the best from their music. If you are thinking about great music and the most forward-thinking acts: perhaps Costa Rica is not at the top of the mind. Too many of us get caught up at 'obvious' nations for our music- the likes of the U.S.A., U.K., for example. Over the course of the years- reviewing music far and wide- I have not had many opportunities to 'travel the world' as it were. Costa Rica is a nation that has become a centerfold for international Rock and Metal bands. Everyone from Aerosmith and Pearl Jam have played here: throw in Deep Purple and Night Wish. Costa Rica is not as prominent on the world stage as it deserves. Its native Calypso and Mexican music are very popular: the nation has a thriving Disco scene (notably in the capital, San Jose). Aside from that, Folk and Rock- British and American- are popular among the youth population. Bands like Gandhi, Malpais and Evolución have national regard. Whilst Costa Rica has been keen to embrace the Rock and Alternative sounds of Britain and America: those sounds have had an influence on the upcoming movement of bands and musicians. Colornoise take inspiration from those foundations but go much further.
Inside their intrepid and multi-layered sound you get native elements- flavours and notes of Costa Rica- in addition to broader, widescreen Rock; tight and intense Punk oeuvres- experimental jams and multifarious songs. Before I raise a new point (or two) it is worth introducing Colornoise to you:
Sonya Carmona (Guitar, vocals)
Alison Alvarado (Drums, vocals)
Mari Navarro (Guitar, Synth)
"Colornoise are an experimental Noise Rock band from Costa Rica.
Sonya Carmona (Lead vocal, guitar) and Alison Alvarado (Drums, vocals) released their first eight-track LP Fake Apocalypse in 2011. Later in 2012 they released the single Time. Their second album Polychronic was released in September of 2013.
In May 2015 they released the single Amalie after third member Mari Navarro (Synth, guitar) joined the band. One year later, She Was Machine is released as a second single for their forthcoming third album, out in September of 2016".
I have raised this argument before- and shall do again- about the rigidity of our musical tastes. We often get caught in a rather predictable bubble: not daring enough to push beyond boundaries and look further afield. Colornoise's transference of British Rock and U.S. Alternative is not the only reason we should investigate the band- it provides an opportunity to get to know the Costa Rican musical culture more widely. At the moment, the stunning trio has a solid following across social media. It is no surprise they have such a loyal core of Costa Rican followers- they are starting to gain a reputation farther afield. The girls started off with a solid and incredible sound. Having taken it is as far as possible; they have grown and developed their music. She Was Machine is the result of hard work and days of experimentation. The trio hs been away from the scene for a little while: the latest single is a brave and triumphant return. Going for a more direct and raw sound: they fuse P.J. Harvey-esque vocals and a '90s Post-Punk style. The resultant concoction is (perhaps) the best thing they have ever created. A third album is mooted for the second-half of this year. It will be fascinating to see how the girls have adapted and developed. Their new music favours a more direct approach in general. Previous work has built in texture and been more experimental. Perhaps changing with the current scene- where Indie and Post-Punk is becoming more prominent- you still get their unique D.N.A. and personalities coming through. Colornoise- on their latest release- mix single-minded, hypnotic lyrics- essentially, they repeat lines to create a mantra-like sensation- with insatiable, primeval attack. Over the last few months, I have been looking for a great act outside of the U.K. – I have been spending a lot of time with homegrown artists. I know Costa Rica has not produced legendary, well-known musicians: that could well change with Colornoise. There are very few female trios on the scene: they fill a gap and provide something fresh to the market. Those familiar strands- bits of U.K. and U.S. music- and local influence makes them one of the hottest upcoming acts around. Following Navarro's inclusion: the trio has grown in confidence and become more daring in their songwriting. A lot of female-produced music tends to be from solo artists. Maybe it is not the case outside the U.K.: we do not see many female trios/bands emerge. The boys pretty much cover the spread in terms of formations and styles. How many female trios and quartets do you see on the current scene? Acts like Colornoise are not only a much-needed breath of fresh air: they will inspire other musicians to come through; those that feel there is no place for them. She Was Machine has the potential to make it onto the British airwaves. There is that ready and spoiling sound: a primal and foot-stomping swagger that is impossible to ignore.
In order to get a full assessment of Colornoise' currtent offering: one should have a look back and see where they began. Fake Apocalypse was their debut album and a rude awakening for the local scene. Few acts had come in as hard and confident. Costa Rica is not used to the likes of Colornoise. That album provided plenty of fast shocks and head-pounding jams. The tracks contained few lyrics- a selection of words that reinforced their ideas- and put the emphasis on vocals and compositions. Indoors is an insatiable and sweaty beast that brags drunken percussion and razor-wire guitar. Complaint is a more composed- by the standard of Indoors- that has a twirling guitar riff that sees our heroine in pensive mood. Having been "lying to myself" there is plenty of self-investigation and recrimination: oblique words and some fascinating diversions. Mind Hunters ended the album with composed beginnings and gradual build. A true Post-Punk gem: the addled and ghostly vocal highlights images of soul-return and floating in time. It is a song that acts as a perfect swansong and showed what range (the girls) had. Whereas their debut took more from the likes of Bad Brains, Nirvana, and Grunge: their sophomore album, Polychronic, has more of a P.J. Harvey-Hole vibe. In the interim, the girls changed their sound- from the more direct attacks to something dreamy and lugubrious- and altered their lyrics. Gone were the cryptic and anxious words: replaced by something more fantastical, character-based; less personal, perhaps. The girls- despite the longer, more experimental numbers- were just as direct and raw on Polychornic. In Trance has that fuzzy and guttural sound: the track bounces and springs from the speakers; it grabs you and takes you into a strange world. Being Colornoise, the lyrics are no-less straightforward and clear.
The heroine is living in a trance "Living in the clouds"- and can see the future- you never get a full sense of what is being said and uttered. That is the beauty with Colornoise: they inject mystery into all of their songs. Pieces is a strange, psychotropic song that is among the trio's most distinct offerings. Weblocks takes us into cyber insecurities and the digital age. The danger and vulnerability we all face- details and personal data is not secure- is explored and laid-bare here. Since then, the girls have gone back to their debut-days sound. Polychronic's variegation and experimentation is replaced with something to-the-bone and Punk. The Progressive edges have been smoothed to be replaced with jagged and sharp corners. Amalie- the last single; released in April- mixed sweet tea, beer and wine- a drunken (misguided) cocktail. Given the trio's new ideal- to return to something raw and base- Amalie has a developed and soft approach to it. Not as rampant and violent as you'd expect: it suggests (their new album) might contain layers and range. That track was received with acclaim and celebration in Costa Rica. With She Was Machine following in its wake: the girls are determined to get as much music out there as possible. They want to make a mark this year: She Was Machine will ensure they are in the memory for a long time to come.
It only takes a few seconds before She Was Machine gets inside the brain. Punchy and heartbeat percussions give the song and instant energy and unleash. There is no slow-build and layered introduction: the track goes on the attack and spares no time with casual introductions. The girls have ensures low riffs and layered textures: ensuring they hit a balance and formulate something new and forward-thinking. Whilst you get whiffs ad suggestions of Post-Punk and '00s Indie- Arctic Monkey's sophomore album comes to mind- you will struggle to bring any other bands directly to mind. Sure, there are embers here and there: the girls are determined to stand out in their own right. The introduction consistent of gradual build and layers. The drum remains pulsating and imperative: the guitars layer and that springing centrifuge grows hotter and harder. Before you delve too much into the introduction- which has nods to the likes of Teleman, P.J. Harvey and The Ramones- the heroine approaches the microphone. The opening lines repeat the song's title: the words have that coda and brainwash quality. The projection and phrasing changes across time: it builds an oddly unsettled mood and sense of unease. Carmona turns her vocal into something overwrought, haunted and imprisoned. Combining with Navarro: the twanging strings and Punk-y vibes create something wonderful and strange. Rampantly riding Alvarado's tribal drums: you immerse yourself in the lyrics and speculate as to the origins. The trio has ascribed the song- with a bit of vague interpretation- as the struggles one faces with their mind; that constant push-and-pull. To me, I get ideas of modern-day consumerism and culture. The way we can be addicted to machines and a digital form of sociability. I type this review knowing I will be on my laptop most of the day. The way we communicate and connect with the world has changed- not necessarily for the better. While we have greater access to music, information, and other people: are we negating the importance of getting out there and seeing the real world? The Internet and technology is an odd religion that is growing in dominance and influence. Think of it what you will: She Was Machine's early offerings take your mind in all sorts of directions. The girls are instantly bonded and on the same page. Given the experimentation and time expended- getting the sound right and hitting gold- their latest single sound like nothing they have done before.
There are suggestions of their debut work but they are more confident and together here. When Carmona and Alvarado unite their vocal: we enter a new phase with fresh possibilities. "She took my money/she took my honey" are words that will leave you scratching the head. Again, I was thinking about social media and something less tangible. Maybe you can attribute the words to the complexity of the mind- the way our thoughts and decisions affect the way we live. The brain can take the money- we make rash decisions for no reason- and tie us up in fear and sadness. Even by the half-way mark, you are picking the song open and coming up with your own storylines. The performances are universally close-knit and stunning. There are no needless decorations and solo-ing: everything is compact, regimented and disciplined. Even in the structured and raw vibes: the girls are playful and loose when they need to be. The drums have a great contrast of stiff and curious that keeps the song intense and edgy throughout. The girls- between verses- create wordless chants that add a sense of delirium and hopelessness to the song. When returning to the microphone, we hear (Machine) "She was all the way in" and "in-between": those contrasts and contradictions resurfacing. This force and spirit is always in the mind; interchangeable and unpredictable. When thinking about consciousness-related avenues: our thoughts and internal struggle are a daily battle. I am not sure where the song originated from- whether the trio had a shared experience that made them write this- but they are thoughts that will be common to us. The way Colornoise match oblique lyrics with direct compositions elicits such a huge response. She Was Machine is a little over two minutes: in that time it covers a lot of ground and will get you thinking. Carmona's voice is at its most intense and determined- never has she sounded quite as confused, fearful and impressive. Whilst She Was Machine might put you in mind of some Post-Punk record and modern-day Alternative: the trio's distinct personalities and exceptional musicianship separates them from the crowds. If you are searching for a band outside the U.K. that can deliver the goods and leave the music rattling around your mind- you will not go far wrong with Colornoise. She Was Machine sets the tone for their upcoming album- let's hope there are more jewels like this.
When their third album is released- I am not sure it has been titled yet- it will provide an opportunity for British and American media sources to familiarise themselves with an amazing new act. The chemistry between the girls is tight and solid: this reflects in their music and live performances. I began looking at Costa Rica and its undervalued status on the musical stage. The titans of Rock and Alternative have played the country. It is clear there is a desire and market for music in Costa Rica. Perhaps the more 'traditional' sounds- Mexica music, Folk and Calypso- are more favoured. I feel there will be a transition and shift in the country. With acts like Colornoise capturing the media's focus: how long before there is a revitalisation and development of the music industry? Having fallen for British and American Rock/Punk- the acts that have played Costa Rica show that- homegrown artists are incorporating these elements into their music. Outside the Spanish-speaking country: there is a lot of love for their universal, relatable music. They tale bits of Post-Punk and Rock and sprinkle in something distinctly them. Their lyric books highlight familiar concerns- struggles in love and struggles with one's own mind- and cast it outwards- bringing so many emotions and strands to their songs. Their first two albums captured the nation's attention and established them as one of the hottest bands in Costa Rica. Their forthcoming L.P. will see them transition and flourish beyond Costa Rica. I can see them getting requests from around the world. With (U.S.) bands like The Vim Dicta (another tremendous trio) doing sterling business in the U.K.- how long before the Colornoise girls enjoy a string of gigs here? Given their proximity to the U.S.: you would imagine they'd go down a storm there. With that in mind: they are close to South America; a huge market for upcoming bands. Nations like Brazil and Argentina are welcoming in the best and brightest from Britain and America. I have high hopes Colornoise will be taking their music all around the globe: the juggernaut is sure to roll up and onwards. She Was Machine is not a complete departure for the girls.
Those who loved Fake Apocalypse and Time will be able to bond with She Was Machine. The latest single is a more immediate and unshackled thing: embracing a raw and animalistic urge. The girls are as tight and together as ever- few acts have that bond and connection. A lot of acts break-up because they are not brave enough to change their music and grow with their times. Maybe they get too used to a way of working and are reluctant to change. As a result- running concurrently with prevailing market shifts- they can become stagnated and out-of-touch. Colornoise know what music fans look for and adapt their music accordingly. Over the past few days, I have been in a slightly mournful mood. My music idol, Jeff Buckley, died 19 years ago (yesterday). I have been remembering those musicians we have lost this year- including Lemmy, David Bowie and Prince. It seems the music world is becoming larger and smaller- a point I have raised before. The new generation is expanding and filling gaps: the impression left by legends passing should not be forgotten. The best thing we can do as musicians and music-lovers is keep that flame alive. As a result, I am looking about for musicians that put me in mind of those lost. Perhaps Buckley and Bowie are names Colornoise know in principle- without necessarily incorporating them into their music. You cannot say the same about Lemmy. His- and Motohead, by extension- spirit is very much alive and well in the Costa Ricans. Colornoise's  Sonya Carmona has highlighted how the trio is evolving and embracing fresh direction. Having surrounded themselves in P.J. Harvey and Post-Punk; the new acts enflaming the music world- all of that will come together in their forthcoming album. Not only (will that record) go down a storm in the homeland: it is going to get under-the-radar of U.S. and U.K. critics.
I would love to see the girls come to London and play. We have some great Rock/Experimental acts here- you can never have too many! Who knows what is in the air right now?! Britain- and London especially- is starting to heat up: the music scene here is really exploding and producing some sensational acts. It is not just British-born artists, either. They are welcoming in international musicians and giving them a platform. I shall keep an ear out for Colornoise and make sure they get some exposure over here. There are radio stations and festivals that could include them: hungry and eager crowds that would pack into venues (in order to see them up-close). She Was Machine is an assured and granite-hard stomper from Costa Rica's premiere band. Having been championed by 89decibles– a hugely influence blog there- it looks like 2016 will be a bonanza year. If you are missing the likes of Royal Blood- a duo that should be dropping new music this year- the likes of Colornoise provide restitution and solace. Congratulations to the trio on a fantastic and accomplished single. Given the upset and upheaval 2016 has provided: it is rewarding and wonderful discovering musicians…
WHO can put the positives back into music.
_______________________________________
Follow Colornoise
Official:
Facebook:
https://www.facebook.com/thecolornoise
Twitter:
https://twitter.com/thecolornoise
Instagram:
https://www.instagram.com/thecolornoise/
__________________________________
Music
http://colornoise.bandcamp.com/