FEATURE:
 
IN THIS PHOTO: Songhoy Blues
The Best Tracks of the Year (So Far)
________
WHILST I am in the process of moving my blog over…
IN THIS PHOTO: Kendrick Lamar
to its new website; I thought I'd do a couple more pieces here to keep myself busy. As it is almost July; I have been reflecting on the music we have experienced so far – deciding which albums and tracks have made the biggest impression.
I shall do an album run-down at a later date but, for now, a collection of the songs, I feel, have defined 2017.
________
Marika Hackman – Boyfriend
PHOTO CREDIT: Steve Gullick
Another incredible songwriter with a talent and sound like no other: Marika Hackman has produced one of this year's finest albums in I'm Not Your Man. Relationship politics and personal empowerment are subjects addressed alongside more conventional love songs. Boyfriend is the album's first single and, joined by her backing band, The Big Moon, it is a direct and unambiguous cut  – "I held his girl in my hands". That tease and taunt – "She likes it 'cause they're softer than a man's" – prove she is no conventional, predictable songwriter.
Subverting expectations and delivering one of the year's finest anthems: Boyfriend is a song that switches from sweet-sung to out-right kick-to-the-scrotum! An honest and open album – Hackman is in a relationship with fellow musician Amber Bain (The Japanese House) – there are few more impressive lead-off singles than Boyfriend. Surprising, quotable and crowd-uniting: a song that is perfect for the start of festival season.
Royal Blood – Lights Out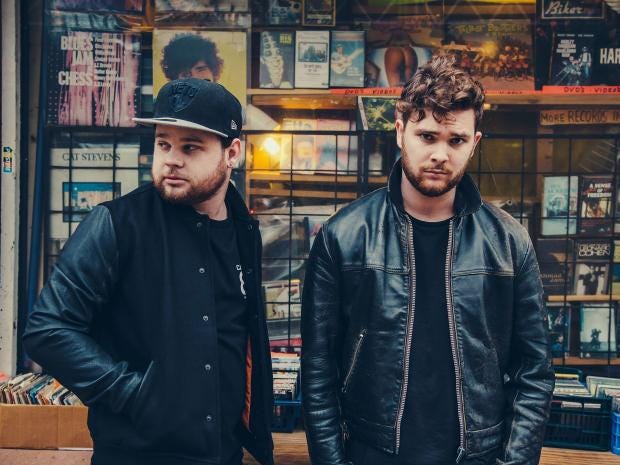 Royal Blood's album, How Did We Get So Dark? marks one of the biggest lost opportunities – a duo who could have created a truly epic follow=up. Their eponymous debut showed they were an intriguing prospect but the sophomore effort seems too similar and inflexible – not venturing into new territory or offering many surprises. That said; lead-off single Lights Out shows what the guys are capable of: tight and meaty riffs with a memorable chorus.
The album has more of that but it is a case of diminishing returns – Lights Out is the standout and finest example of what made their debut so special. Throw in a milk-infested, trippy video and Lights Out easily marks itself as one of the best songs from the year. Whether the duo – so soon after their latest album – is planning new material, I am not sure. Their recent set at Glastonbury received rave reviews and left many happy punters reeling – they are one of the most electric live acts in the world, that is for sure!
The Hempolics – Boss Clock Me Style
Maybe I should have put this up-top but The Hempolics' Boss Clock Me Style is, without doubt, my favourite song of the year. La Roux and Paolo Nutini have highlighted the band's strength: Maxi Priest (Faithless) stated they are the best bands in the U.K. – except for the fact they are an unknown quantity. That will change when their as-yet-untitled album arrives later this year. Boss Clock Me Style is a summer-ready, rum-flavoured jam that kicks its heels off and runs down the beach.
Its smooth and rousing horns back a spirited and engrossing vocal performance that gets the listener singing along and engaged. I cannot get the song out of my head and I hope it does not leave anytime soon. Against the celebration and magnification of the mainstream; there is something underdog and unconcerned about The Hempolics. They create chilled and glorious songs to lift the mood and make the listener enriched and happy. With Boss Clock Me Style, they have done this with aplomb!
Songhoy Blues – Bamako
Another band who made a triumphant Glastonbury appearance: Songhoy Blues are on many people's tongues right now. The brilliant, bustling sounds capture Mali's capital spirit – running the streets and drinking in the mood and magic of its culture. Whether provoked by the magical nightlife or the beauty of the day: a joyous and celebratory song that captures all the sights and scents of Bamako. From fruit vendors and chattering crowds; motorcycles and people interviewing and the smiles on people's faces – the band transport you to one of their favourite places.
Taken from their new album, Résistance; it represents what the band are about and why critics are (rightfully) raving. Bamako, once heard, is an intoxicating liquor that gets into the blood and motivates you to move and celebrate. No mean feat from a single song – let's hope the guys continue to produce music of this calibre.
Thundercat – Friend Zone
Thundercat is one of the most compelling artists right now, and justifiably so. Friend Zone is the third single released from his third album and recalls a scenario many people will be all-too-familiar with: being kicked out of the romantic circle and relegated to the 'friend zone'. That sense of a man seeing the hopeful side of lacking responsibility – more time to chill with video games and spend time by himself – and not having constraints; it brings smiles as readily as it provides grooves. It is bass-sassy and spaced synths.
A complex and dizzying mix of sounds that adds lightness and variegation to the pains of those friend-zoned. There are ample treasures on Drunk but this, in my view, is the hallmark of an artist at his peak.
Sylvan Esso – Die Young
Another third-single-release – this time from a second album – arrives in the form of Die Young. A wonderful vocalisation of the contrasting nature of modern love. It has cynicism and doubts but hope and yearning. Sylvan Esso – another incredible live act – is lifted by Amelia Meath's: a sumptuous blend of angelic and fiery. Taken from the incredible album, What Now; Sylvan Esso never claim love is a black hole and meaningless thing – neither do they over-romanticise and idealise it.
There is pragmatism and level-headed approach to break-ups and relationship. Wise and mature lyrics sit with a deep and rich composition that pleases the musically-minded and highbrow. The chorus is one of the most addictive and stunning of the year and, for that reason alone, it makes Die Young a must-hear song.
Fleet Foxes – Third of May/Ōdaigahara
Many people were unsure whether Fleet Foxes would be recording any new music and what form that would take. Almost a Robin Pecknold solo venture – Fleet Foxes have always had him the dominant force; he seems ever more present and omnipresent – the traditional components of the band are there but updated for new audiences. Gorgeous harmonies and spellbinding vocals, the type running throughout Helplessness Blues, are present but there is more release, anger and emotion here. Almost a release of pent-up feelings and strains: the nine-minute-long (almost) drama showcases Pecknold's incredible lyrical voice and ability.
"If I lead you through the fury will you call to me?" might allude to former bandmates and changing relationships – the band's former drummer was moved to tears upon hearing the song – or the way the band has transformed over the past few years. Crack-Up, the band's third album, has been met with critical acclaim and boasts many songs that get near to the joys, epicness and swell of Third of May/Odaigahara – none that quite reach those heights!
Lorde – Green Light
Written with Jack Antonoff; this is typical Lorde: a floor-filling banger that announced her return to the stage. In fact, the New Zealander had not gone anyway: merely brewing the follow-up to her promising debut, Pure Heroine. Melodrama, in all its finery and emotional variation, upped the game and sent a warning shot to all her peers. Lorde, not only proved she is worthy of huge success: I feel she is one of the finest young songwriters out there. Green Light is a breakup anthem with a difference.
Its spirited and captivating video showed she could do style as well as substance. A stunning track that shows what a consistent and evolving songwriter Lorde is.
Kendrick Lamar – HUMBLE. 
Perhaps an ironic title: the song's video finds Lamar string down the camera advising his 'competition' get out of his way. A juggernaut of confidence and a perfect metaphor for Lamar: someone who is on fire and seems completely fearless. Of course, Lamar has the lyrical chops and genius to back up such claims. DAMN. is an album that possesses ample evidence is he (if not the) one of the best songwriters on the planet.
There are few as consistent and vital as Lamar. In a turbulent and transitional time in the U.S.; he is representing the fears, concerns and anger rampant in the country. Further singles like DNA and LOYALTY – whether you capitalise the songs or not – are bold and brilliant revelations from a peerless talent.
Radiohead – I Promise 
Whilst technically not a 'new' release – it is a song recorded during the sessions for Radiohead's OK Computer – it is new to the world, and so, worthy of inclusion alongside 2017's best. It is a song that naturally sits among the best tracks from OK Computer. Whether it was seen as not fitting the tone of the album or not quite right, I am not sure – it would not have been omitted for quality reasons! Thom Yorke's angelic voice promises he will remain and be true; not disappoint and scare easily.
It is a beautiful confessional from a man who, at the time, was tapping into to national cynicism and personal anxieties. Following Radiohead's much-celebrated headline spot at Glastonbury; many are wondering whether the guys are planning a follow-up to last year's A Moon Shaped Pool. If they have B-sides and lost material as wonderful as this, there is no rush to get the boys back into the studio.
Arcade Fire and Mavis Staples – I Give You Power
Here is another band, like Fleet Foxes, many did not expect to see releasing material this year. Everything Now, their upcoming album, is released on 28th July and does not include I Give You Power. For that reason, it is a rare and one-off gem that shows how strong Arcade Fire is – enough brilliant material they can afford to keep this one away from their album. The group have released two songs from their approaching album – the title track and Creature Comfort – but neither have the immediate effect and aftertaste of I Give You Power.
Maybe it is timeliness and, one assumes, Anti-Trump accusations; the potency and prowess of Mavis Staples' voice, as she growls and roams the song with authority and bite, or a mix of the two. In any case, it is a typically assured and terrific song from the Canadian band.
Julie Byrne – Sleepwalker
New York-based Julie Byrne's album, Not Even Happiness, marks her as an astonishing singer-songwriter. There is a sense of escape and the open road: making changes and embracing a certain freedom. That is perfectly defined in Sleepwalker. Its finger-picking is scenic, motion-propelled and physical. One cannot help but get carried away by its momentum and energy. Byrne's lyrics are not conventional and often are free from rhymes – shorter stanzas and more poetic than structured. It provides a more natural voice from a songwriter who one cannot compare to anyone else. Wonderful lines like "They often spoke as though I had been set free" gets the listener thinking and seems to talk about a young woman with mature, older shoulders.
She is a dreamer and a free-spirit but, one suspects, in need of stability and answers. Cryptic, curious and ambiguous: you pick apart the lyrics and try to get to the bottom of a curious and passionate soul. Sleepwalker is a phenomenal and assured songwriter finding her voice and making her presence known. The scary thing is: she seems a couple of albums off her true potential. Consider the class, intelligence and solidity of Not Even Happiness – that is a rather frightening and exciting proposition!