INTERVIEW:
Miles Graham
_______
THE fantastic Dubliner Miles Graham brings the music world a treat…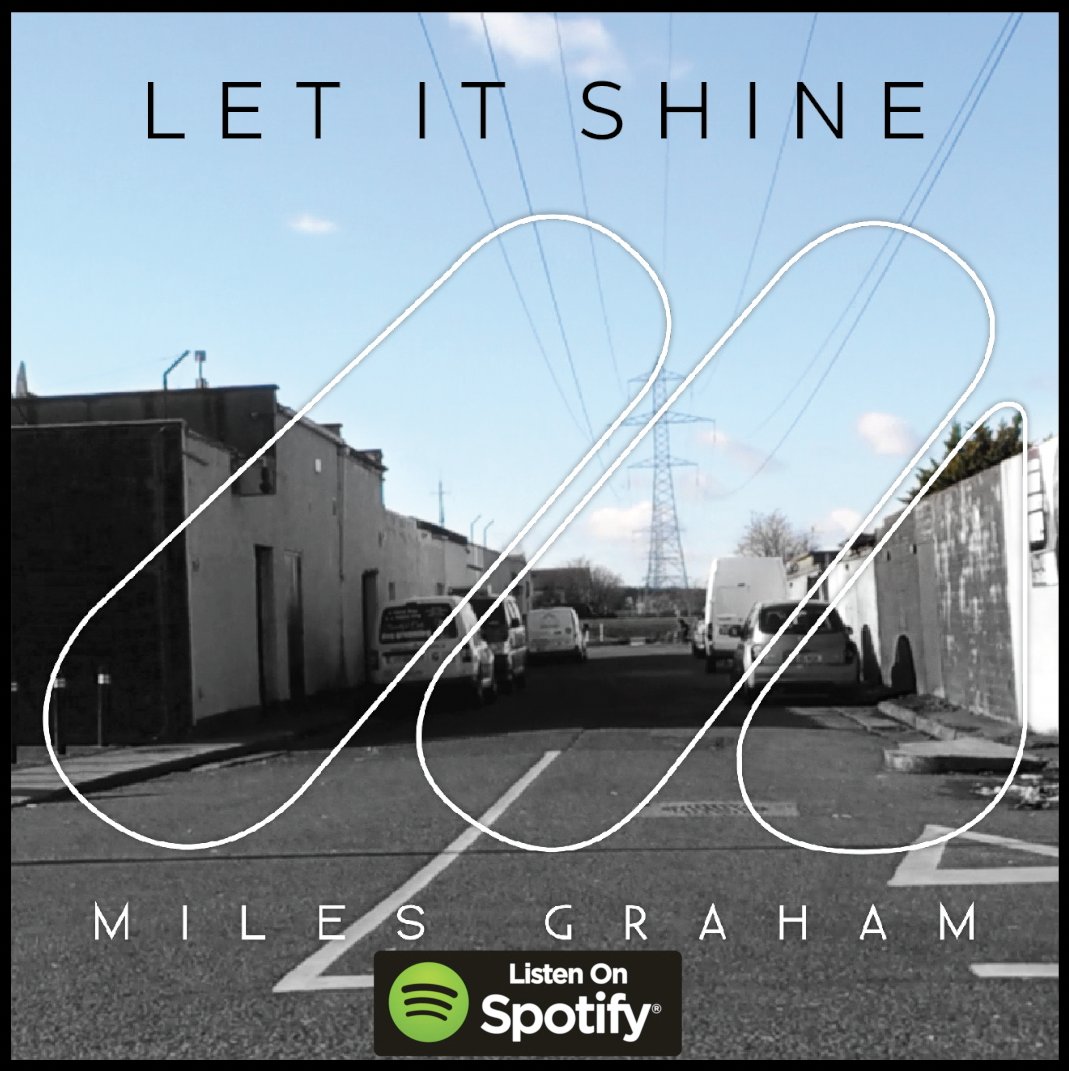 in the form of the diamond, Let It Shine. It is an assured and stunning track from a sensational talent. Graham is one of the finest musicians to hail from Dublin and even caught the ear of Sir Terry Wogan. I ask about that meeting and what he learnt from the great man. Graham discusses his latest song and what is was like getting a hearty recommendation from Cerys Matthews – who likened his voice to that of Pharrell Williams, no less!
I learn more about Graham's musical upbringing and the albums that mean most to him. He explains what it was like working with Don Diablo and L'Tric and, with a view to the summer, what his diary is looking like. I ask about the new talent Graham would tip and the advice he would give to new songwriters.
_______
Hi, Miles. How are you? How has your week been?
Sunny!
For those new to your work, can you introduce yourself, please?
I'm a songwriter first and foremost.
I love creating concepts, stories and melodies. I love being innovative in music and fresh: this is what I aspire to in every song I write.
I am also a singer and musician.
Let It Shine is the new song. What can you reveal about the idea and inspiration behind it?
I have to admit, it is a bit personal in an unfragmented way. I come from the perspective of childhood memories; in this case, a mother's love. Something my mother would say: "It's going to be 'alright', or 'It's alright'".
Life can be tough and relationships can be tough; also, couples, families and hardships in the community. We all need that escapism in something we love.
The video is suitably emotional. What was that like to film? Whose concept was it to shoot the video the way it was?
Director Peter J. Cooney had a very clear vision of his visuals. We collaborated on the concept. We knew it had to be a little bit dark to represent where the song is coming from but, with a hopeful bit of light – as heard in the chorus.
Peter has great passion about his work and it was a great pleasure to work with him.
Is there going to be any more songs arriving shortly?
Yes. Can't wait.
How has working with Don Diablo and L'Tric helped your music would you say?
L'tric are great guys to work with.
These guys are really great producers and have a unique sound. Don Diablo came to Dublin for a show. We met before the show and talked about music for a couple of hours. He asked me would I like to co-write with him on some tunes he was working on. I didn't hesitate.
Don had something special in his productions – that extra fresh innovativeness that you can't help to get inspired by.
So, we have a song on his forthcoming album that I'm super-excited about!
Check out Reckless (Tom Budin ft. Miles Graham) and 1994 (L'tric ft. Miles Graham) (Odd Mob Version) – both current releases.
Of course, you met the late, great Sir Terry Wogan. What was it like being in the studio with him?
HE was a gentleman and just how I imaged.
I was really nervous but he made the band feel very relaxed. He helped carry the keyboard stand up in the lift and gave us little chocolate cakes.
You were in Terry's home! Absolute legend and will forever be sadly missed.
What did you learn from him would you say?
He did say I was brave entering the Pop music world while bringing up a young family. He was right.
It has its challenges but it helps you through a lot, also. It's less self-centred and more about doing what you love for your family and career.
BBC Radio 6 Music's Cerys Matthews compared you to Pharrell Williams. How did you react to that and how important is her patronage?
I'm super- grateful for Cerys' (such) kind words.
She came to my gig and told me she was "blown away by my array of songs" – then played my music on her show on numerous occasions.
Pharrell Williams is awesome but I would never have thought a comparison. I love what different people find in the music, though.
Being from Dublin, how has the music scene there evolved over the years? What is it like there for a young artist?
I see a lot more Urban and inter-racial acts getting recognised of late – which is amazing. Truth be known; R&B and soul music has always been a hard sell in Ireland for a lot of artists, I know.
Irish audiences like their Pop, Country; Indie-Rock – and that's about it up to now.
Who are the musicians that have been most important in terms of influence?
For vocals Maxwell, James Morrison; Stevie Wonder, Otis Redding and the one and only Bill Withers – to name a few.
The old-school Soul stuff comes very naturally to me – as that's pretty much all I listened to since age five or six.
What does the rest of the year hold in terms of touring?
The plan is to get records out and then think more about touring.
How does your music differ on stage compared to the studio? Do you have musicians you especially reserve for live dates or use the same people for both settings?
I'm very lucky to have an amazing band I'm working with right now.
Barry Donoghue on Bass; Eoin Redmond on Drums; Scott Kholmann on Guitar and Brass guys are Mason McMullen and Eoin Grace.
I've toured and recorded with James Morrison's touring band in 2015 and was blessed with excellent musicians playing my music. The current band have a particular bond and love for the music we play – it's hard to come by.
Are there any new artists you recommend we check out?
I love the great voices and hearing fresh voices. That's what appeals to me first – or reels me in – Rag 'n' Bone Man, JP Cooper; Hozier, Emeli Sandé and Stormzy.
If you had to select the three albums that mean the most; which would they be and why?
Thriller – Michael Jackson
Stevie Wonder – Songs in the Key of Life
Undiscovered –James Morrison
What advice would you give to any new artists starting out right now?
It starts and ends with the music – but know your business.
Finally, and for being a good sport, you can name any song and I'll play it here (not one of yours as I'll do that).
Don Diablo – Cutting Shapes
Love this track. Dedicated to my new-found Dance music adventure!
_____
Follow Miles Graham
Official:
Facebook:
https://www.facebook.com/MilesGrahammusic/
Twitter:
https://twitter.com/IAM_MILESGRAHAM
Instagram:
https://www.instagram.com/milesgrahammusic/
SoundCloud:
https://soundcloud.com/milesgraham
YouTube:
https://www.youtube.com/channel/UCYWqrQ98VeYGhFMjW8-9xSQ?feature=watch