FEATURE:
OK Computer:
  
Two Decades of a Masterpiece
________
MAKE sure you all tune into BBC Radio 6 Music tomorrow at I P.M…
and catch Matt Everitt's The First Time… It looks at a rather special human being. Thom Yorke is the subject and with good reason: Radiohead's masterful OK Computer celebrates its twentieth anniversary on 23rd of this month and the band take to the Glastonbury headline stage two decades after that legendary performance. I am reminded of that performance and where I was when it happened. I must have been fourteen and really starting to turn onto music. This was before the Internet exploded (long before YouTube) so was watching it via the good-old T.V. It still rattles around my mind: its emotion, atmosphere and meaning struck me hundreds of miles away – God knows how scintillating and staggering it would have been up-close on the night!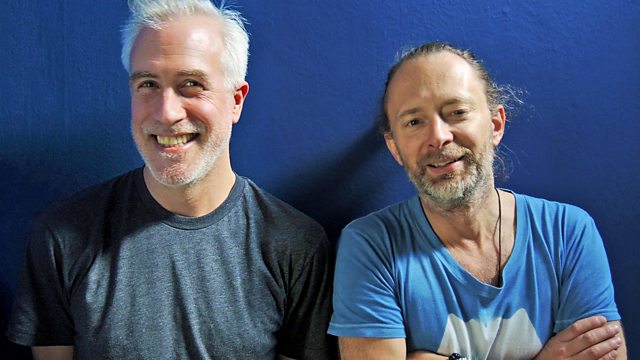 IN THIS PHOTO: Matt Everitt with Thom Yorke
I will not go into the song-by-song breakdown of OK Computer as I have done that before but feel it is important to pay tribute to it. Following The Bends – a huge leap from their introduction, Pablo Honey – OK Computer marked another step into new territory. In fact, it is a more radical transformation than previous: a band hitting rare heights and ready to unveil a timeless, generation-defining record. The fact it was so impactful in 1997 was because the Labour government, led by a fresh-faced Tony Blair, was preparing to come to power. There was uncertainty in the air as to whether the new regime would be good for the country and how the people would cope. One can argue OK Computer is more relevant and striking today. Given the fact we have an unstable government teetering by its fingernails – Radiohead's classic album gains new potency and nuance. Radiohead, along with long-term producer Nigel Godrich, recorded the album in Bath ad Oxfordshire between 1996 and early-1997.
The guys wanted to distance themselves from the guitar-based sounds of The Bends and, in doing so, test new ground and incorporate fresh sounds. Opposed to the more inward and personal songs: OK Computer cast its net out and was less first-person and more varied. From Electioneering's sweating politician keen for votes – sound familiar?! – to the creepiness of Climbing Up the Walls – it is a stunning album with such a wide scope and sense of adventure.
When the album was delivered to the record label and marketing men; they felt its sound was too uncommercial and would struggle for sales.
As is the mark of any genuinely genius album: that which can get the small-minded record big-wigs crapping all over their Armani trousers. Songs such as Karma Police and No Surprises have gone on to be seen as two of the finest songs of the '90s – let alone the best from Radiohead's vast and quality-laden catalogue. I would urge any fan or music-lover to buy OKNOTOK: the twentieth-anniversary edition which pulls together some B-sides and rare recordings. We have just witnessed the release of one of its inclusions: the gorgeous and spine-tingling, I Promise. It is classic Radiohead territory and sounds completely current and brilliant. Going back to OKNOTOK and one can, if buying the 'Boxed Version', expect the following:
"Rescued from defunct formats, prised from dark cupboards and brought to light after two decades in cold storage… OK COMPUTER: the original twelve track album, three unreleased tracks and eight B-sides, all newly remastered from the original analogue tapes*.
Inside a black box emblazoned with a dark image of a burned copy of OK COMPUTER are three heavyweight 180 gram black 12″ vinyl records and a hardcover book containing more than 30 artworks, many of which have never been seen before except by us, and full lyrics to all the tracks except the ones that haven't really got any lyrics.
Under this weighty tome are yet more surprises: a notebook containing 104 pages from Thom Yorke's library of scrawled notes of the time, a sketchbook containing 48 pages of Donwood and Tchock's 'preparatory work' and a C90 cassette mix tape compiled by us, taken from OK COMPUTER session archives and demo tapes.
To avoid accusations of wilful obscurity, a 320k MP3, 16- or 24-bit WAV download of 23 tracks will be available to you on 23rd June and a download of the cassette will be inside the box. This edition is currently only available from this site and will ship to you from July".
It will cost a fair penny but is worth every single one of them. When the album was released in 1997, it was met with huge critical acclaim – in spite of the reservations held by the record label. It heralded a shift in British music away from the pomp and uplift of Britpop to something more atmospheric and melancholic. That might sound like a raw deal but consider U.S. counterparts like Pavement; it joined U.K. audiences with U.S. guitar music and, in turn, inspired groups like Blur to borrow from that side of the ocean – which, in turn, has gone on to influence some huge bands. One cannot overstate the effect and important of OK Computer. Whether you plump for the odd romance and Romeo and Juliet-inspired Exit Music (For a Film) or the plane-crash-surviving story of Lucky – there is barely a song that will not leave an imprint on the mind.
I love how forward, clairvoyant and prescient the album is. It predicted a twentieth-first-century malaise several years before the century began.
That prediction of social isolation resonates when one considers the domination of social media and digital conversation – tied to a mass consumerism which was also alluded to on OK Computer. Today, as we face all these issues AND the instability of unpopular government. The world is in a much more fragile state than it was twenty years ago so OK Computer acts as a guidance and warning to many. Take away any doom-laden smugness and one can see how far ahead of their time Radiohead were. Engage yourself in everything you can surrounding the album and the band. Tune into '6 Music tomorrow and get a hold of OKNOTOK. Even if you are not a huge fan of the album, its 1997 narrative, not reserved to that year and place, successfully predicted how the world would shape up in the future. Because of that, it is a fascinating look at where…
WE might be heading.