TRACK REVIEW:
Natalie Bouloudis
 
Firebird
9.2/10
Firebird is available at:
https://soundcloud.com/nataliebouloudis/firebird-1
GENRES:
Pop; Folk; Singer-Songwriter; Grunge
ORIGIN:
London, U.K.
The E.P., Dead Sea Scripts, is available at:
https://nataliebouloudis.bandcamp.com/album/dead-sea-scripts
RELEASE DATE:
12th May, 2017
_______
THIS is not the first time I have featured Natalie Bouloudis but it…
will be the first time I am assessing a track from her. Previously, I had interviewed her and gained insight into a unique songwriter and person. Before I come to look at the song in question (I choose to review) – and a bit about the E.P. – I will look at a number of things related to Bouloudis and her music. I want to talk about records that deal with mediations and personal experiences – that blend – and that sixties girl-band sound; the need to look at older styles and nod to the past. After that, a little on mystic lyrics and panoramic soundscapes; touching on the East Sussex music scene and childhood relevance – how those early years can be so crucial – and the unusualness of mixing legendary singers and creating something new. There are all kind of styles and genres out there: artists can choose to play whatever they want and move in any direction. To me, it is becoming harder isolating those artists who have something different and intriguing about them. There are a lot of great artists but few that seem to differ from the masses. It is a hard point to contextualise because, one could argue, there are plenty of original musicians out there to enjoy. There are but what I am talking about is someone who goes beyond expectations and creates a sense of surprise. Bouloudis has a meditative and spiritual side she ties with personal revelations and insights. Her music has urgency and plenty of raw edges but there is a calmness and sense of entrance that is hard to ignore. One, when listening to her music, is taken away and put in a better frame of mind. It might sound like a minor plus but I always admire artists who balk against 'convention' and 'commercialism'. There are a few Pop/chart acts who play around the same lines as Bouloudis but the East Sussex musician creates her own sound and genre. Couple enticing and original lyrics with a panoramic soundscape and you have an artist who is in her own league.
Some might argue there are masses of artists who perform beautiful music with a sense of spirituality, calm and beauty and, whilst this is true, Bouloudis matches this with emotional confessions and heartbreak. When she does, as I will explain later, there is a forensic approach and pragmatic detachment. She is not someone who becomes overwrought and too dramatic: many of her peers adopt this approach and it can be quite tiresome. Not that Bouloudis is heartless or does not care: she takes a mature approach to love's pains and chooses to be overcome that pain and move on. Put a sense of spiritual/mystic with a super-reality and it leads to something rather fascinating. On the one hand, she is rooted and fully aware of everything happening but able to detach and go something magical and otherworldly. Maybe I am not surmising it too well so one needs to listen to the music and see what I mean. I am always seeking artists whose voice, lyrics and music has legs and potential but does not repeat what is already around. We get this in spades with Bouloudis: she is one of the most inventive and striking female songwriters in the country. I like the way she can speak of defiance and rebirth and keep her language relatable but literary; romantic loss is given a practical, yet still emotional, bent whilst teasing romanticism and blurring lines – between fiction and reality. One gets a fantastic experience and songwriting that urges you to dig deeper and listen hard. The way Bouloudis, even within a single song, mixes fantasy with real-life is a hard feat to pull off. That is what I mean by original and unique in this case: nobody quite has the same components and qualities as Natalie Bouloudis. One gets instant gratification and release with nuance and slow-burning ambers. There are heady scents and strange brews; picturesque skylines and fantastical visions – all performed by a young woman unafraid to wear her heart and lay her soul out there.
PHOTO CREDIT: Luke Novak
Before I come to my new point, it might be worth formally introducing you to Natalie Bouloudis:
"A native of East Sussex, Natalie Bouloudis first got her musical education in childhood, having played clarinet in jazz bands and had a few guitar lessons at school. From the age of seven she started writing her own music and has been (till recently) a secret songwriter ever since. Having lived in London for the better part of the last decade, she decided three years ago to launch her music into the public sphere under the name Aurora Harbinger. She soon played venues like Servant Jazz Quarters and The Victoria in Dalston, quickly building a loyal fan base that enabled her to successfully crowd fund her debut record. For Natalie, playing live is an important consideration in the songwriting process, a process which focuses centrally on generating atmosphere and intimacy. Her debut EP is her first proper recording and it was all recorded live at Wax Studios in London and produced by Robert Strauss. For Natalie, getting the EP right was dependent on how precisely she could evoke the feelings she had in mind. Though armed with encyclopaedic knowledge of narrative songwriters across the spectrum of folk, rock and jazz, Natalie brings to the table her own brand of atmospheric storytelling. It's folky in its arrangements, but in terms of sheer vocal delivery she's a soulful rock and roller, at times calling to mind the visceral and lurching tones of Patti Smith or Etta James. 'Burning Pier' may only be her first single, but already it reveals an artist in the classic sense: thoughtful, precise, and led by instinct and imagination".
I will explore more of her biography later but, right now, I want to look at the merits and legacy of the 1960s' girl bands. If one thinks of the best girl groups of the 1960s, invariably, this takes you to America. It is interesting because, a few days back, I wrote an article of girl bands and why they are less common nowadays. My article looked at the 1990s, predominantly, and the best of that time – from En Vogue and Destiny's Child to All Saints and Salt-N-Pepa. To me, that was the best time for girl groups: they mixed strong, empowering messages with funky and addictive compositions. Even then, the best girl groups were American. Today, there are one or two decent girl bands in the U.K. but the whole 'scene' is a lot quieter and less spectacular than once it was. Maybe tastes have changed and there is less need for that particular brand. I argued we should revive the sensation: it should not be down to Hip-Hop/Urban artists to address racial tensions, speak of female empowerment and those areas. I know other genres/artists cover this but, decades ago, you had girl groups doing this – making sure they delivered important anthems with an accessible and danceable accompaniment. Anyway, applying this to Natalie Bouloudis and she shows invention in this area. I have explained how her lyrics and music balanced fiction and reality but, when one hears her voice and compositions weave together, there is an essence of the '60s girl groups. If one imagines the top-ten examples from the decade – I hear a bit of each on Bouloudis' work – you have to talk about Martha and the Vandellas and The Paris Sisters. The latter, in All Through the Night, talked of the giddiness when trying to fall asleep after a great date – dreaming of the guy and unable to get off (in one sense, anyway). The former was a more defiant and direct group who, like many of their peers, addressed heartache and the pain that followed a break-up. The Ronetttes and The Blossoms made a huge impact; The Cookies and The Shangri Las, too. The Shirelles and Lovelites created some wonderful music but the best of the breed must be The Supremes.
Whilst it is important to push music forward and build new sounds: we must remember the past and not lose our heritage and upbringing. I fear so many young musicians and music listeners are too involved with modern music – and digital forms; needing something instant and easy – and forgetting why music has evolved and the best artists of all time. Some people are future-focus and believe the best is yet to come: I take the opposite stand and feel the best we have had has already arrived. That is not to say we will not see world-class and decades-lasting albums arrive – we have already witnessed a few in the past year. What I mean is, whilst it will never be as good as in the 1970s and '90s, we are free to take from the archives and revitalise long-lost sounds. I have said how girl bands are a weaker commodity so it is great someone like Natalie Bouloudis evokes some of that U.S. '60s magic in her brew. Decompose and strip her music and one experiences a waft of 1960s' girl magic; some of the 1990s and Alternative experiment and modern-day themes. One might hear her Dead Sea Scripts E.P. and hear evocations of '60s girl bands but others might not detach it at all. Why I wanted to bring this point up was because there are few artists that splice disparate and unrelated styles together and come up with something new-sounding. In Bouloudis' case, there is so much going on. Someone so young and inexperienced – in the sense she has not been putting out her own music for that many years – shouldn't sound as intoxicating and fascinating but that is the mark of a wonderful and natural-born musician. I am interested seeing where she goes from here and what her next E.P./album contains. It is so rare discovering someone who appears easily understandable but veritable. She is an authentic and individual voice but has that potential to inspire others and find embrace among the high-profile radio stations of Britain.
One hears plenty of musicians (most, in fact) discussing their relationships and all the perils and unfairness they hold. In fact, it seems to be the major gripe and groan of the modern musician. It is all fair and well, as I keep saying, talking about love but there is no reason to always be so heavily invested. I know relationships are a common source of unpredictability and they are very personal to people. The thing is, few of those songs (that document the break-ups) follow a serious relationship. You might have been in it for a while but few reach marriage or that level. I feel the artists who can pour their heart out in this arena are those who see a marriage dissolve. So many young artists are in brief relationships and, although they are quite deep, there seems to be too much emotion pouring out. Maybe it is me being cynical but there is little justification for being so overwrought and impassioned after such a short bond. Maybe it is subjective and one cannot judge how painful a breakup is based on time algorithms. I feel too many artists need to look at breakups from a more analytical and forensic standpoint. That might sound harsh and difficult but, in the case of Natalie Bouloudis, she is able to do so. Maybe she has a more mature attitude to relationships but one does not get an over-inflated drama. It is refreshing hearing and should give other artists impetus and guidance. I am not saying everyone who faces a split should stand aside and talk about it with a rather matter-of-fact attitude. All I mean is we are only ever likely to be semi-invested in another person's love life – so why not take a different approach to moving on? Bouloudis, as I have described her, sounds a bit calculated and detached but, in an emotional sense, she feels the same pain and confusion as anyone else. Rather than let it burden and haunt her mind; she sees positives or something constructive.
One of the songs on Dead Sea Scripts, Firebird, is about that bird rising from the flames: a rebirth and spirit that shows a darker side to the heroin. In terms of Bouloudis' themes and spectrum; she is someone who is so confident and assured with her music it is worth remembering she is still a young artist and not been recording for that long. Romantic Bullsh*t Blues and Firebird reflect on relationships and splits but take that somewhat unconcerned approach. The titles might suggest a lack of empathy and attachment but it is the way she responds to a bad situation that impresses. A lot of her peers will wallow and look for sympathy: Bouloudis has a stronger spirit and a great air of defiance. I will go into depth regarding Firebird but, as the author reveals, it is based around a femme fatale character. She wanted the song to cross 1960s' girl groups with '90s Grunge. The song is about someone/Bouloudis walking through the fire and ashes and taking charge – walking out the other side this mystical firebird or phoenix. It is the embodiment of a new life and being able to walk forward. As you can tell, it is a song that shows love is not a meagre or shallow thing. She is affected by its end but determined to emerge strong and unflinching. I do admire someone who can take that attitude and does not want to be plagued and disturbed by a failed relationship. Other songs on her E.P. address different things but it is how she tackles love that really gets to me. Not only does the over-worn theme get a new dimension but one actually finds themselves invested in her plight. That is not always easy: I rarely engross my mind in too many modern love songs. I hope Bouloudis continues down this route as she is, whether she realises or not, inspiring other songwriters to tackle different areas in a new way.
There is something interesting about East Sussex that many do not explore. It is hardly a surprise Brighton is one of the country's finest areas for music but the county offers so much more. I know Bouloudis would have spent a lot of time in Brighton and been inspired by the people and sights. If you want to get a sense of music at its most varied then you should get yourself down to East Sussex. I have reviewed Folk acts from Hove (and surrounding areas) and great Rock bands in Brighton. I think of the county and hear few artists that have that mainstream sound. That is not a slight rather than a huge compliment. The acts here have immense potential but go to lengths to craft their own music – ensuring their songs are as original and fresh as they can be. Of course, there are exceptions (as there will be) but it is exciting looking at areas like Brighton and Hove and what is coming through. Natalie Bouloudis projects images of the coast and East Sussex beauty – Burning Pier, in a way, would have had its heart set here – and she seems to gravitate towards the county in terms of her music and attitude. Like many acts around East Sussex, she has a great intelligence and sense of adventure: never willing to settle and fall into clichés. Now, she is in London but has taken a lot from East Sussex. It is a county that consistently produces great musicians and I expect that to continue for many years. Whereas many artists in other areas move to London for opportunities; there is a different pace of life in East Sussex that means many native artists remain – coupled with great venues and an active scene. Bouloudis is in the capital but, one feels, it is a reaction to ambitions and the need to explore all London has to offer. Certainly, she could get many gigs in East Sussex and has ties there.
One of the great things, among many, I notice with Bouloudis is her early love of music. Like her finest peers, she had that fascinating early and decided to do something about it. Rather than sit back and enjoy music as a listener; she felt the need to present her own take and become actively involved. She played clarinet in Jazz bands and took guitar lessons at school. I, myself became obsessed with music at school and attempted to play the guitar pretty young. Not having the dexterity and aptitude to master it, I gave up pretty easily. I am easily impressed by people who stick with an instrument and show that discipline. Bouloudis would not let her drive rest and, since the age of seven, has been writing her own music and exploring her imagination. That is an impressive feat but, one feels, there was some parental inspiration. Many who take up music that young react to stimulus in their surroundings and the music of their parents. I suspect there was a great mix of sounds and genres being played at Bouloudis' home. Since bonding with music, there has been that goal to get personal recordings out and perform in front of people. She has only been touring for a few years but the reaction has been very positive. Clearly, she is very comfortable on stage and it is the perfect space for her. I am interested to know whether an early passion for music leads to a more rounded and original artist. Surely, there are a lot of modern artists who get into the business whilst reacting to mainstream acts and the popularity they obtain. I am not saying that is wrong but there are a lot of artists who are getting into music for the wrong reasons. Maybe it is to do with genre – Pop acts are more likely to go into music this way – but I prefer artists who are either self-taught or take the trouble to learn an instrument. It gives them independence and forces them to write their own music.
I will come to Bouloudis' music very soon but think it is interesting artists like her – who take music up young – are more experimental and less commercial. They enforce their own ideas and make up their own mind: not the need to fit into a mould and tick boxes. Maybe I am over-simplifying things but that is the way I see things. Each side of the argument is valid but, in terms of the music I love, those who learn to play an instrument, write young and become engrossed in music produce the best results. Listening to Dead Sea Scripts and there are so many different vocal ideas at work there. It is always interesting seeing where an artist comes from in terms of their sound but, for Bouloudis, she, again, seems to take inspiration from her upbringing. Some hear shades of Patti Smith and Etta James – two names I do not hear come up too much today. That raw and visceral sound is quite hard to nail and make convincing but I hear both in Bouloudis' tones. Whether they were big artists as a child – or she got into them a bit older – it is a fascinating blend. I feel a lot of artists, when figuring out a vocal sound, either source from the modern-day – and do not cast their mind back – or seem to go for rather predictable and over-used singers. It has been a while since I discovered an artist who takes influence from the likes of Patti Smith. It might seem like an insignificant observation but it brings me back to older music and preserving their memory. I guess one of the best ways of introducing new listeners to great artists would be to evoke their tones and qualities in your own music. One might argue the fact there is a huge archive of music out there means it is easy to discover the legends and keep their memory alive. I argue few are really spending time looking through the annals and spending time with the greats of music. Because of that, it is important to foster the young musicians who keep the flame burning.
The opening notes of the song mix the 1960s girl group sound with something more Grunge and Rock-based. The bass weaves and pulses through but one gets a beautiful strum that evokes a balance of soulfulness and ravage. It is quite calm and melodic but definitely does not follow guidelines. It is a great start to the song and one that will get you standing to attention. Bouloudis' voice has a Blues-like ravage and rawness but is underpinned with sweetness and grace. One of the only problems with the song is decipherability. A lot of the words lose intelligibility so it is hard deciphering what is being sung. The themes of determination, rebuild and walking thorough fire can be detected but a few of the early lines will be lost – making it a little difficult to piece together the true story. Our heroine has been walking through the fire and navigating the streetlights. She refuses to be lost and is defiant against the odds and forces against her. Bouloudis' voice is one hard to compare with others but does have a touch of the Irish to it. Maybe shades of Sinead O'Connor and Dolores O'Riordan emerge but, I find, she is stronger than both. It is an interesting tone to hear in a British artist but not a surprise. In these early phases, you are caught by the smokiness of the vocal and the addictive and spirited composition that supports it. One imagines listening to a classic singer in a small bar someone in the U.S. I know I am throwing nationalities together but there are so many different strands and ideas coming through in the song. One goes to Nashville, perhaps, and hears touches of Alternative and Country in Firebird. It is a song that carries so many nuances and different colours. Bouloudis is not going to be defeated and is relentlessly strong-willed against the rising tide.
PHOTO CREDIT: Luke Novak
It is always interesting looking at songs where the subject is battling forces and keen not to be dragged down. Finding out the origins and inspiration behind the song is fascinating but one suspects there is a mixture of relationships and personal struggles. Other songs on the E.P., such as Whirlwinds, are about breakup and dealing with that so it is natural one hears a little bit of that in Firebird. If one considers Dead Sea Scripts as a reaction to bad times and showing fortitude; Firebird is the precipice and most direct statement. Even in the early moments, it is a song that lets it be known no matter what happens and whatever hazards come her way – there will be nothing too big or challenging. It is rare finding songwriters who take a productive and positive approach to dissatisfaction and bad times. As I said, it is hard getting a complete picture because the lyrics suffer from a loss of clarity. Whilst it is hard picking out lines and building impressions; you do get a real sense of what the song is about and how it connects. Bouloudis is a songwriter who, even if writing common themes, puts her own stamp on it and lends her own voice. That voice is hard to ignore and one wonders where it comes from. I listen a lot to artists around East Sussex/London and there are few that have the same sound of Bouloudis. As I mentioned, there is an Irish flavour but that mixes with Blues, Alternative and Country. It is a stunning brew and one that gives the song a real majesty, confidence and distinction. Maybe there is a cheating boyfriend or someone who has broken the heroine's heart. One can hear anger and annoyance in the performance. It is a mixture of emotions but, overriding and conquering all of that, is a passion for strength and rebuild.
Recorded live at Wax Studios back in March of last year, it brings backing vocals from Laura Forbes; drums from Hannah Stacey and bass guitar from Luke Novak. A tight unit that fantastic force that means the song is as strong and memorable as it can be. Firebird was written in 2014 so is one of the older tracks on Dead Sea Scripts. Obviously, it is a favourite and one that carries a lot of weight and relevance. As I type this, I have just been to BandCamp and, actually discovered the lyrics. With that in mind, I revisit my initial thoughts and match it to the opening verse: "The reckless do not walk in a straight line/old smoke swirls and denies the light/I've been dancing in the dark/holding on to a wicked spark/But what matters most is how well you walk through the fire". It gains a third-party distinction and, maybe, is a split between personal hurt and seeing someone go through tough times. The heroine will not be lost anymore and, as she says, "Spark dimmer/Scarlet simmer…down". There are sweet words being spat (and Bouloudis) refuses to be sucked into a spider's web. She is over the situation and not going to be lied to anymore. With the lyrics discovered, my initial impressions are still correct but there is new light emerging. It is interesting discovering themes and feelings on first impressions: they can change when you hear more revealed and get a true sense of the lyrics/music. Regardless of anyone's interpretation; it is a fascinating song whose beautiful, poetic lyrics are matched by an incredible vocal and stunning musicianship. Firebird is as vivid and free as its name suggests – a strong woman who has reached her limit and is not going to be the same person she was. It is a singular statement from a young artist who, in one song alone, unifies so many diverse strands. There is that 1960s sound and the girl groups of the time; some 1990s Grunge and something contemporary and Folk. A stunning track from an E.P. that demonstrates what a fine songwriter Natalie Bouloudis is.
I have talked a lot about Firebird and why it is such a special song. I shall come back to some earlier themes in a bit but, before then, wanted to recommend you seek out Dead Sea Scripts. It is a six-track release that announces Natalie Bouloudis to the world. She has been playing music for a long time but only recently been recording her own stuff. It is the start of a fantastic career and one, I hope, continues to flourish and grow through the years. I can see her producing more E.P.s and maybe an album will arrive soon. She is in the perfect location when it comes to performing music. London provides the best opportunities for new musicians to cut their teeth and get gig experience. There is a huge community and so many other acts one can learn from – more on that later. Dead Sea Scripts is a fully formed release from a young woman comfortable with her lyrical and melodic voice. No doubt Bouloudis has plans in mind but I am interesting seeing what she does with the rest of the year. Now the E.P. is out, one imagines there will be other dates for her. So far, she has played a release day at Hackney's Paper Dress Vintage Bar and Boutique last month and would have quite at home in that venue. Look at the photos and it mixes ultra-cool and trendy with classic and quirky. One can peruse rails of fashion or enjoy a quiet drink: one of those places you must visit when in the area. Anyway, I feel London has a lot more to offer Bouloudis so I am sure she will be performing a lot more. Certainly, the reaction Dead Sea Scripts has received so far shows there is a demand and love of her music. I would like to see Bouloudis take her music right around the country and get out to the people. I am sure she is enjoying the capital and will be back in East Sussex. Listening to her songs and one knows they will be taken to heart by crowds all over the U.K. International audiences would take to her so I wonder whether that is a consideration?
I will wrap up soon but, before then, wanted to return to those points I raised earlier. Natalie Bouloudis deals with a lot of subjects in her music but there is a meditative and spiritual side to her work. Certainly, when one hears her pragmatic and detached attitude to love – surely, that is more to do with inner-calm and resolve than a lack of empathy and emotion. Maybe that is a reaction to her musical background and a love for Classical instruments; perhaps a natural personality trait or a response to over-emotional songs. One can see a strong woman who, in some moments, turns her nose at love and its pressures. In every moment, there is a strength and defiance that reigns loud and clear. There are a school of artists who still get hung-up on romance; not only as a staple of their writing but a reason to pour everything out of their body – their blood, guts and tears. It is valid reacting to love and feeling the pain that can occur from a break-up. Earlier, I opinioned some young artists feel a brief romance or temporary relationship warrants any real mourning and consideration. Maybe they fall in love too quickly or do not really understand the complexity and reality of actual love. Does this generation spend too much time online and too little out among the people? Perhaps, the way we like music ready and quick, that is the way we view relationships. Then, once you start to get entrenched in a relationship, the other person, perhaps not shockingly, will lose focus and go with someone else. Maybe it is a sign of the times but there is a disposable nature to love and the need to seek out something new. Bouloudis has a tough heart but needs love as much as anyone. She has a more level-headed approach and that is refreshing to hear in music. Even through her worst moments, she walks through the fire and out the other side. Few of her contemporaries are quite as steely, hopeful and wise. There is a hopefulness and optimism in everything she does. No time to wallow and get down: lift yourself up and move on to the next stage.
I gave you a list of 1960s girl groups and why they were so special. It is a side of music that has not really been kept alive today. Perhaps it would seem old-fashioned and strange having that type of group perform now? We still need girl groups but I feel they are becoming fewer. Now, there is a shift to harder girl bands who bring in guitars and have a more rousing sound. A lot of those Pop/R&B-driven groups – that we saw in the 1990s – have been replaced. It is quite sad to see but I guess that is evolution and development. If we simply repeated what came before, that would be a pointless thing and mean stagnation would occur. Now, it is great seeing more all-girl bands who can mix it with their male peers. That has not always been the case – due to lack of numbers rather than quality – so it can only be a positive thing. I get wistful and nostalgic and yearn for a blast of the past. Whilst it is crucial we keep music moving forward; the fact artists incorporate other artists into their music, of an older ilk, is to ensure their legacy remains. The new generations might lose touch with history and we cannot sit back and watch music become ultra-modern and digital. I feel we are losing a lot of music's physical aspect and there's a danger its oral history will be wiped. Artists like Natalie Bouloudis sprinkle a bit of Patti Smith and Etta James but, in some moments,  one hears shades of those 1960s girl groups. It is an uncommon sound and one I am glad you can find on Dead Sea Scripts.  It would not be inconceivable to think contemporary musicians will hear that and be compelled to look back at the original artists. Maybe then they will think differently about their own sounds and be bolder and braver.
I am keen to put this to bed but, before I do, a quick note on mixing genres/styles; a little on childhood influences and London. Natalie Bouloudis has worked hard on her E.P. and you can hear that passion and discipline in every song. She has her own style but experiments and fuses sounds. One moment, you might be in the midst of a strong and fiery number that has a Folk-cum-alternative mesh; then, it is something more composed and Pop-natured; something completely different follows that. A compendium of wonderful sounds and sensations go into Dead Sea Scripts. I wanted to focus on Firebird because it seems to bring together all of her skills and sides into the one song. There is a brave young woman tackling tough times and keen not to be defeated. Lyrics-wise, it projects a warrior who has that courageous soul whilst the music is a blend of soft and forceful. It is a fascinating song that shows what a talent Natalie Bouloudis is. She is a musician who has her own voice and style but still manages to cross borders and appeal to a wide range of people. That is not easy to do but when it is done right, as we see here, the results are fantastic. Bouloudis has a growing fan-base and is one of those live performers who makes you sit still and listen agog. One imagines the childhood influence and sounds Bouloudis experienced define and inspire her current songs. Bonding with instruments from a young age, she was motivated to put pen to paper and build that love of music. You can really hear that in Dead Sea Scripts and the intense passion she has. Already a complete and stunning songwriter; it is a very positive sign and leads me to believe she will carry on recording to the highest standard and listening to her own voice – rather than following 'trends' and writing for a particular market.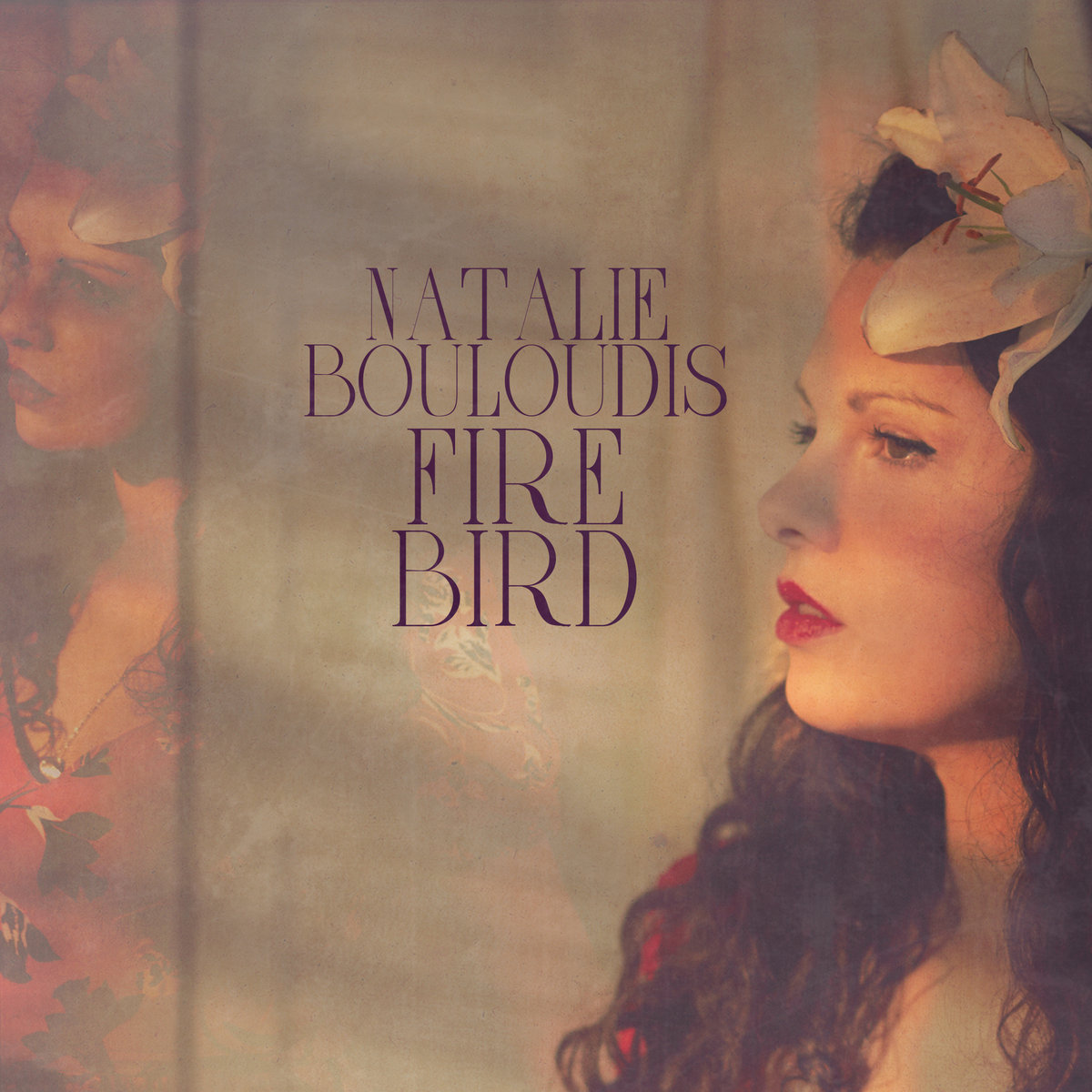 She has come from East Sussex and picked up the magic from the sea breeze and the variegated scents and sounds. Such a mixed culture and vibrant part of the world: somewhere she would have felt very attached to and learned a lot from. Now, she is in London and entering a new phase of her career. I wonder whether the dynamic and pace of the city has created a sense of detachment and forensic reserve in Bouloudis. The capital has a reputation for being cold and unconnected – not true whatsoever – but that rush and pace might compel a need for instant rebirth and rebuild. Those in a calmer and less hectic surrounding might dwell more on love and feel isolated. Those surrounded by people might have a different approach. It is a theory but there might be something in it. In terms of chances and venues, she is in the best place to build her experience and get those dates under her belt. It is a competitive market but one she is equipped to deal with. London will be very kind to Natalie Bouloudis and she, in turn, will provide it will some fantastic music and a lot of hard work. I have enjoyed digging into Dead Sea Scripts and the fantastic track, Firebird. I will back her career and follow everything she does. The heroine has experienced changes, pains and disappointment but never lets it get to her. Instead, those feelings and experiences are put into the music and inspiring her fans. Bouloudis is not a woman to let life's unpredictableness drag her down. Instead, she gets up, dusts herself off and…
PHOTO CREDIT: Luke Novak
CARRIES on regardless.
_______
Follow Natalie Bouloudis
Twitter:
https://twitter.com/nbouloudis
Facebook:
https://www.facebook.com/nbouloudis/?ref=bookmarks
Instagram:
https://www.instagram.com/nataliecatalie_/
SoundCloud:
https://soundcloud.com/nataliebouloudis
YouTube:
https://www.youtube.com/channel/UCBmhB5km-8SMwLbyI7ZRZIQ