FEATURE:
 
IN THIS PHOTO: Björk
The Festival Headliners: Time for a Change?
________
I have written features about festivals…
IN THIS PHOTO: Taylor Swift
before and looked at the best to look out for. Away from that, I have investigated the issue if gender and racial imbalance in music. For the sake of economy – I haven't distilled and concentrated a point about this specifically – it seems there needs to be a change in the way festival headliners are selected. As I said; I have looked at reasons why female artists deserve greater exposure – it is not only reserved to there are many black and minority musicians who are worthy of a spotlight – currently being denied that.
There seems to be, to me, at least, no viable and logically reason why this practice continues.
I am not going to be spiteful about the headline acts at Glastonbury Festival or Reading and Leeds. To me, though, there are few original, inspired or deserving artists on the headline bills – this extends to some of the other larger festivals. I know there are female and minority musicians at the festivals but not as many as there should be. While other, smaller festivals are little less culpable than the larger ones – it is still unforgivable there is such a deficit. I am looking up and down the posters for Reading and Leeds; a glance at Glastonbury and Camden Rocks. There is that tendency to promote the male artists and in many cases make them the headline acts – at the expense of female artists.
IN THIS PHOTO: Beyoncé
I understand there is a certain currency to artists like Muse, Kasabian and Ed Sheeran but they are not only artists you could have headlining. I like Brighton's The Great Escape because, not only is the official website informative and easy-to-navigate – the festival runs until Saturday – but has a great balance of male/female and brings artists together from different nations. That said, their 'spotlight' artists, all three of them, are men. Glastonbury's headliners are and so too is Reading and Leeds'. I have, as said, written pieces about gender inequality – and mooted the idea of an all-female festival – but, is there a simpler way of rectifying the issue? To me, there are still too many of the 'wrong's sort of people making the big decisions.
I have a lot of respect for Michael and Emily Eavis (Glastonbury organisers) but they are not as progressive and equal-minded as they should be. The booking of Ed Sheeran, Foo Fighters and Radiohead has provided popular but, in the case of Ed Sheeran and Foo Fighters, you have to wonder about the motive. Radiohead last headlined Glastonbury in 1997 so, twenty years on, it is appropriate they are given another chance – and they released A Moon Shaped Pool last year. Sheeran seems to be a very commercial booking: on the strength of chart success, he has divided opinions and his booking seems quite lazy. The same could be said of Foo Fighters who, aside from not releasing any material for a long time, have headlined Glastonbury before. I question how many people were genuinely excited when they saw their name on the bill.
I will not bash those selections but they seem to be aimed at a very particular audience and show little bravery and musical common-sense.
I have mentioned The Great Escape because its lineup is much more balanced in terms of gender. It is a positive step from a festival that is showing how it should be done. I worry, mind, because their headliners are male.
IN THIS PHOTO: Madonna
Marika Hackman is on the bill and, one feels, is worthy of grabbing one of the top spots – the fact Rag 'n' Bone man is, with his new material proving less popular (critically) than Hackman's says everything. In terms of gender, there needs to be something done in the next year. For Glastonbury, as they are not overly concerned with artists who have brand-new music out, being bolder with their headliners. If you want a contemporary artist, a legendary act and another selection, I would suggest, have a male act and two female, you'd have choices. Not only would you be spoiled for choice when it comes to black artists – more on that later – but female artists.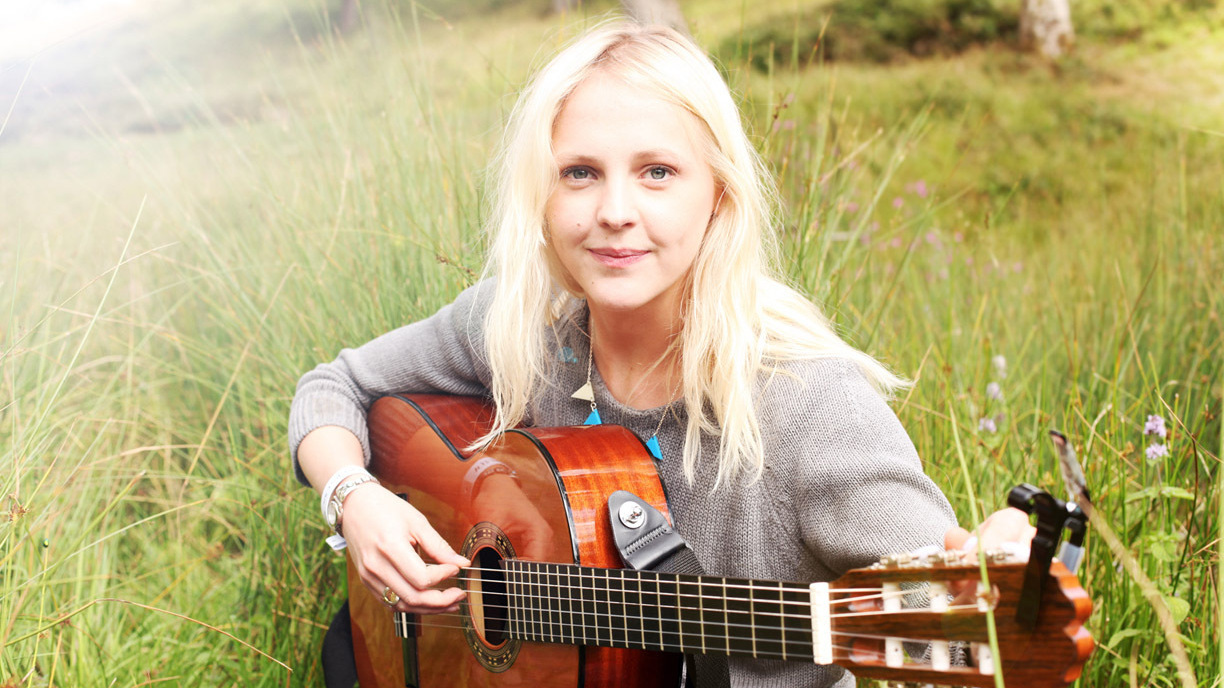 IN THIS PHOTO: Laura Marling
Björk is a name I keep bringing into features and rightfully so: one of the finest and most innovative artists of this generation. In fact, it was only two years since she released the much-celebrated, Vulnicura. It has been longer since Foo Fighters released new material so would argue Björk is a wiser booking. Not only that but she is compelling more contemporary artists and can put on an incredible show. The Icelandic musician has not taken to the Glastonbury stage too often and, in the U.K., warrants more festival exposure. There will be some who say her shows favour a more intimate venue but imagine her closing a festival like Glastonbury – ending in the darkness; she could create an incredible show. Maybe she is more suited to Glastonbury headlining than, say, Reading – who still goes for the Rock acts and those with a bit more attack and bite.
The only way to progress and make positive changes is dispensing with the old ways and listening to the public.
There are those who will argue Glastonbury's headliners are only a small portion of the artists: look down the billing and there is a range of great female artists and minority musicians. That is true but those headline names are the ones who grab the attention. If you are looking for classic female artists then there are a variety of options. Aretha Franklin, Carole King and Madonna. Maybe they would be bookings based on legacy rather than current relevance but would gather huge audiences.
IN THIS PHOTO: Patti Smith
Throw into the mix the likes of Annie Lennox and Patti Smith and you would not be short of supporters. In terms of current artists, Katy Perry, Taylor Swift and Nelly Furtado could get plenty of people interested. Furtado has released an album this year as has Laura Marling. In fact, I am surprised she was not an obvious choice for Glastonbury. Not only is Semper Femina still new but she has an enormous fanbase. Many might say all those names are Glastonbury-primed but think of acts like Honeyblood, Cherry Glazerr (there is a male member, I know) and  Courtney Barnett and you have an atomic bomb of Rock swagger and crowd-jumping potential. Lana Del Rey is someone who is preparing new music – her forthcoming album, Lust for Life – and would be a wonderful headline act. An artist who has a great reputation and would make a captivating headline act for Glastonbury.
IN THIS PHOTO: Lana Del Rey
If Reading and Leeds' headliners are going to stick rigidly to certain genres then that is okay – I would still debate there are so many great female Rock/Alternative artists who could headline. Glastonbury has few excuses – neither do the other large festivals. There are more women in the world than men and, in music, the figures are more-or-less equal. Why, then, are we still having to bring to task festival organisers and ask why their so-called biggest names are largely male? Sure, there might be the odd female headlining one year at Glastonbury – I know Adele has in recent years – but, on balance, it seems like tokenism. At the very least it is a response to commercialisation and sales figures. There are many more, genuinely original and utilitarian artists who deserve to have their name in size-twenty font. I will not bring in statistics and evidential breakdown of the festivals' gender representation but it is obvious there is, willingly or not, sexism at work. At the very least, the likes of Michael and Emily Eavis are too beholden to past ways and too entrenched in a rut. As befuddled as I am by the booking of Foo Fighters, it seems, they could have swapped them out for a female artist- at least then, the headline slots has less testosterone and shows an attempt at equality. With industries like filmmaking seeing their finest speak out against sexist and racist practices: music is seeing the same thing happening.
Whilst the Hollywood hierarchy and decision-making boardroom is much more complex and stern than music: why are the biggest festivals in the country unwilling to show a sense of progressivism and leniency?!
IN THIS PHOTO: Rihanna
There is, as we know, sexism in music but, running alongside that is an unsettling racism. Over the past few years, in my view, the greatest albums of the time have been created by black artists. Whether D'Aneglo and the Vanguard or Beyoncé; Frank Ocean and Kendrick Lamar: some of the best music of recent-years has been created by black artists. In my mind, there are so many relevant and classic black artists who would be huge draws at our biggest festivals. Beyoncé seems like the obvious choice and, maternal duties aside, she would be perfect.
IN THIS PHOTO: Frank Ocean
This year is out of the question but next year one has to ask: Glastonbury HAS to book her so she can put on a retrospective/career-spanning headline set. In fact, if Glastonbury wanted to be REALLY bold, a good line-up for the headliners would be Beyoncé on the Sunday; start off with Kendrick Lamar and have say, Rihanna on the Saturday. That way, one gets a blast of high-energy and hard-to-dislike Pop/R&B from Beyoncé; something raw and urgent from Kendrick Lamar and something a little more chart-based and commercial from, Rihanna. That might seem like a very American line-up so I can offer you a British counter-invasion: Dizzee Rascal, Sampha and Laura Mvula would be great options. Why not combine and have a transatlantic, black line-up that included female artists?! Would that be a step too far and a pandering? I don't think so at all.
To me, festivals need to react to current trends and tastes so why are the likes of Kendrick Lamar not topping festivals like Glastonbury?
He, to me, is the most important artists of the moment and would put on a terrific show. The same could be said of A Tribe Called Quest who have recently released their final album, We Got It from Here… Thank You 4 Your Service and they deserve to be right at the top of any bill. Many might say festivals like Reading and Glastonbury have always based themselves on a certain 'sound'. Reading and Leeds, this year at least, is guitar-based, largely, whereas Glastonbury has that mix of established Pop and Rock acts.
IN THIS PHOTO: Sampha
The more Rock-based festivals might be less willing to sacrifice their ethos: there are not many black bands/artists that are guitar-based. That may be over-simplified but the best and most relevant black artists today perform in genres such as Rap, Hip-Hop and R&B. I would argue there is no real reason why the likes of, say, Mary J Blige and Frank Ocean should be omitted from festival headline slots. Going back to something like Glastonbury and it seems like a legend like Stevie Wonder would be high on the priority list. I feel the best way to get young and older audiences at these festivals is to mix your headliners – have a classic artist and two contemporary ones. Wonder would be a perfect choice and someone capable of closing Glastonbury with a bang.
IN THIS PHOTO: Laura Mvula
Newcomers Stormzy and Kehlani might not be headline-ready yet but you imagine, in years to come, they would be perfect. I wonder whether talent and potential are really a measure when booking an artist. It is galling thinking there are so many great black artists out there not being provided with a huge stage in this country. In the U.S., a nation who aren't spotless when it comes to racial discrimination, seem more willing to provide black artists a pulpit. It is not good enough to suggest there is not a general outcry and protest in this area. Do we have to wait until there is a huge backlash before changes are made?! It is not even a case of ticking boxes and needlessly recruiting black artists – even through their music is not that great. I have listed artists who, I suggest, are just as strong (if not stronger) than their white peers. Music is, or should be, about quality and togetherness.
IN THIS PHOTO: Kendrick Lamar
There are so many great black artists around that have been ignored for too long. Alicia Keys, I would say, is perfect for a headline opportunity in the U.K. Like Rihanna or Beyoncé, she has amassed fans and has an enormous base over here.
She is not new to the industry and has, through exceptional songwriting and evolution, established herself as one of the finest artists of the day.
It would be great were she given the chance to play Glastonbury – close the event or open it with a real sense of authority and meaning. Maybe she was in the mix this year but one feels there is too much narrow thinking going on. There is not a conscious decision, when selecting headliners, to think about female and black artists. Keys has a tremendous back catalogue and one that is worthy of a headline spot here in the U.K. I will wrap this up but appeal to those in charge of our larger festivals and urge them to broaden their headline slots and provide more opportunities to female and black artists. It would not be positive discrimination or pandering but the acknowledgement there are too many male/white acts getting those high-profile slots.
IN THIS PHOTO: Stevie Wonder
There are plenty of people who are unhappy with the way festivals are organised and why the men take the top-honours. As I said, we need to make sure music is equal and people are being booked for their talent and potential alone – not how many chart positions they hold and whether they were good headliners in the past. As we move through time, we need to ensure there is less racism and sexism in ALL areas of society. Music is too fine and wonderful to let issues like this blacken (pardon the unintended pun) its good name. The only way there can be reappropriation is to occur if real, effective changes are made. It might be met with some raised eyebrows and cynicism but, in time, it will lead to a much fairer and less homogenised festival scene. It is clear changes need to happen and, even clearer, those changes…
IN THIS PHOTO: Alicia Keys
NEED to happen soon.