INTERVIEW:
Deerful
______
DEERFUL is the moniker of one Emma Winston…
who is, without overstatement, one of the most compelling and impressive artists I have ever interviewed. Not only, as you will see, is she incredible in-depth, thorough and fascinating (in her answers) but revealing, honest and, at times, vulnerable. Winston writes lush, sometimes sad songs, whose origins are often cemented on a handy, bus-transferrable synthesiser. Her self-engineered-and-produced debut album, Peach, is bold and ripe as the fruit it is named for. I ask Deerful's Emma Winston about that record and how her music life is shaping up – what is in the pipeline and how her sounds come together. Winston talks about illness and how overcoming it (but still troubled by it) has both hindered and motivated creativity.
She is currently studying for a PhD for, as will be revealed, a rather niche and curiosity-making subject. Elements of The Julie Rain and Yazoo come into her work and I ask about those artists – the latter, of which, have been instrumental and rather sneaky, in an odd way (a world-famous Yazoo song slipped by Winston's astute ears). She talks to me about her unique production and her narratives – often driven by the feminine; combining her reminiscences and stories – those of the extraordinary women who compel and inspire her. Winston describes Peach as being:
"an album about affirming the ordinary and vital, about the everyday things that provide comfort to you in difficult times, and about finding your own way to push back against the expectations that constrain you".
I ask about everything Peach promises and how she is feeling about the coming years – a spectacularly brave, compelling and engrossing interview.
______
Hi, Deerful, how are you? How has your week been?
It's been great – and I've been better than I've been in ages (on which more, later). How are you?
For those new to your work, can you introduce yourself, please?
My real name is Emma and I'm a musician and music PhD student living in London. I write, produce and sing bedroom-Pop songs about feelings (on tiny synthesisers). I love hummingbirds, research; cats, the Internet; scrambled eggs, Ableton Live; square waves, Robot Wars and spending ridiculous amounts of time talking about my interests to anyone who will listen.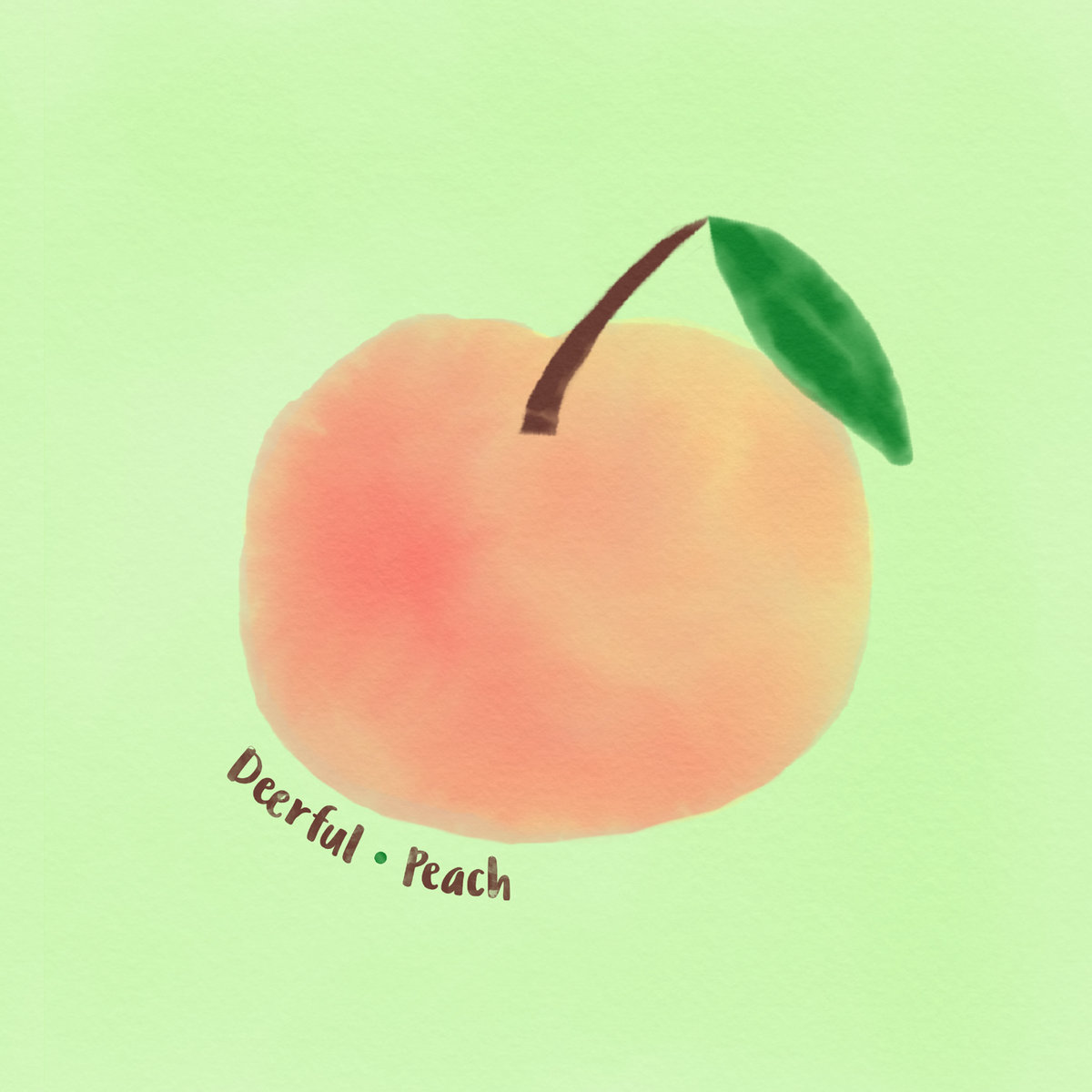 Peach is your upcoming album (out on 2nd June). Can you tell me the story behind that title?
In all honesty I picked the title almost entirely because I noticed I'd accidentally used the word in multiple tracks of the album – including the slightly odd ambient/experimental tracks, Peach Rose Tea and Peach (Redux) – which I think particularly stand out for being, frankly, kind of weird compared to the rest of the record. I ended up being torn between three titles – By Night We'll See the Stars and The Traces Left Behind were the others – and because I'm especially bad at small decisions I got people to vote between them on Twitter. Peach was the frontrunner; so, Peach it was – and I knew what the album art would look like almost straight away, which helped. I also like the connotations it has I think. A peach is soft and fuzzy on the outside and has an arsenic-containing stone in the middle. With that said, I know people use the peach emoji to mean something else but I wasn't thinking about that!
Also, this was a total accident, but I'd like to think there was a subliminal reason for it: there's a wonderful songwriter/producer called Emily Reo who releases amazing weird Pop on the Canadian label, Orchid Tapes. I stumbled across her album Olive Juice back in 2015 and it was the final impetus I needed to start producing myself.
It's gorgeous and aspirational but I also feel like, of every Electronic album I've ever heard, Olive Juice feels the most transparent in how it's produced; like 'this is wonderful and I could do that!'. One of the tracks which inspired me the most is actually titled Peach (I think after Princess Peach from the Mario franchise!). Although I wasn't thinking about it when I named the album; I like to think it seeped into my subconscious, somehow. I really (really) hope she doesn't mind if she ever finds out.
What kind of songs and themes are explored on the L.P.?
It's really an album about tiny moments of contact between people, especially between women. During the time I was writing it I read Chris Kraus's foundational feminist novel I Love Dick – which, in all honesty, I had very mixed feelings on from an ethical/emotional perspective – but some of the stuff she says about women's art, in particular, really stuck with me; especially the quote "What happens between women now is the most interesting thing in the world because it's least described". Some of the stories recounted are mine; some of them are other people's; it's an album that revels in smallness first and foremost.
I think, in many ways, it's the smallest moments of contact that make you, you; Peach is about the moment I kissed my best friend in a church; about napping in the passenger seat on a rainy drive through an English village in the middle of nowhere; about friends I've seen blossoming in confidence through individual acts as small but significant as caring for a pet; as much as, or maybe even more than, it's about bigger things like learning self-love and the frustration of pushing back at binaries. There's a CHVRCHES lyric that goes "We are made of our longest days…we are made of our smallest thoughts" and I think that was on my mind as I was writing it.
This record is only two years down the road from your debut song? Was it quite a tough decision committing to an album or did it seem like the natural thing to do?
I feel like I'm making up for lost time. I'd spent years and years wanting to write songs but feeling like they'd never be 'good enough', whatever that meant; I wanted them to be perfect otherwise I couldn't let anyone hear them. Aged twenty-six, after a few years of live and session playing with other prolific songwriters, something clicked and I realised the perfection I was looking for had never existed.
After that, songs started to pour out and I found it hard to stop! It seemed like an absolutely logical progression to move from single to E.P. to album.
I was writing and writing and writing and although the temptation – because I'm extremely impatient – was to keep releasing E.P.s for everyone else; I think I knew it'd be more satisfying to try and rein in my new inclination to hurry stuff and build a larger-scale release (I already can't wait to move on to the next album though).
The album was made with small synthesisers (the OP-1, PO-32 and the Critter & Guitari SEPTAVOX) and has quite an intimate and homemade feel. Where was the album recorded and did a lot of songs come together on the move and in smaller, unexpected spaces?
About 80% of the album was recorded on my sofa or in my bed in my tiny flat in Clapton, London. This is partly a purely practical decision – I have been experiencing somewhat poor health, both mental and physical, for a very long time which was finally found earlier this year to be down to idiopathic hypersomnia (a sleep disorder which is a rarer sibling/subset of the already-rare and much-misrepresented condition narcolepsy and which you can read more about here – trivia: the Chair of the Green Party has it too so I'm in good company. Yes, it's real, and no, it's nothing like the Argentinian from Moulin Rouge). I started treatment for it this week and so far it's been like being gifted a totally different brain (in a good way). I'm usually at my best by far in the evenings which, fortunately, is when most gigs are – although I've definitely napped in a number of green rooms.
In order to be at my most productive and creative, I've built quite specific ways of working because my energy levels have been so variable for ages; I do best with flexibility.
On my worst days, using my energy on commuting means my body and brain won't work as well so a tiny studio I can use on my lap in my flat is invaluable – in this sense a lot of the album is bedroom-Pop in the absolute truest sense of the term. Conversely, if I'm having a good day, when I'm out and about I don't want to waste a second of it; so a synth or workstation I can use on the bus to uni or in a spare moment in a café or bar (The Wider Sky, So Far from Land was written, rather antisocially, in a pub while my partner sat beside me doing The Guardian crossword) is perfect. So, my synth. collection is made up of small, portable lap-sized battery-powered devices and it works well for me.
Being a near-pathologically, high-achieving person – while also being disabled – for me (and I'm very aware a lot of people don't even have this option available to them and I've been really lucky to be able to do this), means finding odd solutions to stuff in order not to waste a single second of energy.
Whether that means self-employment, studying or being creative (and making a virtue and a 'style' out of that) has also been really important for building a musical identity and self-esteem about my work – and not beating myself up about not creating in more 'normal' ways.
It'll be interesting to see if the ways I gravitate towards working change now I'm diagnosed and on treatment. Maybe I'll start a modular synth collection (but probably not).
One unambiguously delightful thing about working completely away from a studio was that it gave me an opportunity to learn to mix without giving any of the control of the album over to someone more qualified (!). I engineered the album myself with the assistance of my friend Candy. I learned so much from it and would do it again in a heartbeat. Being a public amateur is awesome.
After self-releasing an original Christmas song, City Bells, you put out a seven-inch single, Moon Maps/Hush Me. Then, a cassette E.P. and a U.S.B. drive loaded with 8-bit remixes (Home). It seems like you are in-touch and fond of traditional formats and physical releases. Is it important to preserve that in a digital age?
 I actually think having done this is mainly a function of my involvement with labels WIAIWYA and Gare Du Nord – whose releases tend to centre around the physical. Left to my own devices, I think I would likely have done everything digitally – it's how I consume almost all of my own music and I don't think I would have even considered a physical release due to cost; so I feel particularly fortunate to have WIAIWYA's support in releasing Peach on vinyl.
The way I consume and produce, and even live my life and socialise, is very dependent on the digital: I don't think that's inherently a bad thing at all but you reach different people by making different formats available, I think.
With that said, the feeling of holding your first vinyl is incredible to an extent I didn't expect – I made an actual physical thing and it's big and robust and beautiful. This is a totally selfish and superficial reason to do it of course but I'm glad people consume and enjoy music in wildly divergent formats still – we're all different and there's no reason the ways and rituals we choose to fire sound waves at our auditory neurons shouldn't be equally wide-ranging.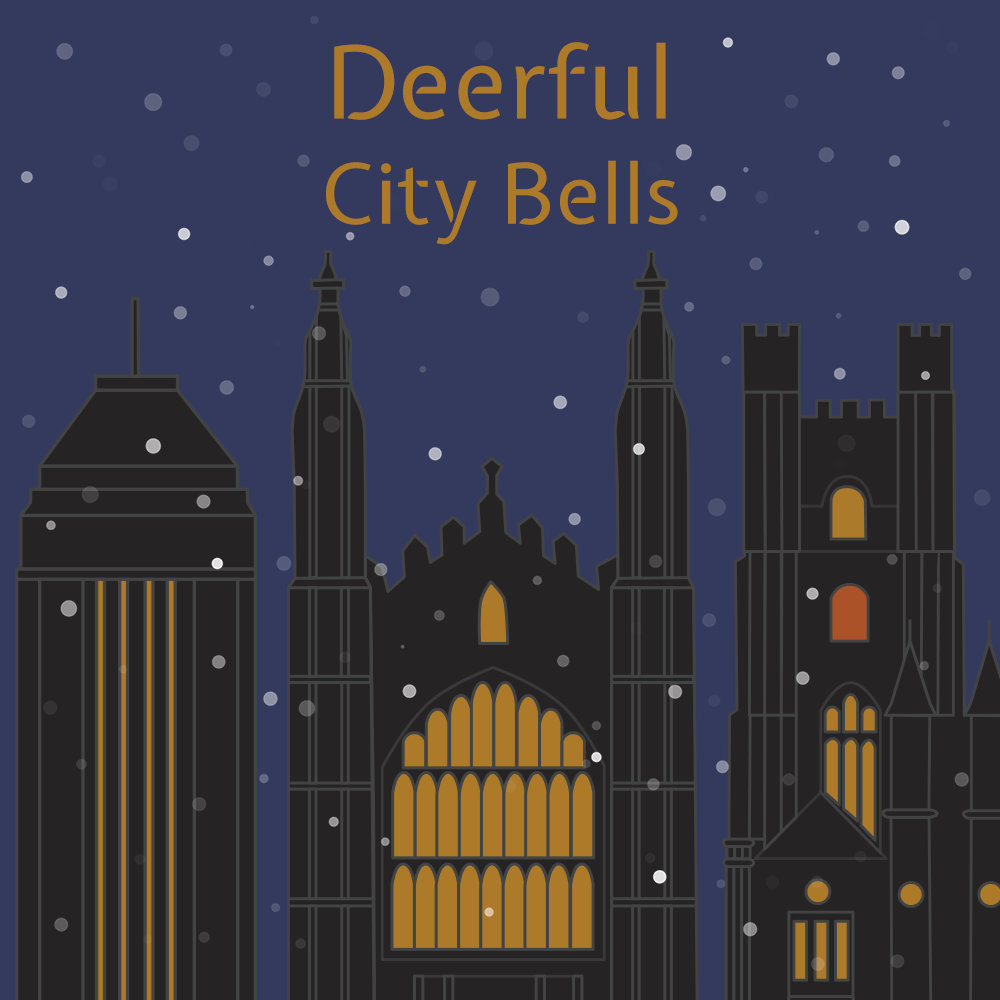 There are hints of – diverse and spectacular artists – Grimes and Yazoo in your work. Are these important musicians to you? Who were the artists you were inspired by at a young age?
This is a hard one to answer, but, until I was about nineteen or twenty, I didn't listen to Pop music. I thought I was going to be an opera singer but I was never quite good enough. I spent my whole childhood listening to Classical music and musical theatre. I love Grimes and am so, so flattered to be compared to her but I only discovered her last year (I know), and even more shamefully, I didn't know Only You was by Yazoo. Now, I guess I have to go through their whole back catalogue because they're great (so, er, thanks for the tip-off). I'm really jealous both of Grimes's approach to sample-manipulation (which I basically don't do any of; it's on my list of things to teach myself) and her stage presence. She's absolutely wild to watch and as a quite physically awkward person. I really envy her! Also, California, is a banger.
My real gateway into Pop was Yann Tiersen – best known for his soundtrack to Amélie but he's done a lot of much more left-field, interesting stuff. L'Absente was my introduction to him and is a meandering experimental-minimalist-Classical-Folk mix of songs. Dust Lane is more dark Prog. (and makes better use than Peach, I think, of the built-in text-to-speech voices, in OS X, in its title track). Le Phare is heavy on violin but also features his best vocal track, Monochrome. From there, I moved on to The Divine Comedy (who collaborated with Yann on one of the tracks on L'Absente) – I feel like I've slightly outgrown Neil Hannon's self-aware arch approach to songwriting but his second album, Promenade, still features some of my favourite Pop arrangements of all time (and I still want the closing track, Tonight We Fly, played at my funeral).
What does the rest of this year hold for you? Any tour dates coming up, perhaps?
I'm not sure yet. I'm aiming at the moment to play regularly in London every month and elsewhere whenever I can – although no formal tour's been arranged. I'm also in the second year of my PhD, so, having to balance everything as carefully as I can which has been made harder by hypersomnia – sending me in and out of sleep clinics seemingly nonstop for the last few months!
I'm hoping now that everything is starting to stabilise, I will be able to balance things a little more readily and, hopefully, make time for something resembling an actual tour in the not-too-distant future.
I'm not allowed to drive anymore, though, so I guess if anyone wants to be my tour manager and doesn't mind me napping at opportune moments, hit me up.
You sing live with Darren Hayman. Will you two be working and touring together through the remainder of 2017?
No plans to, no. I think it's been about a year since we last worked together actually! I owe a great deal creatively speaking to my work with Darren; without it, I'd never have discovered I was in love with synthesis or Electronic music or production.
Collaborating with him pushed me towards finally breaking through the destructive perfectionism that had always stopped me from writing.
But, I think, sometimes, once you've learned those lessons you have to fly the nest; be a bit selfish and develop them, and yourself, in your own time and space. I've spent a lot of invaluable time as a musician as a cog in other people's machines. Deerful is an opportunity to build and tend to my own.
I am interested in your PhD choice: Ukulele Ethnography. First of all, what does it entail and what compelled you to follow that course/subject?
Essentially, I am writing a thesis about the growth in popularity of the ukulele in the western world (primarily, the U.K. and U.S.A.) during the course of the last decade. Once you start looking for them (or even if you don't), ukuleles are everywhere. Every town, however small, seems to have at least one ukulele group. You can hear and see them in dozens of adverts and they've utterly taken over YouTube. Through a combination of relatively unstructured conversations, surveys and attending ukulele groups and events myself; I'm trying to figure out why that is, and in particular, what it means for the identities of people who play – many of whom, especially in the last few years, are older adults with no musical background whatsoever.
What does it mean to have thought of yourself as unmusical for your entire life but to become a musician in retirement? Is there something specific about the ukulele that facilitates this? (Spoiler: kind of but not in a completely fixed way). Why has a distinctly analogue instrument become such a fixture within online social networks like YouTube? Although I'm a terrible player myself it's utterly fascinating; I get to communicate with creative people with strong opinions on the instrument (both positive and often extremely negative!) and I feel like I have the best job in the world.
It seems like your fans have a great affection for you and your work – you reciprocate that trust and support. How important are fans, in the flesh and on social media, to your ambitions, drive and life in general?
My immediate reaction to this was: "I have fans?!" In all honesty, the best thing I can imagine coming from Deerful is encouraging other people to create stuff. In the grand scheme of music, even Indie music, I'm a really late starter. I want people to know how cool it is to make your own stuff and perform live and release things – and be motivated to do it themselves. Ultimately I'd love to make part of my living from music, and in that respect, it would be amazing to build more of a critical mass of fans. In order to do so, but if that doesn't happen; if I've inspired even one person to write or produce – especially if it's someone who falls into a demographic that's underrepresented in live music or Electronic music or whatever – so much the better.
If you had to select the three albums that have meant most to you; which would they be and why?
OK, firstly, it's important to note that, as I mentioned earlier, before I was about nineteen or twenty, I basically did not listen to Pop music.
I feel like, as a consequence, my knowledge of the 'canon' of classic Pop is basically absent, but also, my music taste evolves really rapidly.
These are all fairly recent but about 90% of the stuff I'm listening to now is even-more-recent!
The Postal Service: Give Up (2003) – I didn't even know what music production was when I heard this for the first time (which would have been about 2009 or 2010, I guess) but it was a total and utter revelation (and I wish I'd done something about it sooner!). It was the first time I'd ever heard Electronic music in the context of the kind of songwriting I wanted to do. Sonically and texturally, it's what I'm still trying to live up to. The clicky static that serves as percussion in Sleeping In and that glitchy retro-games-console countermelody in Nothing Better are everything. Dntel is still, probably, my favourite producer and Ben Gibbard is a wonderful songwriter. I wish they'd collaborate again. One album isn't enough.
Allo Darlin': Allo Darlin' (2010) – It's actually been a little while since I've listened to this but I can pretty much attribute my life in London and my beginnings in bands to falling in love with Allo Darlin'. Around 2011, I discovered this somewhere. It might have been on Tumblr, near the beginning of my MA degree at Goldsmiths, and I was obsessed. I went to see them play at Scala on my own at the Fortuna Pop 15th anniversary celebration; forced myself (then painfully shy) to start talking to the people around me and the rest is kind of history. It's a hopeful and pretty and deeply uncynical album.
At the time, it was exactly what I needed. I remember listening to My Heart Is a Drummer on repeat: "I'll slide my feet up and down the wall/'cus I know that I'm stronger than you are".
I thought I'd outgrown Allo Darlin' until their farewell show at the end of 2016 which was one of the most wonderful live shows I'd ever seen. Hearing they were breaking up after a long absence had left me feeling nostalgic but not really sad; knowing all the members had new lives and new projects. But, the energy in the room alone at their final show floored me; left me sobbing and feeling like I'd been punched in the head in the most beautiful way. I think their sincerity is both easy to dismiss and one of the most precious things about them. It takes guts to be gentle and kind (as the not-particularly-gentle-or-kind Morrissey once sang) and I really admire that in Allo Darlin's work.
PHOTO CREDIT: Daylight Music and Paul Hudson
Owen Pallett: In Conflict (2014) – Everyone secretly has an album they think might have saved their life, right? This is mine. In Conflict hits an absolutely sublime point between Pop and Experimentalism (it's basically just strings, electronics and vocals); works its way through mental illness, sexuality and gender in the most gentle and clever (and subtle and odd ways). I admire its candidness so much: "You stand in a city that you don't know anymore/You tried to rule the world but you couldn't get beyond the front door". It was released near the beginning of a depressive episode that led to me writing Staying Still and it was such an important touchstone and comfort for me at the time. I genuinely think Owen Pallett is one of the most accomplished composers, songwriters and arrangers alive today and the merging of technique with emotion on In Conflict is something I'll never live up to, but will always secretly dream of. I Am Not Afraid and The Secret Seven are the two poles of In Conflict for me – slightly dissonant linear meandering counterposed with sweet, sad Pop.
Are there any new/upcoming artists you advise we keep an eye out for this year at all?
(Disclaimer: these people are all probably already better-known than I am…)
Noah Hafford's That Way was my favourite song of the last year and, if they're not stratospherically famous by this time next year, there's no justice in the world. Noah is an extremely sweet human who makes super-fun pastel Pop in the vein of the very best '90s/'00s bangers – I'm so, so here for it and I can't wait to see what they do next. They're also in a more guitar-based – but still extremely fun – project called Crying on Vacation who I think either just released an album (or are just about to).
I'm pretty obsessed with High Bloom right now and have been since they released their first E.P./mini-album thing – they're a bedroom-Pop duo consisting of Caroline White from the already-pretty-established solo project, Infinity Crush, and Hans Hoffman of White Wreath. They kind of remind me of a sadder, prettier Baths – only with beautiful soaring vocals; soft electronic beats and floating suspended pads – a little lo-fi but not distractingly so.
Start with Sweat but, honestly, just buy Haloed and listen to the whole thing in one sitting: it's gorgeous.
Shawn Wasabi is more famous than I'll ever be already but has only released a few tracks so far. The best way I can describe him is a virtuoso player of grid controllers who poaches samples from literally thousands of sources and turns them into something entirely new. They seem to get called 'mashups' in the press a lot but they're not like any other mashups I've ever heard: he basically plays each sample like its own instrument. His video for Marble Soda is one of the most amazing performances I've ever seen and I genuinely squealed the first time I heard it. It's so, so delightful.
At the more D.I.Y. end of the spectrum, Joyce Delaney is already killing it live and will be killing it, even more, when they eventually decide the rest of us ordinary earthlings are deserving of hearing more of their songs recorded. They're a Glasgow-based trio and they write D.I.Y., shouty Pop but it gets slightly Math-Rock and weird sometimes; maybe a bit high-life at points – and they're amazing. Their song, VDay, is my favourite: "Don't need to buy me flowers/I am a fucking flower". YES.
Last one I promise. I was lucky enough to support Brightly at a night last year and I'm so glad; otherwise, I'm not sure I'd ever have discovered him. He writes brilliant, dramatic Electropop; skittering nervous percussion; thick brass-like synths; glitched-out vocal samples – about love and grief; sex and repression and oppression from a crucial, queer perspective.
His voice has this perfect flutter that sounds like it's constantly about to run away from him. Every time it does, he reins it back in and it's so exciting to listen to.
His music is tactile and visceral: he's amazing live and criminally under-recognised. He's also a genius developer – see his generative music video for Rugby (N.S.F.W.) which is, also, his best song, I think. Book him for everything and buy me a ticket.
This is a lot of recommendations, sorry.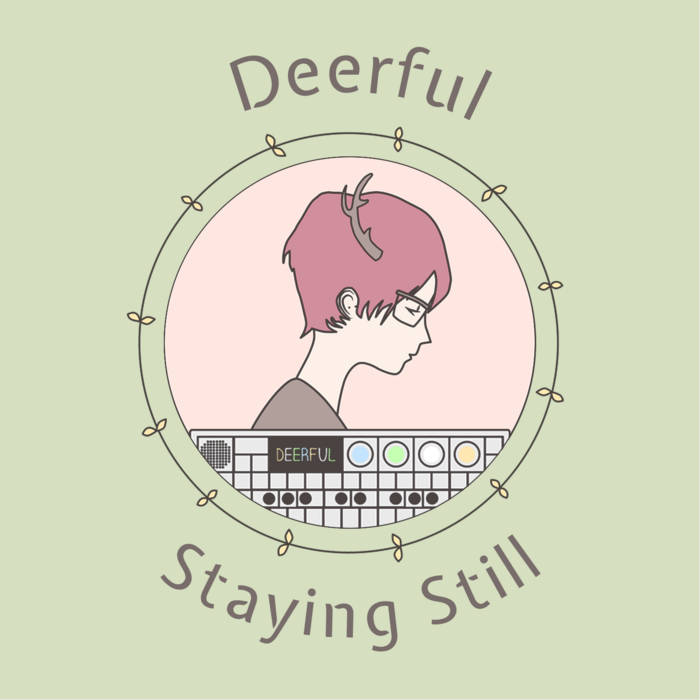 What advice would you give to any new artists coming through right now?
The number one thing I would say is not to let being scared stop you from making stuff. I think it's so easy to feel like you'll never live up to your own standards or that nobody will ever hear you; or that you're in some unspecified way, not good enough.
What 'good enough' means is different for everyone but I promise that there exists, minimum, one person in the world who will think what you're already doing is the best thing ever.
As far as I'm concerned, that's reason enough to keep going and trying to convince other people. Enjoy the process, don't freak out – and treat everything as a learning experience. There's nothing like learning something by doing it – whether that's production, songwriting; mixing or doing your own album artwork.
Finally, and for being a good sport, you can name a song and I'll play it here (not one of yours as I'll do that)
This song is my absolute favourite thing at the moment but I feel like it might be a polarising choice. So, if your readers all hate it I'm really, really sorry, but – Trampoline by Kero Kero Bonito. It's so much fun and I love it to bits.
_____
Follow Deerful
Official:
Facebook:
https://www.facebook.com/deerful
Twitter:
Instagram:
https://www.instagram.com/deer_ful/
SoundCloud:
https://soundcloud.com/deerful
BandCamp:
YouTube:
https://www.youtube.com/c/Deerful