INTERVIEW:
Elephant Stone
______
MONTREAL'S Rishi Dhir-formed Elephant Stone…
in 2009 – it has, since then, seen the sitar/bass player become one of the most highly sought-after musicians on the Psych. scene. I ask Dhir about the group and how it all came together; whether he is excited to be touring in the U.K. and Europe and if he/Elephant Stone has a connection with the people here. Live at The Verge is the new album and one I wanted to get inside of. I learn about the performance and what it was like; the highlight from the session/album and the reason behind releasing an album of this nature.
With new material out, I was curious to know if there were any firm plans for future releases and what the music scene is like in Montreal. I am a big fan and advocate of Canadian music so am excited to see Elephant Stone growing stronger and more confident.
 ______
Hi, Rishi, how are you? How has your week been?
Doing great. Excited about the upcoming E.U./U.K. tour. Spent the past few weeks working on demos for two E.S. albums.
For those new to your work, can you introduce yourself, please?
Would it be okay if I just copy and paste from our website?
"Formed in Montreal in 2009, Elephant Stone is the brainchild of vocalist, bassist, songwriter, and sitar player, Rishi Dhir. Also featuring Miles Dupire (drums/backing vox) and Gabriel Lambert (geetar/backing vox), Elephant Stone have toured extensively throughout North America and Europe and are prominent members of the burgeoning psych rock scene. Dhir has recorded, performed, and toured with indie rock icons (Beck), legendary cult bands (The Brian Jonestown Massacre), and contemporary psych titans (The Black Angels and The Horrors)."
Can you tell me a bit about Live at The Verge? What was the reason for recording there are putting it out as an E.P.?
During our last Canada tour, we did live session for SiriusXM 173 The Verge. It was a pretty exhausting session as we played the night before and had a show the same night. Since the release of Ship of Fools, we have toured a lot and the songs have begun to take did forms live. So, we were presenting the songs in a different setting.
Honestly, I wasn't expecting much from the session… we've done these types of things in the past. However, when I got the first mixes, I was blown away.
Yes, the performances are not perfect but it pretty closely translates what we're trying to accomplish on stage. So, with this upcoming tour (and not really having any new material to put out) we decided to put out our first live release.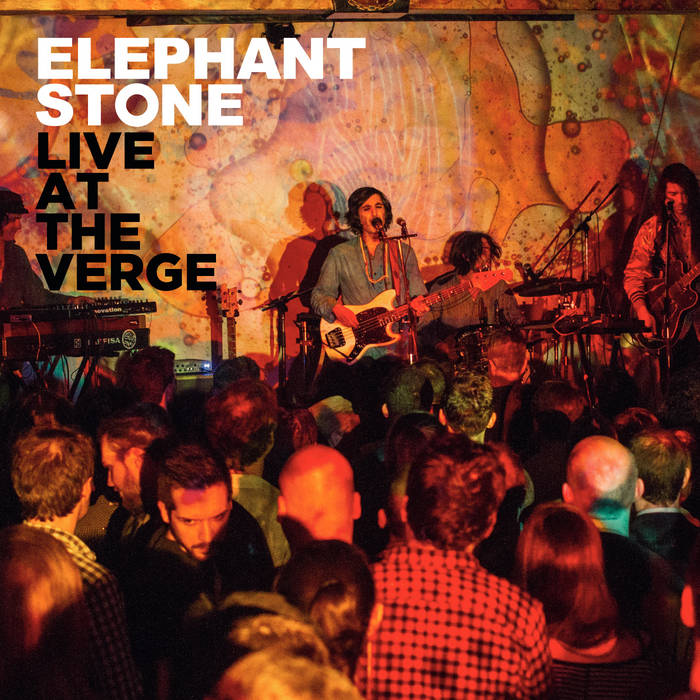 What was the crowd like on the night? Was it a pretty intense atmosphere?
Haha. It was in studio… so, not much of a vibe. The E.P. cover is a bit misleading: that was taken during a Montreal show last year when we flew in the Mad Alchemy Liquid Light Show from San Francisco. THAT was a great vibe.
Do any of you have a favourite memory from that night?
See answer above – definitely the 'Liquid Light Show.
Does a live E.P. mean you are working on new material? When, if at all, might that happen?
Well, I'm currently demoing two new releases for E.S. Believe it or not, one of them will be called Acid House Ragas: Vol 1. It'll be an instrumental acid house album with sitars: it'll be a journey through four ragas.
I'm working on it with my buddy Stephen Ramsay (Young Galaxy). I know… it sounds insane.
The 2nd album will be more aligned with classic Elephant Stone. I'm telling everyone it's gonna have an Ocean Rain vibe. I want some orchestral sounds on that one.
In May, you are doing some European dates – including Moth Club in London (26th May). Are you looking forward to those dates?
Yes. We love touring Europe/U.K.
Will this be the first time Elephant Stone have played in Europe? What are you most looking forward to in regard your time over here?
Nope. We've had many journeys across the pond. Our schedule is pretty packed… so, we're just looking forward to playing music.
In terms of the material you'll be playing at those dates; will there be a mix of your previous work or do you have a similar set-list for each gig?
Yeah, we present a pretty even overview of our whole career.
Can you tell me how you all got together in the first place?
I started Elephant Stone back in 2008. It was originally supposed to be a Psych-instrumental project based on sitar. However, it started to grow since then. Gab and Miles joined the band in 2010 and 2012, respectively.
Elephant Stone are based out of Montreal. What is the music scene like there at the moment?
A lot of diversity. We have some great promoters (Pop Montreal, Blue Skies Turn Black; Evenko, Greenland) who have played a huge role in bringing Montreal out of the musically-void early-'90s.
I am interested in the Canadian music scene in general. How would you say it has changed in the last few years? Are you seeing a lot more quality and variety come through?
Canada is a big place. Can't really say I have my finger on its pulse. There's always good and bad.
However, I will say that things have started to look brighter for the arts once the conservatives were voted out.
If you had to select the one album that has meant most to you; what would it be and why?
Wow. I really love all my children equally. But, push comes to shove, I would say our first album in 2009, The Seven Seas. It was my first time stepping out as a songwriter/lead singer. I had a lot to prove… and it ended being long-listed for the Polaris Music Prize.
Are there any new/upcoming artists you advise we keep an eye out for this year at all?
I'm really lost in my world right now….so, I can't really say what's happening in the Indie world…
What advice would you give to any new artists starting out right now?
Refine your craft and don't be afraid to make mistakes – as long as you learn from them.
Finally, and for being a good sport, you can name any song and I'll play it here (not one of yours as I'll do that).
Well, I name dropped Echo & The Bunnymen. How about
How about Lips Like Sugar?
_____
Follow Elephant Stone
Official:
Facebook:
https://www.facebook.com/ElephantStoneHQ/
Twitter:
Instagram:
https://www.instagram.com/elephantstone/
SoundCloud:
https://soundcloud.com/elephantstone
Spotify:
https://open.spotify.com/artist/47bokO26f4LIt4zaAlCQwo
YouTube:
https://www.youtube.com/rishidhirelephantstone