FEATURE:
Electric Vinyl:
 APHOTOS COURTESY OF UNSPLASH
Filming the Dream
________
ASIDE from all my other various-sized ambitions…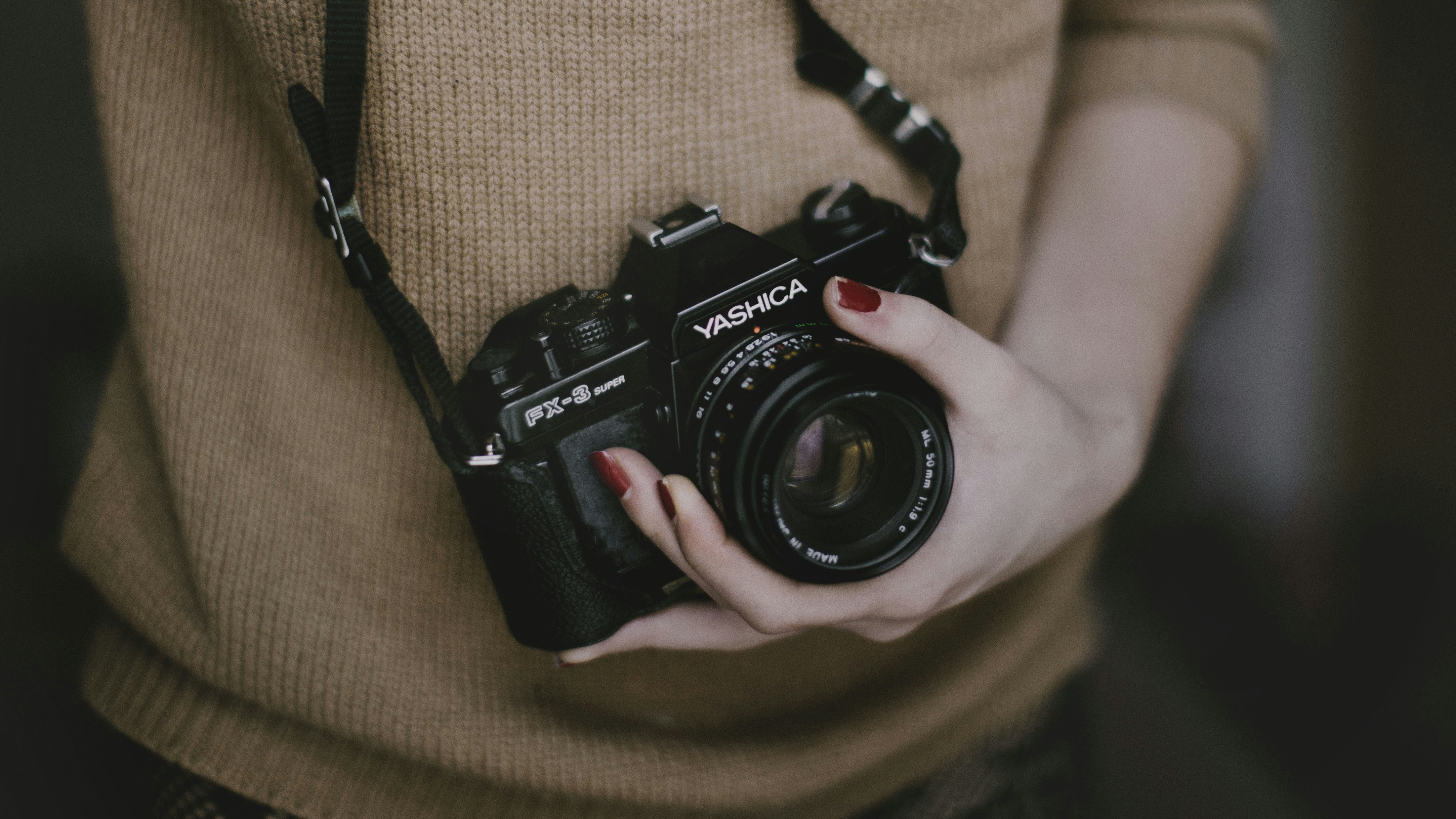 in music; I have always wanted to get together an interview series. There are a few circulating YouTube but nothing I am compelled to tune into regularly. I feel a lot of journalists and interviewers still go for the quick approach and rapid interview. Concentration levels, as is often said, seem to decrease by the year and it makes me wonder: do the younger generation really want something detailed and investigative? If not then my entire reviewing career is a bit of a waste. I feel, when launching an interview series, you are not necessarily aiming things at a specific generation; nor do you assume everyone is going to want something bite-sized and short. I mooted the idea of Electric Vinyl a while ago and it is a proposition that has not become less attractive. To me, there is a gap for something that brings together new and experienced musicians to a half-hour/hour-long forum. The only thing hindering it developing and pitch is finance: the temptation to launch the ideas as a KickStarter campaign is quite strong. I will decide that later but the objective of Electric Vinyl is to get musicians to talk about their work but the sounds they were raised on; issues that are important to them and things you do not hear in most interviews. In a way, there is a bit of Desert Island Discs in there. I am still keen to have it filmed in a location that suits casual and relaxed conversation with incredible aesthetics. I proposed the series should be based at London's Nightjar cocktail bar. It has a classical cocktail bar vibe but, when empty, would allow space and atmosphere. I am less rigid on location and could see Electric Vinyl being a bit of a travelling affair: taking it to different cities and similarly-interesting locations. Above all, it will not be a faceless and bright studio set. Musicians and artists would not be comfortable there and it would be like T.V. show. The aim is to have a modern and interesting interview show but make it accessible to all ages and tastes.
The actual episode would feature either a single artist, duo or band. Not only that but one could see a producer or video director; anyone prominent and interesting in music. I hope to aim big with guests and not only feature newer musicians. I have a definite list of those artists I want to approach and will, I hope, feature some mainstream/legendary acts. There would be, as the title dichotomy implies, be a unity of vinyl records and electronic. Each edition would have a set formula where there would be an 'introduction' – meeting the guest and how they are doing. In my original feature, I pitched it should be musicians that interview one another: facing two talent against one another and having them quiz one another. That might be something for the future but it makes more sense having a single interviewer. After the lead-in (a title sequence that would lead to the introduction) it would be down to business. In addition to interview questions – promoting their new work and what is in the pipeline – I want to go deeper and ask the interview about their upbringing and the music/albums that compel them. The Desert Island Discs comparison would see the subject/interview choose a few records (about four) that have been important and why that is. These records would be played in the bar/location on a record player. Rather than have the interview and interviewee looking at the record player and appreciating the music – it would cut to pre-filmed scenes and move away from the location – unless the song has a music video, in which case, that would be played. Not only would the guest get to select their favourite songs but they would get their music promoted. That would be dealt with early and would see the digital aspect come into play. In the studio/location; we would see a laptop where their track/video would be accessed from. Again, if there is a video, that would be played – if not, another filmed sequence. I am keen to combine the artist's new music with their inspiration and favourite tracks.
If the interviewee is not a musician then they would not be promoting their own sounds. Instead, they would get a chance to promulgate a new track that means a lot to them. Among the menu of music played; I want each guest to select a music video that they hold dear – a whole section dedicated to music videos and the ones that they admire. The final song in the episode would be their favourite song ever. This can be an older song or a brand-new one: the goodbye handshake/hug would be given and their choice track would end proceedings. That is the general structure and mix: a balance of great, older music and hot new songs they recommend. I have not seen many/any online series that do this and that is where there is a market. Also, if I am looking at a singer/band; they would be urged to give a live performance for Electric Vinyl: either coming at the top of the episode or in the middle. I want each edition to be quite relaxed and casual but have that professional vein running through it. I have a desired short-list for the first series: including Billie Marten, RKZ and Carly Wilford. They are a diverse spread but guests, I feel, would be able to provide memorable interviews. As I said; it would not just be musicians included in the show. I am eager to get female studio bosses and journalists on; festival organisers and D.J.s alongside producers and directors. That way, not only do you get a good range of voices and people but an opportunity to learn more about different professions.
I want each guest to talk about what they do and how they got started. It is important to have artists talking about their musical beginnings: getting D.J.s/producers involved would compel those watching to take up those professions or get an insight into the day-to-day realities. It is important to look at music as more than the songs we all hear. There is so much more to it than that. People want to get into music and learn about its various professions – how many podcasts and series throw a spotlight to those away from the stage?! The aim is to blend younger and older talent with people in a variety of musical occupations. The 'career' section of the interview would be towards the middle and be stapled with a chance to discuss something deeper. Many musicians I know, Like Joshua Luke Smith and RKZ are interested promoting mental health causes and charities. It would give them a pulpit to discuss those subjects and provide a deeper and more serious aspect to the interview. Like learning about the interviewee's career; one would be able to hear about everything from women's rights to mental health; so many different ideas and discussion points. Electric Vinyl unites classic and modern with the light and serious. It is those balances and contrasts, I feel, are missing from modern interview shows. Sure, radio stations feature guests and cover this sort of ground. I have not seen any like-minded series on YouTube and am motivated to get the ball rolling.
At the moment, the only hindrances concern finance and participation. That might sound big and, whilst it is, I suppose, they are obstacles that can be overcome. Equipment-wise; it will be a few cameras (a mix of handheld and stationary) and microphones. Aside from that, the only costs associated would revolve around the music and location. Not only booking the space for each episode but, if needs be, getting clearance to use the tracks featured on Electric Vinyl. Involving artists and making it attractive for them is a consideration: it would need to start modestly before going after bigger names in time. How difficult it will be to negotiate any pitfalls remains to be seen but I am confident, in time, it is achievable. The reason why I launch ideas and get ambitious is not to join a crowded and competitive market: offering something that is not being done and needs to happen. That may seem subjective but, speaking with a few artists, there is a definite desire for something like Electric Vinyl to come onto YouTube. For me, it is a sort of show-reel for what I do: interviewing artists and looking at wider issues in music. In this form, it is more digestible but still has plenty of depth and detail. I feel so many people assume attention-spans (or lack of) limit ambition in music but that is not the case. There is a collective will to evolve and try new things; push boundaries and provide something interesting, exciting and engaging. Electric Vinyl would look at digital releases and new tracks but combine that with vinyl and older records. In doing so; not only will music be moved on and more inclusive. It would, as I see it, take things…
BACK to their roots.