FEATURE:
Radcliffe and Maconie: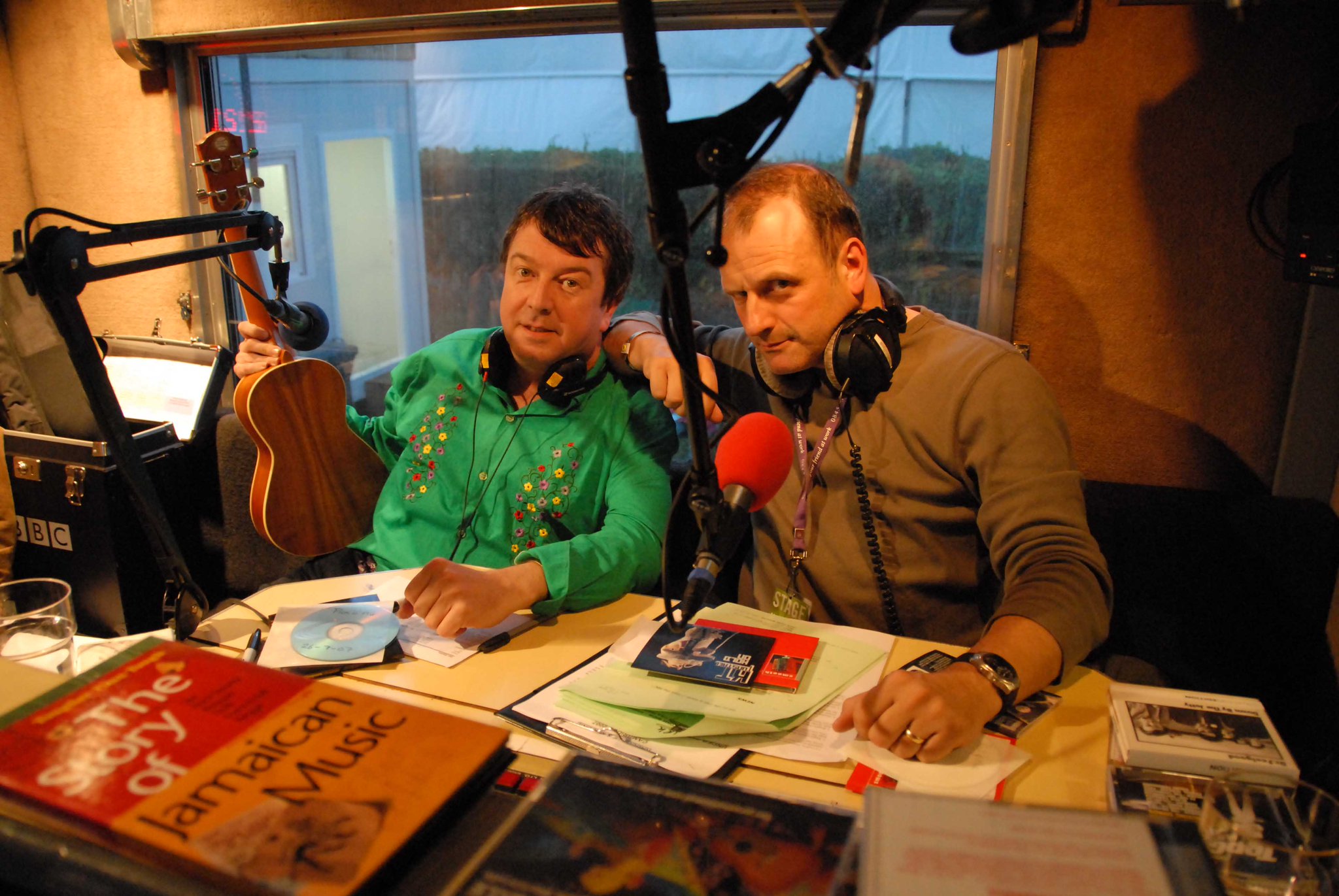 IN THIS PHOTO: Radcliffe and Maconie in Their BBC Radio 1 Beginnings
Ten Years Down…
________
I appreciate I'm a little late to the party…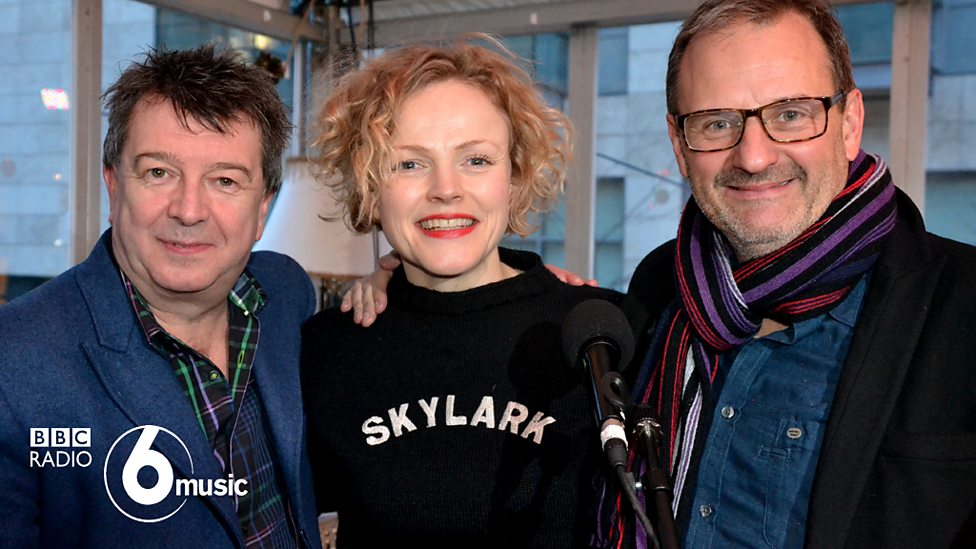 IN THIS PHOTO: Radcliffe and Maconie's One-Date Festive Roadshow
but have been on a bit of a BBC Radio 6 Music promotional junket- writing pieces about Shaun Keaveny (his tenth anniversary on the station) and Lauren Laverne. Completing my northern praise is a piece about Mark Radcliffe and Stuart Maconie: a radio partnership that has lasted over a decade. There will be those saying that is no big deal: many people might have been in their jobs for a decade and do not get a celebration. That might be the case but, when you bring joy and daily uplift to the nation – and do so for a decade – you are worthy or recognition and acclaim – regardless of the industry in which you operate. For Radcliffe and Maconie; this enduring partnership began back in 2007. On 16th April, they kicked off their show on BBC Radio 2 – it arrived on '6 Music, and MediaCityUK in 2011. In terms of their coming-together; one assumes, legend and truth aside, there was that shared humour and infectious passion for music. I remember Maconie from his NME days (he was, I think, the person who coined the term 'Britpop') and have followed Mark Radcliffe for a while. Radcliffe worked for BBC Radio 1 before moving a floor or two and taking his talents to BBC Radio 2. Maconie's writing and journalism are a huge inspiration for me and one of the reasons I follow the duo on their weekday show. His broad tastes and expertise have pushed me as a journalist; Radcliffe's Folk show and his commitment to the genre is a reason why I have thrown myself into Folk – and discovered some wonderful artists both old and new. This is not just a recognition of their current '6 Music show but their entire decade together. It is fantastic hearing them on the air and knowing they would not be anywhere else. As I step away, briefly, from '6 Music-recognising pieces for a bit; it would have been foolhardy to ignore the impact Stuart Maconie and Mark Radcliffe have made.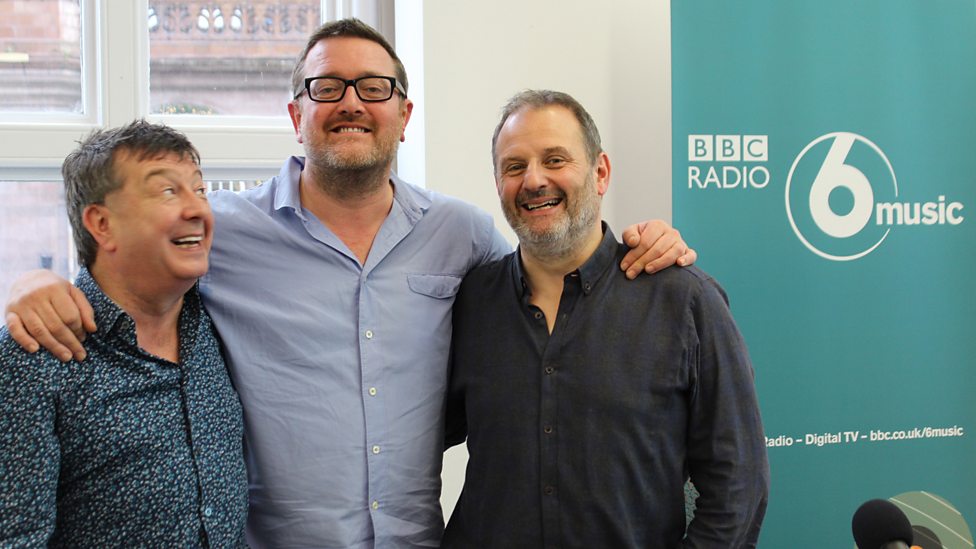 IN THIS PHOTO: The guys with their erstwhile '6 Music comrade, Guy Garvey
If you have not heard their show (Monday through Friday; 1 P.M. to 4) then you will get a front-row seat to a couple – not in the romantic sense – who have that simpatico and brotherly connection. Clearly, there is a lot of shared affection and genuine warmth. They are, in my view, two of the funniest presenters on radio and have that typical, sharp northern wit. You get great chat from Radcliffe and Maconie (their portmanteau is 'RadMac') but some sensational music. It is that combination that, I feel, lacks on a lot of rival stations. Often, you get D.J.s who are hyper and have a sense of humour – albeit it, humour-by-force-and-insistence- and the music can be a bit crap. Sometimes, the dynamic is reversed and you have to compromise. This is not the case with the esteemed Radcliffe and Maconie. Five years in to their new home; there are many – myself at the forefront of the protest line – that hopes they remain at the station for many years to come. Not having to commute to London is ideal – a lot of '6 Music's content comes from the capital. Not only are their knees, butt-cheeks and bodies saved the horror of a daily commute but you get to hear two great northern D.J.s in the north. It sound insignificant but it gives their show that authenticity and difference – they often commentate on what's happening from their piazza outside the studio window. It seems like an ideal location for a pairing who produce one of the nation's must-hear shows. To me, what really defines the show is the mix of music, guests and competitions: giving the public a wonderful combination of sounds but giving them direct access to the show.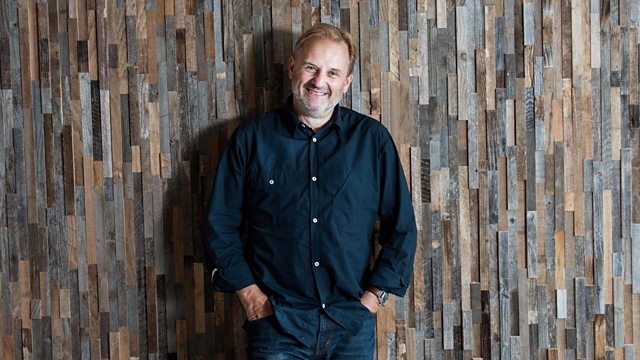 I am always amazed by the contrast and spread of music one hears on BBC Radio 6 Music. If anything, RadMac are the epitome of that. One moment, you might hear some obscure Blues track or instrumental from the '40s; cut to a smashing slap of Rage Against the Machine or The Kinks; right along to a pleasant slice of Funkadelic. It is a crazy mix that catches you off guard. Among the sensational music is a distinct lack of filler – that might be subject but you will not hear shoddy chart music or songs played by the lesser, more commercial brands. That is the mark of a great show/station: one whose palette is varied and tastes broad. I get annoyed at the stations who stick to Pop and mainstream stuff. Not only are you denying listeners any sort of stimulation or contrast but are limiting their minds and horizons. I feel the young generation, because of a number of reasons, are less adventurous and experimental when it comes to music tastes. Radcliffe and Maconie are the architects of music's past and present best that compels the eager voters fifteen hours a week. I have discovered so many archived gems because of them and always listen in so I can find the finest new artists on the block. As a music journalist – and someone who wants to establish music businesses and projects – people like Stuart Maconie and Mark Radcliffe and invaluable. They are of a 'certain age' that means they have grown up with the legends of music and entered the music industry when it all got really good. Not to sound like a relic, but music really hit its peak by the 1990s. Both D.J.s would have been active during that decade and right at the forefront. A lot of young D.J.s are unaware of music's depth and how much greatness we have seen – too focused on current sounds and chart-ready music. Radcliffe and Maconie have no quarter when it comes to streaming figures and chart positions: they bring the best and most alluring tunes for those who have a real affection and understanding of music.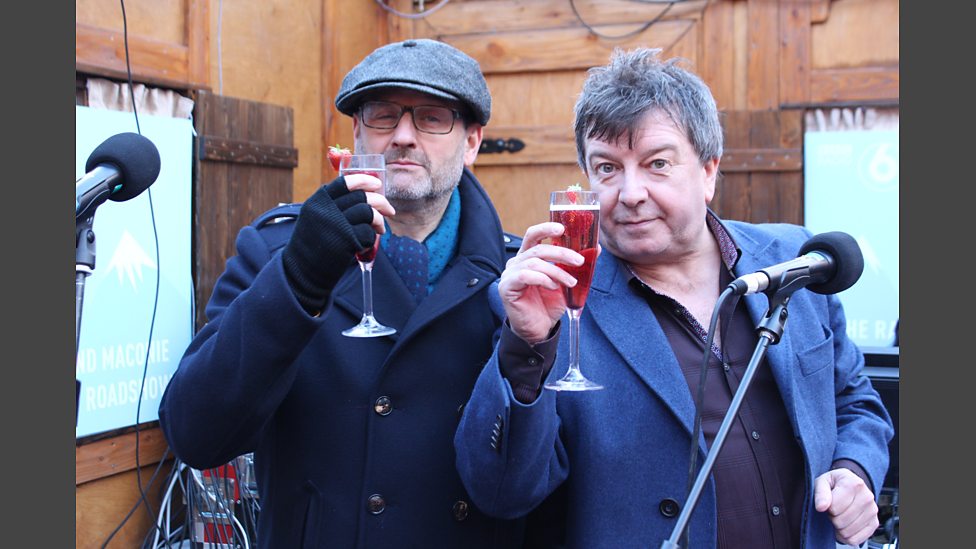 Aside from the consistent awesomeness of music played; it is their regular features and music news that has gained a cult following. Current features include Tea Time Theme Time – a listener chooses three songs and people have to guess the connection between them – and The Chain – where the listener selects a song that connects, in some way, to the previous one on the show (no repeats allowed). They are great features that get the mind working ad give the public a chance to chat to the D.J.s. I love The Chain especially because, aside from the great Fleetwood Mac link, it is something that can go on for many years. I am not sure what number song they are up to now but it's a juggernaut that continues to ferry on. It is great hearing the caller explain their reasoning and, in a lot of occasions, hear a song you might have forgotten about. Tea Time Theme Time has a similar bent and has that linked theme similar to The Chain. Sometimes the connection is ridiculously easy – to the derision of Radcliffe and Maconie – whilst it can be a real head-scratcher. The general rule for getting involved seems to be: make it long enough so they can have a slash/good, long brew. Other D.J.s on '6 Music have their features but I always make sure I'm tuned in to hear The Chain and Tea Time Theme Time. It is a daily highlighted and something, like others, that distracts me and offers some incredible music. Elizabeth Alker, A.K.A., 'Alcopops', is the regular music guru who provides a daily dose of music news. She has been working in the industry for years now and, like Radcliffe and Maconie, works on other shows and keeps busy outside her 'day job'. Alker is someone who has an infectious spirit and real bond with musicians. She is down-to-earth and accessible: artists open up and give some really illuminating chats and candid conversations. Maybe it is her demeanour, accent or personality: whatever it is; you are guaranteed some terrific interviews with artists, producers and creative right across music. Not just that but she gives the nation their fix of what is happening in the world of music. Another northern treasure who lights up the airwaves – the perfect accompany and foil for Radcliffe and Maconie. The bond, or gentle ribbing, among the three always raises a smile and, one suspects, one of the reasons Alker has that enthusiasm and drive for what she does. You can catch her in other guides and stations but make sure you tune in (each weekday) for her updates and interviews.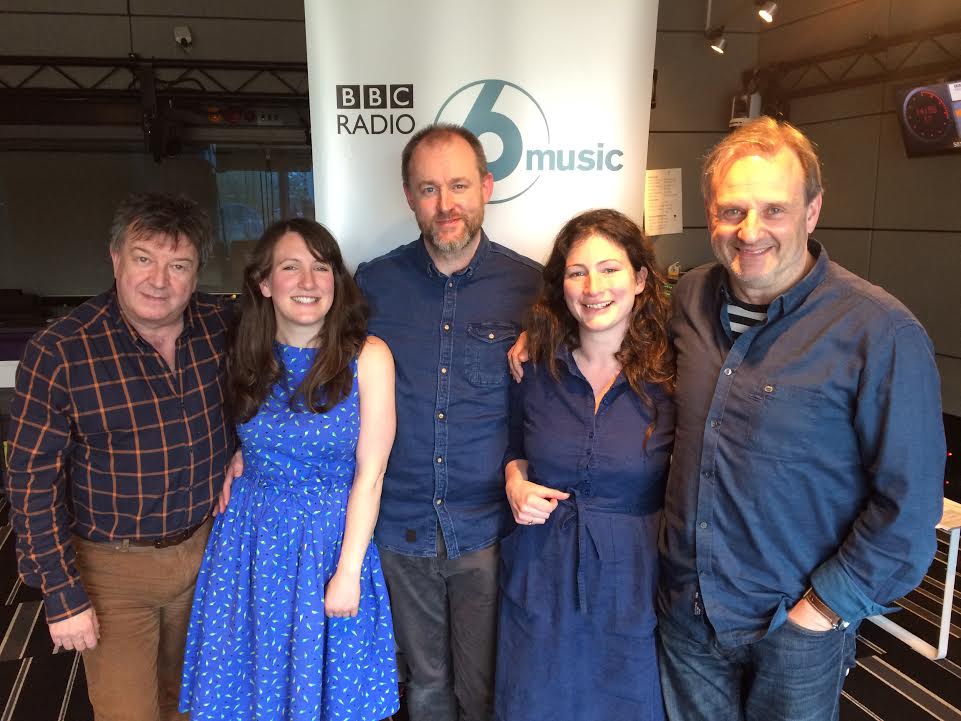 IN THIS PHOTO: Radcliffe & Maconie with The Unthanks
On that subject; I am always drawn to the interviews Radcliffe and Maconie conduct and the range of guests they have on. Not only do they have musicians on but everyone you can imagine. One might hear an author or comedian the one day; an actor or producer the next. To me, Radcliffe and Maconie have recorded one of my favourite radio interviews – and one of those they'd rather forget. The latter was with a certain Father John Misty who, for some reason, was not 'feeling it' on the day – not as reverent as one would hope. I have heard other interviews he has done and he sounded perfectly pleasant. Maybe it was a bad day for him but his chat with the boys was, 'tense', to say the least. Those kind of encounters are extremely rare: it is those golden chats that flow and make you smile that stick in the memory. The interview I am alluding to is one they conducted with Prefab Sprout's Paddy McAloon back in 2013. He was promoting the album Crimson/Red – more a solo venture than a band record – and had an instant banter/bond with the guys. McAloon is a genial and great-value conversationalist but was on rich form that day. Not only was the Prefab Sprout legend sporting, as Radcliffe put it, "acres of (white) beardage" – part of the "Paddy Vishnu Orchestra" as he wittily claimed – but talking about an album with a tough and stressful origin. It is a remarkable record and one McAloon was happy to dissect. The great jokes and shared affection made the interview one of those ones you remember and keep coming back to – I hope the three share a few minutes in the future as there is a great chemistry among them. That is not the only example of a great interview conducted by the duo. Sure, they have that experience and are not novices but their skills and ability to craft golden interviews is about more than age and a broad C.V. That McAloon interview was part of a cycle of interviews but sounds fantastic: the fact the musician suffers hearing and vision problems makes his bonhomie and energy amazing and incomparable.
They have passed the decade-mark and, whilst I am late to the celebration, am picking up the half-empty wine bottles and bits of cake – putting my tribute to them. It might sound like I am working at BBC Radio 6's marketing department and recruiting new listeners but, in actuality, am expressing my gratitude to shows/D.J.s who make it such a special station. RadMac's show is a big part of the day and a way of hearing exceptional music and two minds who live and breathe music. Stuart Maconie has his Freak Zone – bringing together some out-there and head-tripping sounds – whilst Radcliffe, more reserved, perhaps, has his Folk show on BBC Radio 2. Individually, they are great but, together, they are a peerless duo in no shortage of passion and commitment. I hope they remain together for another decade at least – whether that is on '6 Music or on another station. They seem to have a good deal and set-up in Salford so I cannot see them budging for a long time to come. On a station that has a huge amount of wonderful talent: Radcliffe and Maconie at right near the top. Their show continues to grow and prosper; inspiring listeners and providing sanctuary and satisfaction for its loyal fanbase. Congratulations to them on a compelling and memorable decade together. They are still sprite and young (in radio terms) so there is no reason why their golden association cannot survive for a couple more decades yet. If that were to happen, you would not hear from me and the legions of daily listeners…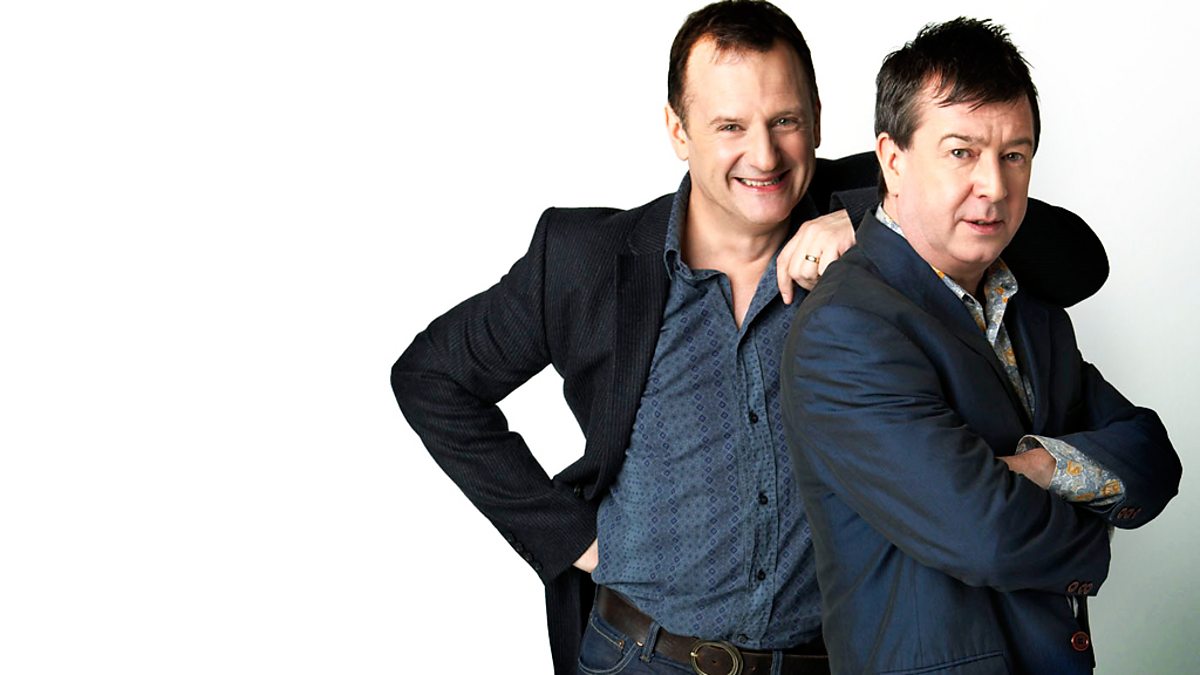 ANY complaints whatsoever.