INTERVIEW: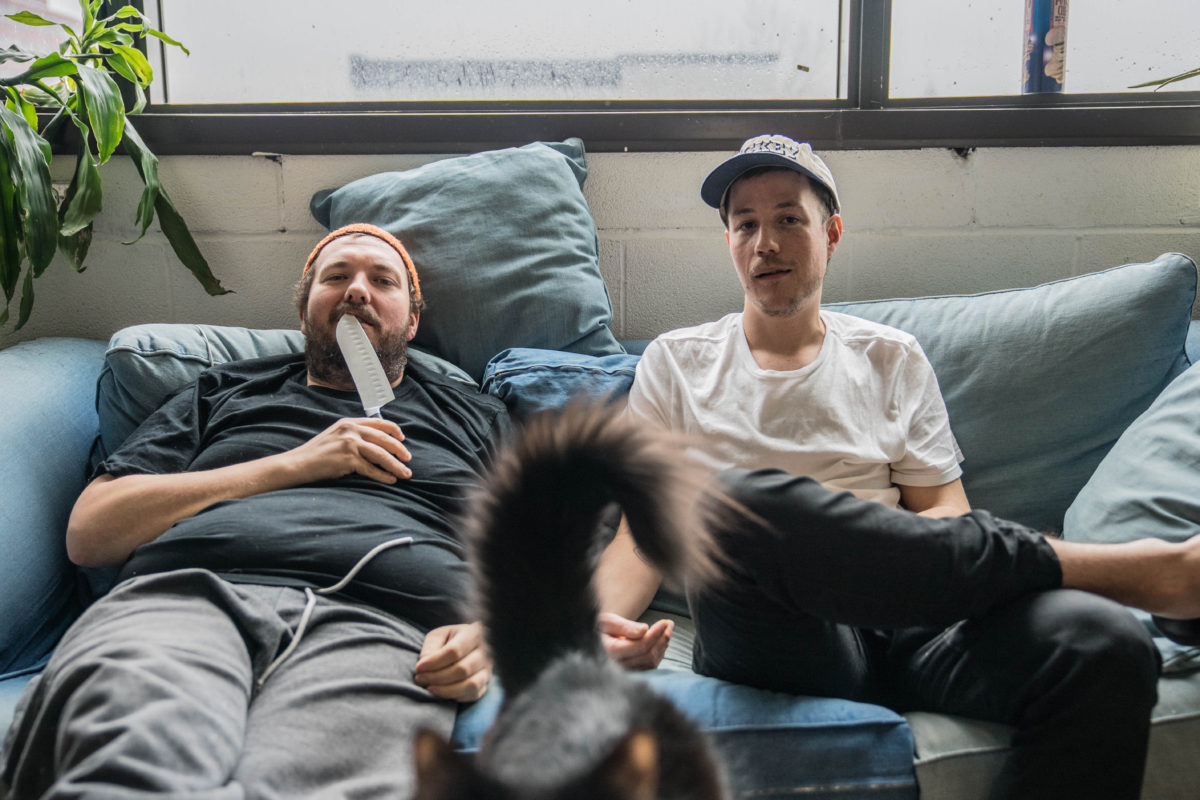 PHOTO CREDIT: Antoine Bordeleau
CO/NTRY
______
MONTREAL is an area of the world, like its country-mate…
Ontario that gets limited respect from the worldwide music press. The Canadian (local) press might cover certain bands and artists but what of the international media? If CO/NTRY is an example of interesting, unusual Canadian music then there should be more attention levied Canada's way. Beaver and Dave discuss the new album, Cell Phone 1, and what its origins are – perhaps the start of an epic, multi-art concept about the joys/heartaches of owning a series of mobile phones. The boys talk about songs Cash Out and Living in a Body and whether a European/British tour is in the pipeline. They discuss how their weeks have been – pretty desolate and hard if their answers are to be believed – and why they have such a broad approach to music and genres. It is a strange and beautiful interview from two guys making good, honest music.
______
Hi, guys. How are you? How have your weeks been?
Beaver: Great. We are fermenting everything we own… and I'm excited to get all my teeth removed.
Dave: I cut a hole in the bathroom wall and am sleeping under the tub.
Cell Phone 1 is the new album. What was the idea behind that title?
There was a period, back in 2004, when I had sixteen cellphones. Cell Phone 1 is the first of sixteen concept albums about each phone.
The sixteenth album will be sent into space to orbit the Earth.
The G.P.S. coordinates will be given to fans that purchase the previous fifteen albums. There's only one copy and you have to go get it yourself.
Can you reveal anything about the sort of themes and subjects explored on the record?
Yes. Death, breakfast; microfibers, dental dams; large groups of children; potpourri. In that order.
Previous singles, Cash Out and Living in a Body, gained great reception in North America and the U.K. What was it like receiving that sort of praise? 
Kinda (sic.) like when your mother gives you a cookie, then slaps it out of your hand right when you're about to take a bite – exploding the cookie and showering the kitchen in a cloud of dust that is inhaled -and eventually develops into some form of lung disease which we bottle and sell.
You're Newfoundland-born, Montreal-based. How did you guys get together in the first place?
I first saw Beaver on a late night talk show that used to air in Newfoundland called; Now That's a Hat! I called in to ask about the Stetson he was wearing.
Beaver: I got the hat from Mr. Stetson himself. He used to date my father.
They both loved rolled oats, crack and eating butter as a dip (not a spread).
I am intrigued by the music scene in Canada. How does the vibe in Montreal differ to that of Newfoundland or, say, Ontario?
Toronto is like dogs; Montreal is like trash cats and Newfoundland is like seals.
I understand, once you two formed CO/NTRY, you became a hit in the after-hours, seedy underground. It sounds quite adventurous and vivid. Any fond/memorable moments from those early days?
One time, we passed out at the party and woke up in a submarine.
Listening to your songs/albums and there is quite a varied and broad approach to genres. It is hard to define and pinpoint your sound. Was it a conscious decision to perform like that or something innate to both of you?
It kind of just happened that way. We made a dance record, Techno Prisoners, that we shelved. Cell Phone 1 was written on a track to track basis. Three tracks in, we had a Disco song; a Blues-Jazz track called Street Legal, that we've yet to release, and a Post-Punk-ish track about online gaming.
Songwriting is a very spontaneous process for us. We never try to write a specific kind of track: we just make all of our studio gear record-ready – then have at it until we hit the sweet spot.
I know you have a gig in Montreal next month. Any future gigs coming? Can we expect to see you in the U.K. anytime soon?
We're playing at the St. Baby Jesus Church in Montreal on May 13th. We're going to be performing a one-time-only set of ultra-high B.P.M. gabber church hymns. Coming to Europe in September to tour for three months. Fingers crossed for the U.K.
If you had to each select the album that has meant the most to you; which would they be and why?
Beaver: Phil Collins. No particular album. I listen to it over and over again.
Dave: Elton John singles; various New Age albums.
Which new artists do you think we should be keeping our eyes on?
What advice would you offer any new acts emerging at the moment?
Get as many credit cards as possible. Take out all the money you can in bills, hide it then declare bankruptcy; then go on welfare.
Finally, and for being good sports, you can each select a song and I'll play it here (not one of yours as I'll do that).
Beaver: Right Said Fred – Don't Talk Just Kiss
Dave: Demis Roussos – Forever and Ever
_____
Follow CO/NTRY
Facebook:
https://www.facebook.com/countrymontreal/
Twitter:
https://twitter.com/countrymtl
SoundCloud:
https://soundcloud.com/countrymtl
YouTube: