INTERVIEW:
  
Tilda Allie
______
BEING based in Brighton is a blessing most…
songwriters dream of. For Tilda Allie, is a reality and inspiration. She talks about the city and how its mix of cultures and sense of liberation have been empowering for her. The Swedish sensation released her first single in April last year and has been rising and growing ever since. She talks about new single, Further Than You and what her plans for the future are. I was curious to learn about her upbringing and the musicians that mean most to her. Tilda Allie unveils the albums that have been most important and how cathartic (writing her) latest track was. She talks about the differences between Brighton and London – and why she is particularly happy where she is – and the artists she tips for success.
______
Hi, Tilda. How are you? How has your week been?
Hi, love. My week has been hectic and I have had a lot to process as we launched Further Than You on Sunday, 9th April. So much work was put into the organising and planning. I feel like I am finally getting to a point where I can start to relax and look forward to what is to come. But it has been full on as always – radio sessions, booking gigs etc.
For those new to your music, can you introduce yourselves, please?
I am glitter-faced Nordic performer and singer inspired by '60s art and culture such as Andy Warhol, David Bowie and Francis Bacon. I use music as therapy and my lyrics are therefore often very straightforward and honest. This might also have something to do with English not being my native language. Jazz, Neo-Soul and Electronica are my biggest inspirations music-wise and I like experimenting with styles and art. I combine thought-provoking visuals and colourful melodies to captivate the audience's senses. My performances are always emotional and I always feel very vulnerable on stage. I want the audience to feel what I feel.
Further Than You is your latest single. What can you tell me about that title and the inspiration behind the song?
Further Than You means so much to me. It has sort of kick-started a lot of things with my music. I feel like the song is even more relevant to me, personally, now than before.
The title is, again, very straightforward and it is taken form the chorus line "I have been walking so much further than you". This can be both related to a person or a stage in your life that you have dealt with and moved forward from.
Further Than You is a song about empowerment and finding your own feet in this hectic self-absorbed world. It is about having the courage to be absolutely honest with my feelings. I have come to realise that, really, vulnerability is power. It is what makes us beautiful as humans. I wanted to capture than in a song and that is Further Than You for ya. The third line in the song really reflects upon that.
I believe, in writing the song, there was catharsis and release. Did you feel relieved and unburdened when you completed the song?
It feels amazing. It has been so important to me in many ways as I mentioned before. Further Than You is my best-written song so far. I got offered to do a Sofar Sounds session a few months back and we decided to get Further Than You filmed and recorded for that (session). After that, things just went mad and my life has been going crazy ever since – this is all, again, related to the song. I feel like I perform the best and sing the best whilst playing this particular song as it means so much to me – and I think people that hear or see me perform it can feel that. This is why I think the song has been successful so far!
On a more personal level, the song has helped me to make peace with some of the things in my past and I have proved a lot of things to myself which needed to be done in order to move on. Even though I know to some, the lyrics and the way the song is directed can be seen as a quite rude.
What, would you say, is the main difference between Further Than You and (your debut) Time Frame?
Further Than You is about the process of a healing heart, whilst Time Frame is telling a story about a relationship's ups and downs: picking out moments in time within the relationship both good and bad. Wishing all bad away ("Take me back to the moment where everything felt nice"); Time Frame is a way-more immature song about young love – and Further Than You has that realisation of self-love.
Can we expect an E.P. or album this year at all?
An E.P. is on its way with a mix of the already-released singles and one completely new track called Without Your Love.
Further Than You will also be released with a music video soon.
I know you were raised in Sweden but have moved to Brighton. What compelled the decision to move to the U.K.?
I needed inspiration and a new place in order to continue growing as a person and musically. I think I was running away from the person I was in Sweden and from a lot of the pressure I felt in my hometown. I wanted a fresh start and Brighton and the U.K. felt like the perfect place: the music scene is massive and the music history too. It has been a dream of mine to move to the U.K. since I was fourteen. Dreaming about walking down Brick Lane with a big hat and flare-y trousers; going to arty parties and clubs. I feel like it is one of the most important decisions I have made so far. I am happy I had the courage to move and be comfortable in my insecurities.
How does Brighton's music scene differ to that of Västerås (Sweden)?
Brighton has such a rich and inspiring scene. There are people from every corner of the world here mixed together in a very small, but open, city.
There is everything from Jazz, Soul; Metal, Folk, Indie; Electro, Hip-Hop to Rock and Prog, here. The mixture of cultures, sexualities and ages makes it so much more inspiring and easy to experiment. My hometown has been very helpful towards young creatives in many ways but it is on such a small scale. Bear in mind Sweden is further away and have not had the same opportunity to grow culturally – as the population has a smaller mixture of nationalities – which I love about Brighton! Mixtures of cultures always… ALWAYS creates new ideas.
I know the Brighton music culture pretty well. How important are the people and the landscape when it comes to creating new music?
It is the most important part. I have been thinking about moving up to London a few times but I always come to the conclusion that I know I will feel more liberated here. We all try to push each other forward in Brighton as the music scene is smaller. Instead of fighting about space we are all trying to create more space and share the space we have together: finding inspiration in each other's differences, rather than dividing ourselves into genres or groups. It is so beautiful actually and I strongly believe that Brighton is an emerging music Mecca. It is really happening down here: Soul and Hip-Hop is having a revival.
QM Records are the label you are working with. Do they give you the freedom to create material as you imagine? What is the best thing about working with them?
Me and QM are more collaborators than anything and they have been helping me out promoting shows and booked me for some very important gigs in the past. As it is a more of a give and take relationship, I never feel restricted.
The best thing about QM is that they have really brought the music scene together in Brighton during the last couple of years – and given exposure to some amazing up-and-coming artist.
I hear shades of Erykah Badu and Amy Winehouse in your voice. Are these artists important to you? Who were the singers and musicians you grew up listening to?
Yes, both artists have been super-important to my sound and musical inspiration: mostly their honesty and brutal openness. Both Erykah and Amy seem to do whatever they want. They have the courage to be different and they feel proud to be who they are.
I grew up listening to anything my dad and mum played on the vinyl player. It could be anything from The Beatles, James Brown; Esperanza Spalding, Soft Machine to Pink Floyd; Bo Hanson, Chick Corea… you name it. I am lucky to have a family who is very interested in music and art. I have been exposed to so much that it is hard for me to pick one artist who is the one most important one. But bands like The Rolling Stones and The Beatles were all-time favourites back in those days.
You've toured with Amanda Palmer and been played by BBC Radio 4. What, would you say, has been the highlight of your career so far?
I, myself, never toured with Amanda Palmer but my mentor and vocal coach Georgia Train toured with her in the past. Amazing stuff as Amanda Palmer is such an innovative and inspiring female artist. I would say that the highlight, so far, is not necessarily the actual shows and venues I have done and played at but the quick transformation from a solo act to a full-band – playing all over the U.K. in eight months. The highlight so far is all my accomplishments and I find every little moment important. Radio sessions, T.V. sessions; festivals, single launches; music videos etc.
Who are the new artists you recommend we check out?
The Island Club, Penelope Isles and Kudu Blue: all Brighton-based bands!  But, on a larger scale, Maggie Rogers, Aurora and Rag'n'Bone Man.
If you had to select the three albums that have meant the most to you; which would they be and why?
Frank – Amy Winehouse
The honesty in her voice and lyrics has been fundamental in my songwriting and choice of chords and melodies. She is completely vulnerable on stage and Frank captures her life and stories so well.
I think I played this album on repeat for about three years. It is the perfect album if you feel like being a bitch for a day.
Homogenic – Björk 
The way Björk plays around with samples and sounds is amazing and Homogenic has a heavier character than her other records. Each song has so much emotion and power. You can tell that she is growing into her songwriting on this album compared to Debut – and every song feels like an anthem. Björk is my biggest inspiration artistically and I find her way of combining art and music so fascinating.
Grace – Jeff Buckley 
This album is mind-blowing in so many ways, lyrically and vocally. Jeff Buckley sings his heart out on every track and the mixture of styles is just great. Super-grungy but still so experimental: it is never boring. You can tell he has been classically-trained. This is the record I put on alone in my room: a few candles lit and a cigarette in my hand (and just chill).
Is there any advice you'd give to artists coming through at the moment?
Never give up and be as true and genuine as you can with your music: people want to be surprised. Even though some people might mock you for trying something new and strange, go with it! In the long-run, you will benefit from it.
People like to get poked in the eye even though they do not know it. Make people feel it is the most important thing – no matter if it is good or bad.
New trends always take time for people to get used to. People hated The Velvet Underground when they first released their music and now they are classed as one of the most groundbreaking bands.
Finally, and for being a good sport, you can select a song and I'll play it here (not one of yours as I'll do that).
Joga by Björk, please.
_____
Follow Tilda Allie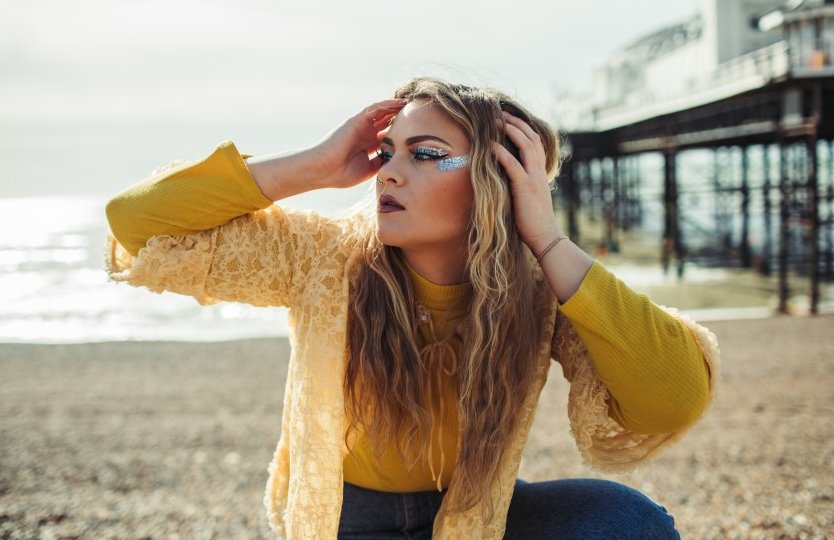 Facebook:
https://www.facebook.com/TildaAllie/
Twitter:
https://twitter.com/TildaAllie
SoundCloud:
https://soundcloud.com/tildaallie
YouTube:
https://www.youtube.com/user/Tildalandehag