FEATURE:
The Shaun Keaveny Breakfast Show at Ten:
 
Keep Up the… Work
_________
STRANGELY, when I type the words 'The Shaun Keaveny Breakfast…' into…
a search engine, it comes up with the word 'salary' as one of its options. I didn't even know the man got paid: look at those clothes and the increasing facial hair and you'd imagine he was doing it all for the love of it! I jest, of course, because I would never think of his breakfast show as a money-making, high-revenue affair. In fact, what the boffins at Google should be adding to their search words glossary are words like 'awesome' and 'uplifting'. Shaun Keaveny may come across as a rather sunken soul in a sea of luxury yachts but is one of the most inspiring D.J.s I have ever heard. The reason for this piece, as I did recently with my feature on BBC Radio 6 Music's fifteenth anniversary, was commemorate a fantastic D.J. who has brought the nation sunshine, great music and comedy for the past decade. On Sunday, it will be the official tenth anniversary of the show – the station are running celebrations and marking the day fully the Friday following. I used to be a follower and loyal listener of Christian O'Connell but defected to '6 Music after hearing Keaveny's show. I found Absolute Radio's music too predictable and repetitive. Every hour, you could guarantee Foo Fighters would get a spin – not sure if they were being blackmailed by Dave Grohl or something?! – and mainstream songs. It was a soul-sapping experience that sucked most of the quality from a great breakfast show. What you get with Keaveny's breakfast show is sensational music that crosses genres, time periods and boundaries – not a whiff of Ed Sheeran in sight!  I know my little feature is going to rank as one of the most-minor baubles on the birthday tree but wanted to pay affection to a show that not only wakes me up but gets the day off the best way possible.
Shaun Keaveny played in student band Mosque between 1987 and 1993 before joining the BBC in 2000. He fronted the Good Morning Britain Breakfast show – where he warmed up for Anne Diamond – and went on to host the afternoon show later. Not only that, he presented the breakfast show on XFM London up until 2006. There are details on his Wikipedia page that might be a bit fictitious – like the fact he appeared as himself on The Bill in 2005 – but you can tell he has a long and varied career in the media. He is a consummate and popular voiceover artist; someone who has made numerous T.V. appearances and remains one of radio's hard-working elite. His morning show (7 – 10 A.M.; Monday to Friday) is one of the most-popular on British radio and regularly wakes up hundreds of thousands. It may seem like a minor landmark, reaching ten years, but think about an average show. Not only does he need to wake up at a ludicrous hour of the morning but sound professional, funny and engaged with it. Most of us, at that time, are either waking up wearily or still asleep. Having that kind of energy and concentration so early deserves a big reward. Sure, there are many other breakfast shows but I find the presenters either too energised and nauseating – like they have just consumed an alarming amount of crystal meth right before going on air – or boring and computerised. There is personality and a very honest human presenting BBC Radio 6 Music's breakfast slot. You do not get a festival of clichés and noxious peppiness. Keaveny is a man who does not fake anything and radiates a very relatable and everyman personality. There is the odd (read: frequent) grumble and moment of dead air: some fumbled links and incorrect jingles. That makes you laugh and all goes into a show that has that inimitable blend of error and perfection. Look at his show page – http://www.bbc.co.uk/programmes/b0072l9k – to see what is happening and back at the archives; if you are not already tuned in, you are missing something special.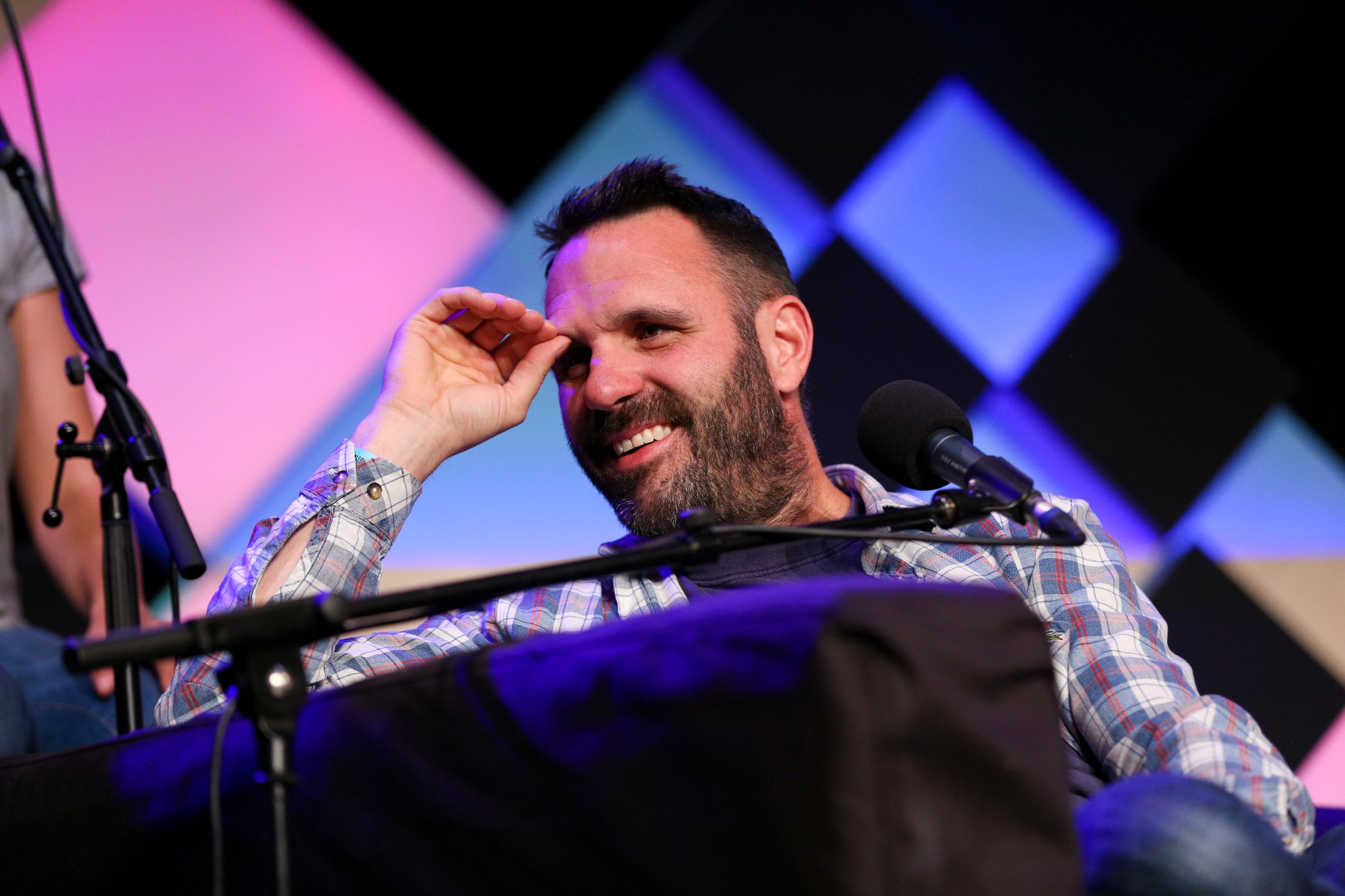 Why I love the show so much is because of Keaveny's cordial manner and humour. He is someone who can light up your mood and put a smile on your face. I find rival D.J.s don't have that same quick-wit and friendlessness. You feel a personal attachment to Keaveny and really root for him. I know there are some great D.J.s on '6 Music but, to me, Keaveny has that extra-special-something. He is flawed and exceptional but always find myself glued to his show. The badinage and banter between him and music news presenter Matt Everitt. There is a very obvious affection and respect between the two presenters. On some shows, you know the D.J.s/presenters have animosity or are rather unconcerned. Everitt is a former musician and (current) journalist who brings us the daily news from the world of music. His spots on the show are standouts because of the to-and-fro between him and Keaveny. Despite the repeated horse references – Everitt a slightly long-faced chap; don't agree myself that he is that equine – everything is taken in good spirit. The entire show from Keaveney packs in so many different emotions, highs and, yes, lows. There are audible sighs and a man who is very open with his listeners. There are no fake smiles and feverish gushing: the man is who he is and always determined to show you there is little blur between Shaun Keaveny the D.J. and the man away from the microphone. Of course, you get great music on the show and that consistent quality. It is Keaveny's energy (yes, I do mean that) that really compels me. He is almost an air traffic controller who has to think fast and keep his wits – the fact he is not exhausted and bedraggled at the end of a week is deeply impressive.
I wanted to be (one of the) first to put in my congratulations and help mark the show's tenth anniversary. Tomorrow, listen in if you can, there will be announcements made – how the station are marking the special day. I am a loyal and dedicated listener who will never go to any other station. BBC Radio 6 Music has that vast array of exceptional D.J.s who make a daily binge of '6 Music an essential companion. Shaun Keaveny is someone who has had a busy and eclectic career but seems to have found his home at the station – despite some protestations he will be on his merry way/fired very soon. I am excited to see just what events and celebrations are going to take place: hopefully, the listeners will be able to get involved; maybe a street party or something happening around London. Whatever does come, it will be richly-deserved. It is challenging hosting a breakfast show. The sheer will to get out of bed at an ungodly hour each (weekday) morning is a challenge all on its own. From there, you have to keep the listeners entertained and not collapse on the microphone. Not only does Shaun Keaveny keep going strong but shows no signs of tiring. I hope he remains at the station – maybe at a different slot as he gets a little 'tender' in years – and brings his unique blend of comedy and northern pathos to the station. We all need that and we all need him. Any kudos and plaudits coming his way will be the least we can give to a D.J. who defines discerning listeners' breakfasts every weekday morning. I hope him, Matt Everitt and the fantastic guests, reporters and people he has around him keep the breakfast show strong and sailing forth. Ten years is a long time in any industry: in radio, there is something especially impressive about lasting a decade. As I said, there is no end in sight right now. Shaun Keaveny might knock his skills and appeal; constantly dig the show and wonder why anyone would listen. That is modesty from a man who should be very proud of a decade in the breakfast slot. From me, and everyone that listens to his show from 7 A.M.: keep looking ahead and sincerest thanks for…
ALL the great work.