INTERVIEW:

PHOTO CREDIT: Marcus Maschwitz
The Wild Things
_________
IN a world where there are so many young bands…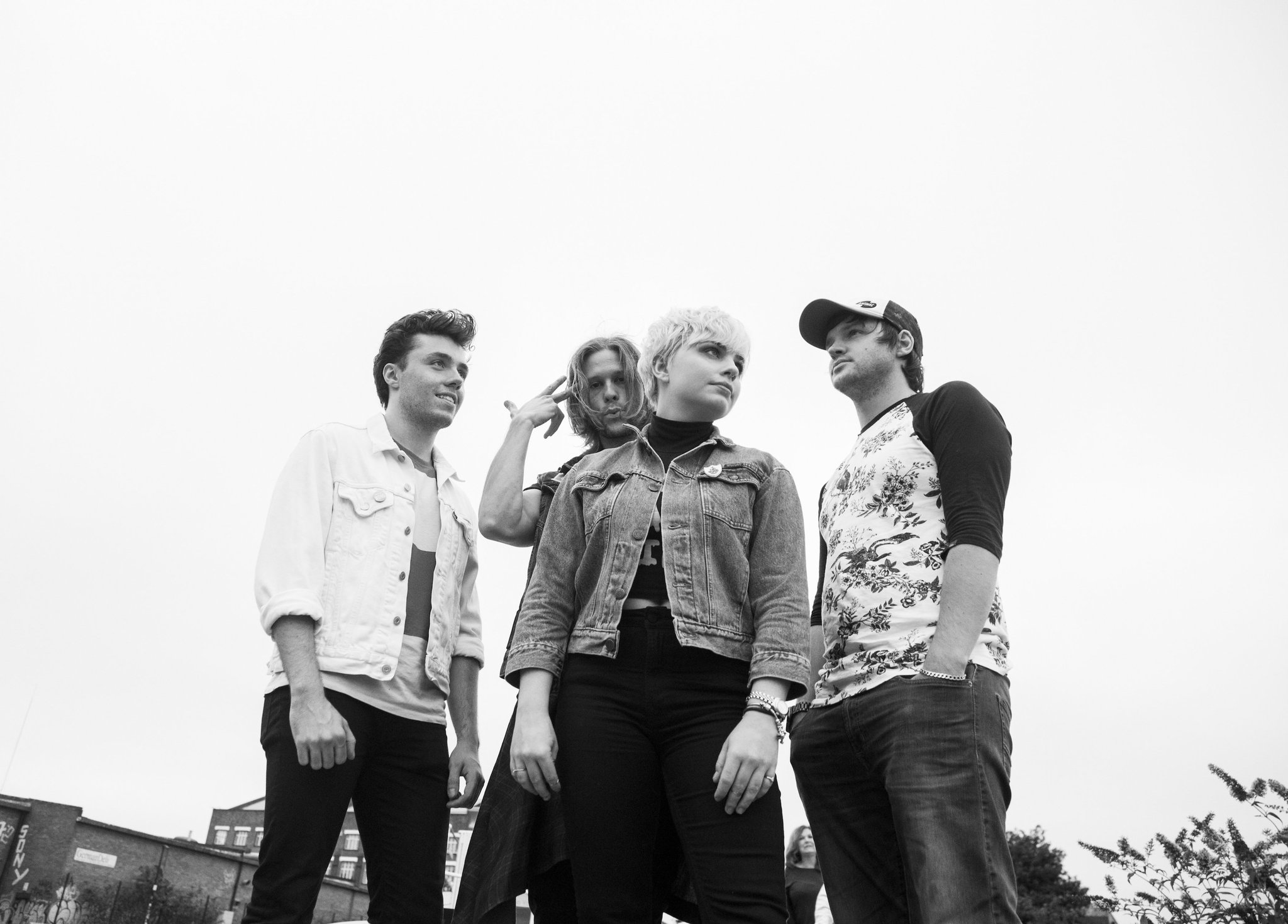 you really need that U.S.P. It is that thing that stands you out from your peers. Luckily, when it comes to The Wild Things, they have multiple selling-points. Not only can they pen incredibly evocative and uplifting songs but their kinship and connection is familial – hardly surprising considering members Cam and Syds are brother-sister. The London four-piece released I Think You Can Do Better a couple of months back and have been promoting and interviewing since then. Given previous stunners like Hollywood and Stone Cold; I was eager to see if the guys were planning new material this year. Sydney Rae White, who you may recognise from BBC comedy, Uncle, takes the lion-share of answers and discusses the opportunities there are for new, young bands; their own pop-up festival, The Wild Things Bawls and why she and the guys consider L.A. a second home. Syds, Cam and Rob each pick the song that means the most to them and I get a unique insight into one of the country's brightest and most interesting young bands.
__________
Hi guys. How are you? How have your weeks been?
We're good. Up in Liverpool running around like mad humans – so probably more tired than usual.
For those new to your music, can you introduce yourself, please?
We're a four-piece Rock band from London who likes long walks on the beach and heavy-petting.
It looks like you have been busy time recently – the band have stopped off for an interview on Kane FM. How has it all gone and do you guys get time to chill out or it pretty relentless?
It's bloody relentless but we love it that way.
We're currently up-north doing stuff for BBC, The 2ube and Radio City. Exciting times! We're also gearing up for the release of our next single.
PHOTO CREDIT: Marcus Maschwitz
You guys have busy and varied C.V. but I am interested how you all came together and decided to form a band.
Remember that scene from Armageddon?
Cam and Syds; you are brother-and-sister. Is there any sibling rivalry in terms of the creative process and what was it like growing up together? What kind of music and artists nurtured your route into the profession?
Our parents constantly surrounded us by music (they have this really cool vintage jukebox) with artists like The Beatles, James Taylor; The Beach Boys, Harry Nilsson; The Who…
You both (Syds and Cam) grew up in West London and grew up in an Art Deco 'castle' your father built. I can hear that sort of fantasy, quirkiness and spirit feed directly into your music. How influential were your parents with regards you guys going into music and the style you perform?
Our parents weren't musicians or in the industry but their passion for it definitely had an impact on us. They are super-supportive.
Rob. You met Syds on the set of the stage rock show, Quadrophenia. You have both acted together in a few production. How important is your acting career, both of you I guess, with regards your writing? Is it easier to write evocative and emotive tracks when you have that acting versatile and curriculum?
It's definitely easier to put yourself in the mind of other characters and to be able to pull stories out of your head. I just wish it could make me play guitar better….
I believe you spent time living in L.A. Are you guys still based over there and how does the music scene/people compare with that of London.
L.A. is our second home. The music scene there is incomparable to that of the London scene – with so many venues closing.
Just how important and special is London to you as artists? Many are fearful its live venue scene is dwindling. Do you guys feel that or does the capital still provide a lot of platforms for young acts?
There is NO support for new or young acts in the city. It's abysmal. Because of this, we decided to start our own pop-up festival, The Wild Things Bawl (coming to you on the 21st of March at The Lexington).
At its heart, its new music supporting new music – and one of the stages we run is, literally, in a giant industrial fridge.
Let's get down to your music. I have been listening to I Think You Can Do Better for days. It is one of those songs that sticks in the head and compels you sing along. What is the story behind that song and what was it like filming the song's video?
The song was written in L.A. and we brought it back to London to record. It's a challenge to our generation to be counted; to stand up for yourself and the ones you love. Filming the video was a day of hell in a tiny, cramped rehearsal space with the Underground passing over the roof constantly. Shout out to their mega-angry receptionist.
Previous tracks Hollywood and Stone Cold suggest a band who are influenced by all sorts of genres and artists. I hear some '90s Indie and modern-day Electro./Synth.-Pop; some U.S. artists and British bands of the 1980s. You are one of the most varied and original bands I have heard. What, would you say, is the secret behind that success and quality sound?
Wow, firstly, thank you. Big compliment! I think the trick for us is just constantly being open to new music; don't be afraid to try things or be influenced by new styles.
Can we expect a tour or E.P. from The Wild Things this year, perhaps?
We'll be releasing a run of singles throughout the year at The Wild Things Bawls with maaaaaany exciting things to come.
No offence, but you guys have that small screen-worthy road to formation. Being creative and having such a fascinating history, you guys have an incredible bond. Is there anyone in the band particularly messy or always late to rehearsals? Anyone particular rebellious and wild?
Syd. Syd Syd Syd Syd Syd Syd Syd Syd Syd… and a bit more Syd.
Syds. I first came to hear about you through the BBC series, Uncle. It is in its final series but is one of the funniest and heart-warming British shows for years. What it like filming and is it sad it's coming to an end? Has being in the show, and working with Nick Helm and (writers/directors) Oliver Refson and Lilah Vandenburgh made you a stronger musician? What are the lessons and memories you will take from your time on the show?
I mean, Uncle will always be a part of me: Gwen and I developed into one another. The writers are an inspiration. If we wrote dry humor-style music; a collab. with them and Nick would be hilarious.
My fave memory is, without a doubt, filming my last-ever scene with Con O'Niel and Brett Goldstein – we were dressed as sassy witches in a real cave outside London. One hell of a goodbye.
The band has got attention from legends like Pete Townshend and been played by BBC Radio 1. Does it all seem real and does that sort of high-profile praise drive you forward to keep recording and perform?
WE ARE SO LUCKY. We are also very driven and push each other so hard; genuinely, we haven't had a lot of time to notice everything… often we give ourselves half-a-day to be giddy – then it's straight back to work.
If you each had to drill down to a single album that has influenced you most – as a musician or person – which one would you go for and why?
Cam: Pet Sound. Its songwriting construction was ground-breaking and its production is perfect. It taught me songwriting and how to produce records. Oh, and The River (Bruce Springsteen).
Rob: Sgt. Pepper's Lonely Hearts Club Band. The first album that ever made me cry.
Syds: Maybe… Quadrophenia? Or a lot of stuff by Carole King. Or maybe one of the Monkees' albums. Hard question!
Are there any new artists out there you'd recommend we check out?
We hand-pick every new artist that plays The Wild Things Bawl. The next show features two amazing bands: Loa Loa, …And The Hangnails. It's gonna be a riot.
What advice would you give to any new band/performer coming through? 
Have patience, be determined and keep working/writing.
Finally, and for being good sports, you can each select a song (not one of yours as I'll do that) and I'll play it here.
Cam.: Walk Like a Man – Bruce Springsteen
Rob: No One Wins the War – Reuben
Syds: Pleasant Valley Sunday – The Monkees
__________
Follow The Wild Things
PHOTO CREDIT: Marcus Maschwitz
Official:
Facebook:
https://www.facebook.com/TheWildThings/
Twitter:
https://twitter.com/TheWildThingsUK
Instagram:
https://www.instagram.com/TheWildThings/
SoundCloud:
https://soundcloud.com/TheWildThings
YouTube:
https://www.youtube.com/user/TheWildThingsUK