TRACK REVIEW:
The Peppersplum
Take the Adventure of Love
9.2/10
Take the Adventure of Love is available at:
https://play.spotify.com/album/0DqYJ6d91DiRoveyXhfOHQ
GENRES:
Pop; Rock; Dance
RELEASE DATE:
2016
__________________________
THE nominations for this year's Mercury Prize have just been announced…
and showcases what a variation and talent we have in British music. What the list shows is how many different genres are producing stunning albums. Kano and Skepta (and their albums) cover Grime, Rap, and Hip-Hop: stunning assaults on the senses filled with cutting lyrics and confident performances. Jamie Woon and Radiohead are, perhaps, obvious choices- both have unveiled near-career-best achievements. Bat for Lashes' The Bride is a worthy outsider: demonstrating the consistency and innovation of Natasha Khan. Last year; I was a little ambivalent and so-so when it came to music: the best-of-the-best were not quite as dizzying as one would hope. This year, that is very different: so many phenomenal artists emerging; wonderful, memorable albums being made. What the Mercury Prize nominations prove is the blend of genres the public are responding to- not just the mainstream-approved artists. Many critics- when looking at the shortlist- wondered why the likes of Coldplay and Adele were not nominated. I was pleased as both artists provided underwhelming, forgettable albums- not worthy of inclusion. If anything, it is good to see a push against chart-ready music; embracing artists that are more credible and quality-assured. I, as a music reviewer, seek out the finest music rather than bands/acts that have millions of fans. You tend to find, when looking at Pop/Rock bands who have mainstream approval, how limited and ineffectual their music is. Dig further and you can find much gold: musicians that are smarter, harder-hitting and much more interesting.
Boredom is a horrible thing and something we should eradicate from music- one of the reasons Adele's current album missed out on a Mercury Prize nod. My featured act is a duo I never heard of until very recently. Based out of Mexico: it provides another chance to discover what North-Central America-straddling nations have to offer. It may sound like a dismissive sentiment but we often ignore countries (in North America) outside of the U.S.- Canada gets overlooked and it is a staggering cauldron of brilliant music. I have looked at acts in Honduras, Chile and El Salvador; Peru-born musicians and world music from Colombia. I rarely get a chance to touch Central and South America: a lot of my attention is primed towards the U.S.A. and specific areas- L.A. and New York especially. Before I come to The Pepperplums; it is apt investigating the best music from Mexico at this minute. We look at Mexico, and when music is concerned, we have stereotypical ideas: men in sombreros strumming guitars; very pleasant, if specialist, songs that would struggle to register with an international audience. That couldn't be further from the truth. Whether addressing Mexico, Spain or India: we may have a very defined (and limited) very of the music scene; assume it is going to be very niche and off-putting. Mexico has always fostered a wealthy musical scene: legends such as Carlos Santana hail from Mexico. He alone has been responsible for changing the perceptions of music in southern North America- mixing Latin and South American sounds with African beats and Psychedelic Rock. Mexican Rock is a very underrated and busy scene: from the early-'60s to present-day; many fantastic acts are waiting to be discovered. Caifanes/Jaguares redefined New Wave and Pop in the 1980s. Influenced by King Crimson (among others); the mingling of British New Wave, Progressive Rock and Latin grooves scintillated Mexico- one of the country's most popular acts of the 1980s.  Café Tacuba are, debatably one feels, one of the most defined and prestigious Mexican Poop bands of the last few decades.
Promulgating the indigenous, defined sound of Folk in Mexico: they were a huge hit in the U.S. and ensured their Spanish-sung songs translated beyond Mexico itself. La Maldita Vecindad is one of the capital's (New Mexico) most dynamic and enthralling examples. Playing a mix of Ska, Rock, and Mexican music: another band that has not only influenced the Mexican public; they have gained fandom far further afield- their 1990 album El Ciro has become a local classic. Mana hardly needs mentioning: synonymous as they are across Mexico and Latin America- the biggest-selling Spanish-language Rock album, ¿Dónde Jugarán Los Niños? Is considered a near-masterpiece. 1980s stalwart Fobia is a quintet worth seeking out: embracing, effusive Pop sounds and imaginative lyrics have ensured their legacy remains. Zoe is, perhaps, one of the best, newer artists in Mexico. Progressive Rock with a hint of Alternative to them; their music has collected multiple awards and gained hungry fans across Latin America. That is just a smattering of Mexican artists that have made impressions over the past decades- there are many more great musicians waiting to be found. One problem that exists is how compartmentalised music can be. I have recently reviewed an artist called Vanessa Forero. She hails from Colombia but is based in Brighton. I fear I would never have discovered her music were it not for the fact she is based in the U.K. – backed by a P.R. company that gets her songs out there. While The Peppersplum have a great team behind them: it is hard promoting and spreading their music beyond Latin America and its borders. They're a duo that deserves more recognition across Europe and North America- that said; they have a solid and tremendous reputation already. I wanted to look at duos (female ones especially) and Spanish-language music (a bit about influences too) but before I do, let's meet The Peppersplum:
Marie Fernandez/Sussie Fernandez
"The Peppersplum return with new and amazing studio albums the 3º and 4º in their discography. After the great reviews that gained their second studio album "IS IT LOVE?" This album was nominated for IMAS awards of México, and for UFI awards in Spain, The Peppersplum start to record what will be their 3º y 4º studio album will be called FAST LOVE VOLUMEN 1 y FAST LOVE VOLUMEN 2 where they retake the sound of the 70s and electronic music to capture their essence. It's not about covers, it's to resume sounds, pick the style, because they are the composers of all their songs and now with the merger of the Italinan Dj Matthew Valde his style Techno Tech House, fits the equation for a very interesting project . 2 sides of the same song, yin and yang, black and white, the side smooth and danceable in the Dance of FAST LOVE VOLUME 1, and the dark side and tormented of rock in the FAST LOVE VOLUME 2. Something that nobody had done it before, the same composer, play and experience with the 2 sides of the same artwork, two answers the same feeling. The first single called TAKE THE ADVENTURE OF LOVE, and in Spanish TOMA TODO MI AMOR is now in promotion. Both in Rock version and Dance version the two sides of a coin is now available in ITUNES y SPOTIFY They're known for its perfect blend of rock, pop, music, lyrics and feelings that this arises. It is their first foray into dance music and they not disappointed, as the sound they bring is fresh, as a composers they do not stay in one musical style, they explore their creative world, which led to this album of dance music, and evolves in their compositions, expanding the spectrum which prevents to classify them in only one format, because not only stay in their comfort zone, but they explore and venture into different sounds, which only enriches them as authors. The album as always is mixed by the winner of a Latin Grammy with Cafe Tacuba the audio engineer Ricardo Arteaga, the rock part is with the producer who always accompanies them, Gerardo Australia who is a great musician, his last job was for the English series Down town abbey which has a wide audience. And taking part in the Dance the italian Matthew Valde who is an experimented dj in electronic music around all Europe. FAST LOVE VOLUMEN1 and FAST LOVE VOLUMEN 2 Will be released in English and Spanish . Band Members: Sussie Fernandez (vocals, guitar, piano) Marie Fernandez (guitar, piano, backing vocals) Social media: http://www.facebook.com/THEPEPPERSPLUM https://play.spotify.com/album/33QdrLr0DKx8s9TKgnuUkK http://www.youtube.com/thepeppersplum https://www.instagram.com/thepeppersplum/ https://twitter.com/thepeppersplum Biography: Rock band born in England in 2006 performing in local pubs, they are Mexican, which adds importance to have started in another country. Influences The Beatles and U2.
 Emerging as the mixture of character and the need to display and communicate musically. Members Marie and Sussie, are sisters, composers, interpreters of their songs. They have been in important venues at Mexico such as Pasagüero and club 88, been invited as well to the first fair of wine and cheese in Mexico City, which was hold in the House of Culture Jesus Reyes Heroles. In 2016 they participated Commemorating the month of the history of women, invited by the music committee of the US Embassy and the Benjamin Franklin library in Mexico. They have two CDs for sale the first entitled "YEAH!" 2008 debut album that came out in the first compositions of the members. Their second album "IS IT LOVE?" 2010 this CD has been very well received by the press and the media in general, being among the 40 best in the festival Coventry England".
The fact Marie and Sussie hail from England is perhaps no surprise- given their music has a '60s British Pop flair to it. I find it interesting going from Britain to Mexico- one would assume the emigration would be the other way around. A decade into their music careers; the sisters bring elements of U2 and The Beatles into a contemporary-sounding blend of Soul, Pop and Dance- their forays into Dance music is new ground for them; they handle it with confidence and assuredness. Spanish-language music and duos are not words you'd expect in the same sentence- The Peppersplum are innovators and a very rare act. I am fascinated by duos and feel they deserve a lot more attention. Most of the examples (in the U.S. and U.K. especially) are boy-girl twosomes- most of them are great friends or in a relationship. The same-sex duos are really interesting and have a wonderful dynamic and bond. British favourites Rews- a duo I have reviewed and very fond of- are great friends and have a sisterly connection. It is rare to find all-female duos- perhaps I am not looking widely enough- but you tend to get all-boy duos instead. Duos, by and large, either tend to be Rock-based or Electro. /Dance. In England, MissDefiant are a Pop-cum-Dance act that are perhaps the most obvious link to The Peppersplum. Away from that, male duos Knuckle and Royal Blood are Rock-heavy, gritty British examples.
Bands (full) tend to be less interesting and limited- you wonder whether the members are friends and if everyone gets involved with the creative process. Marie and Sussie have that in-born affection and understanding: their music is the result of two humans who know one another inside out. There is no leader or stand-out: both girls are involved in every step of the process; ensuring their voices are heard and they have an equal share. There is no doubting how close they are; their kinetic energy and intuitive kinship is not forced or in any doubt. Although The Peppersplum sing in English: their Spanish songs are fascinating indeed. It is not often we get to learn a new language listening to music- the majority of sung music is English. The Peppersplum's British-sourcing idols (The Beatles most heavily) and their native tongue mean there is a fascinating blend of Latin Pop and '60s British Pop- stepping into Dance territory they add another layer to their music. I am rambling but it is exciting encountering a unique duo- the nature of two-piece acts is something I will expand upon in the conclusion of the review.
Is It Love? is the girls' previous album and highlights what they are all about. In Life sees the heroine asking and thinking; searching and posing questions. Struggling to say goodbye and bonded to her sweetheart: there is an obligation to fight for love and hang on. "Seems in life we have enough love" is a mantra that keeps coming back against a rocking, driving composition. Elements of '60s Pop come in but there is a freshness and unexpectedness that is hard to define. Joyous and sprite; the backing propels the vocal and gives the song a huge weight of conviction and satisfaction. It's a Goodbye is a more tranquil and reflective affair from the duo.  It is sad to say goodbye, it seems: directing the words at a friend; one wonders what compelled the song. The heroine has no regrets and everything is clear now- no fears and doubts about the decision. The listener is invested in the determination and strength of the song; the way the vocal keeps coming in strong- enforcing that message and ensuring it is understood. Don't You Let Me Go boasts one of the most layered and intriguing composition. Indie/Rock strings and soulful undertones support a song looking at dedication and support. Lyrics look at togetherness and mutual support in a relationship; one of the most positive and contented songs on the album. Not believing her man is here: there's that need to keep him close and not let him go. Reminding you of the Power-Pop songs of the early-'60s: elements of The Beatles come through in this number- a big influence point for The Peppersplum. Smash is perhaps the most determined and hard-hitting song on Is It Love? The introduction swirls into view and comes with a crashing wave.
Not wanting to carry her subject; not wanting to hurt her mind- one of the most recriminatory and accusatory songs on the L.P. Unlike Don't Let Me Go's overt joy and need for commitment: there is something angered and vengeful around Smash. Piano notes remind me, oddly, of Muse's Absolution work; the percussion keeps sturdy and solid throughout- one of the best performances (vocally) from the duo. Follow Ya boasts some E.L.O.-esque strands and investigates our heroine's initial doubts and weakness- looking for someone to keep her sane and show her direction. When her savior comes along; clarity is gained and strength builds; she is not alone anymore. Like so many other tracks across the album: there is quote-ability accessibility and ease to the song. Lyrics are easy to extrapolate and remember; the composition has Pop undertones and is designed to get listeners/fans jumping and moving. A solid and impressive album (last year) that cemented The Peppersplum's reputation as one of the most interesting acts in Mexico. The Take the Adventure of Love single/E.P. pushes that creativity and confidence on and that momentum is firm- another song that confirms their status as bona fide stars-in-the-making. Mixing in '60s Pop sentiments with a modern-day set of production values: the combination ensures they will win fans across various ages and tastes- few acts can ever do that.
Take the Adventure of Love is a song the girls have a lot of confidence in. Less a single; more an E.P. of different versions: the song is given the Rock and Dance treatment; there is s Spanish-language equivalent of both; ensuring all of their fans can enjoy it. I have plumped for the Rock version of the song as it best illustrates where The Peppersplum are right now and how their music is developing- I would urge everyone to hear the Dance cut as it is fantastic. Strands of Country-Rock and Indie unite in a busy and familiar introduction. One of the great things about The Pepperplum's music it transports you back to the past. The sisters have grown up listening to music from various decades and bring it to their songs- without sounding like their idols. In the opening moments of Take the Adventure of Love there are suggestions of '90s Rock and '60s Pop; a cocktail of pleasing sounds that makes the introduction both evocative and comforting. When our heroine steps to the microphone; the song's origins, direction and sentiments become quite clear. Other people have gone through the experience of love and its highs: it is happening here and the effect is being felt. Disbelieving and surrendering to the effect of love: that positive spirit and happiness resonate through. Of course, underneath the surface, one always questions motives- perhaps a sign of cynicism and the usual nature of love songs.
One does wonder whether there is lingering heartbreak or doubts in the mind of our lead- few songs are unilaterally positive when attesting love. That chorus/song title keeps coming back and gains more weight and relevance with each presentation. The song's initial lines- "Why don't we take a little advantage/We can make it tonight that journey of pleasure"- quash any doubts one could ever have. Most Pop/Rock songs have the vocal clear and concise in the mix. Here, there is a slightly somnambulistic/romantic vibe; advantageous when you consider the song's sentiments. If it were fierce and overcooked it would tarnish the lyrics: as it is; it is the perfect accompaniment and brings the track to life. If the chorus does not get into your head within the first couple of minutes then you have not been listening hard enough- a song that compels you to come back and listen again. "The new day's light will catch us/and it would be fine"; some of the lyrics are not as idiomatic as a lot of English-language songs- it makes the lines more unique and true. Were someone to come in and straighten the grammar- lord knows, this blog could do with that!- the translation might seem stale and cliché. You can tell The Peppersplum have written it and ensure it is true to their own voice and speech- a song that could have come straight from their lips.
The charm of Take the Adventure of Love makes it a winner from start to finish. The song's leads are young and having fun: they should not lose that spark and just submit to the immediacy and here-and-now nature of passion. Few songs are as direct and unclouded: there is no anger or finger-pointing; a paen to the basic pleasure of love and all it has to offer. Some of the lyrics might pass people by and decipherability is an issue at times- only natural given the fact the girls have heavy Spanish accents. If you want the full lyrics they are available via a Google search; that does not really dent the song's impact and appeal. The abiding impression one gets is a pure Pop act that has created a simple and effective song about love's highs. It is a countenance to the darkness and anxiety that lurks in modern music. Too many artists are bogged-down in self-indulgence and destruction: the girls will have none of that. True; some of their songs have negative vibes but here there is sunshine, strength and smiles all round. It is impossible- whether you like this style of music or not- to ignore the power and panache that comes through in Take the Adventure of Love. I am not sure whether The Peppersplum have a new album or E.P. out in the coming months but it appears they are in fine creative voice. If you need a reminder what Pop/Rock music should be about: take time to listen to Take the Adventure of Love and have a smile put on the face.
It has been interesting connecting with a genuinely fresh and original act. Here in the U.K., we are not usually lucky enough to discover music from Mexico and lesser-heard nations. We, here, get too comfortable with musicians in 'traditional' circles- those whom the media bring to our attention; ordinarily British or American in origin. It is sad there is so little scope beyond these horizons: a lot of terrific musicians have to struggle for attention and recognition. Mexico's The Peppersplum are a combination of sweet and spicy- as their name would suggest- and mix so much into their music. Their knowledge of mainstream music and '60s/'70s classics stands them in good stead- they are not another run-of-the-mill Pop act whose knowledge of music does not extend further than last year. Too many new acts are derivative and formulaic: hardly expanding on what's already out there; destined to toil in obscurity before too long. It is, therefore, refreshing to find a fresh and evolving duo continue to impress and push. A couple of albums under their belt is just the tip of things. The girls have played Pasagüero and club 88; performed across several continents and established themselves as one of new music's hardest-working acts. Being born in England; there is a lot of love for the girls around the country- let's hope mainstream media here latch onto them and recognize where they are headed. Perhaps (in this country) they enjoy modest success and gigs: I feel London is a city ready-made for their music and desires. I mentioned Vanessa Forero earlier- someone who sings in Spanish and English- and she has enjoyed success in London. Her music blends Folk, Acoustic, and Spanish-language Pop: a musician on the rise and one of the most exciting I have ever heard. It is only fair The Peppersplum have the same exposure and opportunities. Nominated for a People Choice Award in England (2008); nominated for the U.F.I. Awards in Spain; I.M.A.S. nod in Mexico and beloved by the Mexican media- surely not long before they colonise Europe and gain new traction. At the moment, the duo is preparing new music and local press are excited about their new direction. Employing Dance overtones and a more immediate sound: signs of artists restless and hungry to explore new possibilities. At the heart of The Peppersplum's music is familiarity and accessibility. I have mentioned (a few times) how The Beatles and U2 are idols- you get a little of each in their music.
Before signing this off- and bearing in mind the nature of The Peppersplum- I wanted to re-investigate the importance of duos, foreign-sung music and diversity in music. Of course, with Grime, Rap and Jazz acts among the 12 shortlisted albums for this year's Mercury Prize: it is clear the finest music is that goes beyond the tired, radio-friendly, mass-approved acts. Yeah, Coldplay and Adele have missed out on nominations but that is because their music is not as relevant and impressive as it should be- two acts whose best days are long behind them. Modern music can only evolve and inspire if we herald musicians who are doing things differently- rebelling against the tired and homogenised mainstream. That is why this year's Mercury Prize shortlist is so commendable and promising. Duos such as The Peppersplum balance mainstream and unique with impressive integrity and quality. Their loyal fanbase is no fluke: they have worked hard this last decade and produced some truly incredible music. Naturally, we all are secure in our rut and routine; we know what music we like and tend to stick with that. If you were to suggest I listen to an English-Mexican sister duo who mix Spanish-language tracks with '60s-nodding Pop tunes- I would meet the demand with a raised eyebrow and skepticism. We all tend to be a little ignorant with something we consider 'unusual' or a little unorthodox. That is a problem that needs to be purged and addressed. All genres and nations' musicians have promise and room for appreciation- we just need to be bolder when it comes to music in general. Duos are always interesting and the Fernandez sisters are no exception. Like most duos; there is that inherent love and understanding: if you did not get along; there are no other band members to hide behind. If you're going to form a duo you need to be damned sure the other person is someone you can spend time around without going nuts. Peppersplum have that spark and solidity; their music is both universal and local- bringing the listener into Mexico and gaining a flavor of the nation's sounds and scents. 2016 continues to amaze and exceed expectations: that is very true of new musicians emerging. Not only do the sisters Fernandez put you in a great mood and remain in the memory: they will make every listener…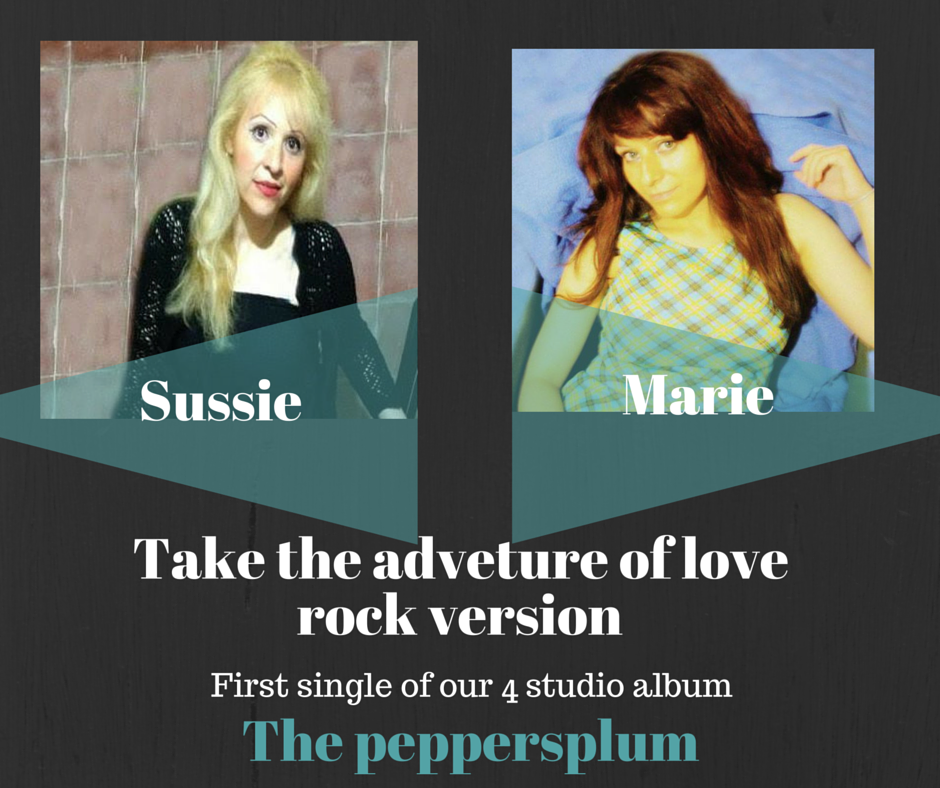 THINK more widely about music in general.
________________________________
Follow The Peppersplum
Facebook:
http://www.facebook.com/THEPEPPERSPLUM
Twitter:
https://twitter.com/thepeppersplum
Instagram:
https://www.instagram.com/thepeppersplum
YouTube:
http://www.youtube.com/thepeppersplum