TRACK REVIEW:
Forebear
Delroy Lindo
9.4/10
Delroy Lindo is available at:
https://soundcloud.com/forebearband/delroy-lindo-2
RELEASED:
May 2016
GENRES:
Future-Rock; Dirt-Rock; Indie
ORIGIN:
Los Angeles, U.S.A.
PRODUCER:
Eric Lilavois
____________________________________
PERHAPS it is inevitable that I am back in L.A…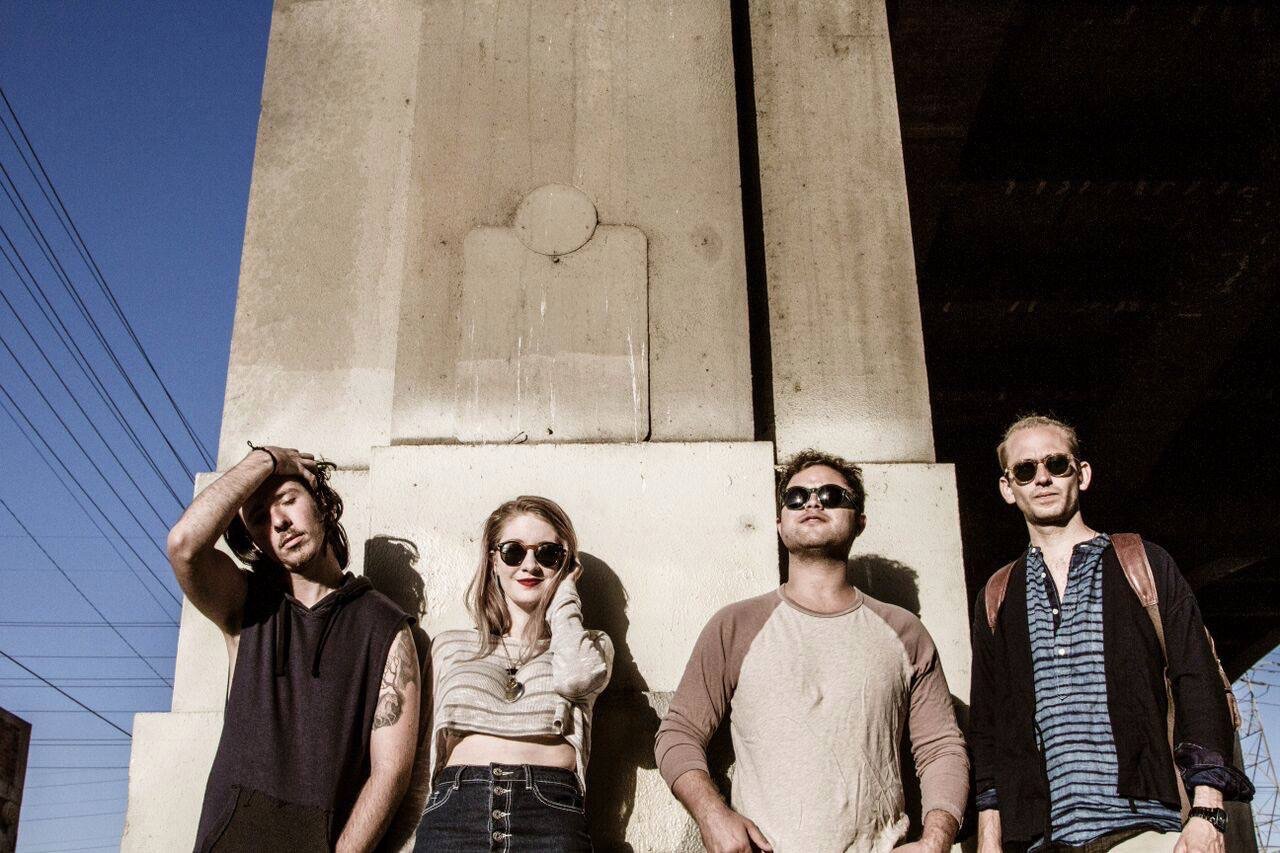 and will dispense with the pretense- being able to resist its lure. I am still caught in the haze of the quick-release, short-notice artists- Radiohead dropping their album out of nowhere- and the excitement music has provided the last few months. From the artisanal, back-to-their best cuts from De La Soul and The Avalanches- who knew they were sequestered making music the last few months?- there is a lot of positivity and quality in mainstream music. I use Radiohead as the case study- and will abandon the parable in the coming reviews- but they show just how it is done. Their dystopian- but romantic- gems unveil beauty and fresh layers after every listen: songs you reveal yourself in; Yorke's diaphanous, soul-on-my-sleeve delivery makes everything he sings sound utterly profound. Away from the Oxford band's latest masterpiece: there is a great buzz vibrating around the neon signs of music- all proffering fascinating back alleys and vivid smells; fascinating sideshows and entrancing attractions. In spite of a few recent-weak releases- Jake Bugg seems to be disappearing up his own arse- you cannot fault 2016, thus far. The world has shouldered a lot of tragedy and heartache- musicians' deaths and terrorism- and we need music to keep us safe, comforted and positivity. This outcry and supplication has not fallen on deaf ears. The new bands/artists of the underground are responding and bringing people together.
I shall not go into depth about the L.A. music scene- you have heard that too much- only to say how consistent and vivid it is. There is no such thing as an 'L.A. sound'. A huge, multi-coloured city: it is impossible to visit Los Angeles' music scene and not find anything to adore. The filigree Pop acts and mystical Electronica artists; the rude-awakening Rock rabblers and the sweat-inducing Dance masters- that is just the tip of the iceberg. These musicians- that play out of L.A. – are not bifurcated: they have a focus and accomplishment that is to be commended. I am always going to be loyal to London- that patriotism will never die- yet L.A. always comes up with the goods. I have ignored the band market over the last few months. Concentrating on solo acts and their wares: it was as a result of fatigue and predictability. There are still too many modern bands that blend into one another: do not push too far outwards; seem somewhat stagnated. The finger of culpability points firmly at Indie and Alternative acts: many are too beholden to curate something over-familiar and unoriginal. Maybe it is difficult to be distinct in 2016. So much music has passed already; how much room is there for true distinction and enlightenment? Forebear are a band who understand this- not falling into that trap- and have formulated a sound that blends widescreen Rock and cinematic lushness- a melting of euphonic harmonies and nerve-jangling steel. This dichotomy and contrast never seem forced or unnatural: the band deftly weave them and stitch a marvelous, eye-catching tapestry. Before I continue on, let me bring Forebear to your attention:
Scott Goldbaum (vocals/guitar)
Mike Musselman (drums)
Molly Rogers (viola/vocals/keys)
Nick Chamian (bass/vocals)
"Forbear flawlessly weaves together cinematic rock with a truly unique voice and spectacular harmonies taking listeners on a surreal experience.  Capturing the struggle between our interpersonal crises and living in the age of constant awareness of global tensions glooming overheard, Forebear puts into words the feelings that are always so difficult to express ourselves. 
Composed of some of LA's most prolific musicians, the band met in early 2014 in the Los Angeles professional music scene. Scott Goldbaum (formerly of Wise Cub) leads the band with beautiful vocals and melodic guitar, while classically trained Molly Rogers viola adds a layer that is truly captivating.  Mike Mussleman (drums) and Nick Chamian (bass) round out the four piece with one of the most impressive, and methodical rhythm sections in indie rock today.  Individually band members have worked with artists/bands including Feist, Bastille, Kamasi Washington, Randy Jackson, Keith Urban, Kimbra among others.  
Less than a year later, Forebear quickly caught the attention of famed producer/engineer Eric Lilavois (Saint Motel, Atlas Genius) when he saw them perform at the legendary Troubadour in Los Angeles. Lilavois produced their upcoming release Good God and recorded it at the famed London Bridge Studios in Seattle.  Good God begins with the commanding single "Delroy Lindo" which touches upon a somewhat darker tinge to the sunny promises of California. "It's about two people who moved to the West Coast to be together, only to have the illusion of what they thought waited for them be eaten alive by their false romanticism" Goldbaum. 
Good God is set for release August 26".
From next week, I will be looking to other cities- apart from Los Angeles- for music inspiration. For the moment, it is great hearing yet another U.S. band that rivals the best we have here. There is something deep and novelistic about Forebear's work. Characters and people that get consumed by misguided love and ideals; the conflict between internal struggle and confronting global terrors. Not quite as pretentious as you might imagine- you might shrug and think they are one of 'those' bands- the guys embrace concerns we all share. Aside from the mainstream champions- the likes of which I have already mentioned- I have struggled to find a lot of great bands. There is a focus on solo artists; they seem to be producing the strongest, most distinct material right now. Forebear are ensuring groups are not completely forgotten. In the run-up to the album release: the guys are hot on the campaign trail and bringing their music to the local masses. The reason I brought up Radiohead early- and will desist in doing so (gritted teeth and all) – was because of the texture and depth in their music. Orchestral beauty and dark grooves; piano confessions and pizzicato Middle Age drama. Our L.A. heroes expend as much attention and depth in their music. You do not get- like you would with lesser acts- something surface and basic. There are so many different explorations and sides; nuances and colours- a rhapsody of emotions and mini-dramas. Delroy Lindo– the title alone gets you thinking and interested- marks them as one of those bands you need to watch and follow. Eyes and ears will be ready and keen for their new album- Good God will surely not disappoint.
People's Champ is a song I have been listening to for a while. Released last year: it begins with such fascination and intention. Vibrating, buzzing strings and determined percussion: a groovy, dark cinematic swathe that leads to haunting vocals. Perhaps distilling some of the clarity- the moodiness and processing of the voice distort some of the words- the song kicks up a gear and become spiked and sparring. Bracing, rousing strings are just the start of things. The track has such an emotive drive and sense of drama. Instruments and vocals are thrown into the mix yet never seem undisciplined and wayward. Codas and confessions ("I'll miss you when you go") get the mind wondering- just what the song is referring to.
Eon– released around the same time- starts with spiraling drum rolls and stuttering guitars. Aching strings join and create a head-spinning, dramatic mood. You get caught in the vibrancy and sting of the percussion; the jagged guitars and yearning romance. Complete with heartfelt and impassioned vocals: one of the longest songs of the band's career. So much musicianship and thought is put into the composition. Low orchestral notes and pummeling percussion: few other bands are capable of fusing these sounds and making them sound completely natural. Two different, both exceptional, songs from a band that are like nobody else. It might be something I repeat: I cannot stress their originality and distinct sound.
After such a sturdy and stunning background: expectations were high with regards Delroy Lindo's release. Knowing how the band haa developed and the sound they have cemented- is their latest single a step forward or do they keep things similar? Pounding, heartbeat bass and finger-picked strings make the introduction something lustful, playful but austere. There is a grandeur and stoicism that is all-too-happy to flirt with something dreamy, navel-gazing and languid. It is easy to become enveloped in the notes: let them transport you somewhere; take the imagination on its own path. In the sapling phases, I was instantly in L.A.: imagining a meeting-place; a beauty spot, perhaps? Bathed in the subtle warmth of a spring evening: two lovers make their way to a near-by bench. Whatever your interpretations: the initial words have an intellectualism and philosophical side to them. "You got caught in the misanthropic/ nihilistic way of/interacting with human nature's nomenclature" has some rather dark and accusatory undertones. Essentially- bursting through the florid language- there is a toxicity and poison that hangs in the air. The song's heroine is happy to engage in vitriol and destructive behaviour. With little compassion in care in his heart: our hero is looking for an escape; disillusioned and scarred by this current love. Maybe things started more optimistically: the coming-together would be harmonious, blissful and wonderful.
Whether time has revealed the short-fallings- or things seemed idealistic; never bathed in reality and truth- I am not sure. Perhaps the lovers met online and this is their first meeting? Whatever the song's origins: you can detect that hurt and suffocation. The composition tees the words and projects true emotions. The percussion rolls and strikes: sparse and hollow; it is a heartbeat and injection of nerves that sends tingles up the spine. In the background- never muted by the vocal or drums- is that gorgeous, soulful string sound. The blend of Classic and Contemporary- presented in a bare and unique way- adds electricity and anxiety to the foreground. Not only driving the vocal: it bleeds into the lyrics and projects something very raw, real and tangible. Our hero understands the hatred and negativity of the relationship. Which one of them has the guts to call it quit, he muses. Presenting a fragile, feminine vocal: shivers are elicited at every point; it gives the song an etherealness and sense of grace. Despite the early words and clear conflict: there is a lust and yearning as the story unfolds. "I want you" are words you might not expect in these sort of times. Maybe the lovers have extinguished conversations and get caught in (a daily series) of arguments and fights. Teasing the girl's neck- "I'll try to break the silence with a sweet-tooth"- it is all for nothing. A lonely nation and unforgiving island: the heroine is cold and intractable. Someone who has caused her share of pain and hurt: there is that need to make sense of things are rekindle some of the passion.
Even before the 1:00 mark: so much ground has been covered; with so few words. The introduction has been laid and the circumstances explained. Two lovers have come together and it has not worked for the best. "Day to day we avoid the topic" suggests they go through the motions and seemed trap. Perhaps the man is deluded into thinking things are fine and solid. The heroine wants to escape and make a clean break of things- it seems that is not going to happen. Our man is no Delroy Lindo– a British-American actor who has starred in Spike Lee films such as Malcolm X. A cool black actor who can command respect, love and attention: someone many people would aspire to be. The girl is looking for someone Lindo-esque: a man that has that confidence and cool; the gravitas and sexiness. It makes you wonder how the duo started their lives together. If the 63-year-old actor is desired- by the girl at least; or our man is being sarcastic- one imagines an Internet-based relationship was started. Maybe things looked promising and prosperous on the screen. The conversation and chat were natural and charming: it was only natural they would meet and have high hopes. That is the thing with Internet dalliances: they do not give you a sense of how things really are; who a person really is. The girl has given into someone else- before then; our man wants her to "listen to me" when speaking in clear tones- who can see through the rage and passive-aggressive nature. Still backed by that compositional directive- the spattering percussion and cinematic strings- the vocal shifts between delicate falsetto and full-bodied soulfulness- ensuring every word connects with the listener and highlights the urgency of the situation. The band demonstrates their fine wordplay- "You have a need to be held without holding back/To be seen without saving face"- not only have a cleverness and economy; they reveal more about the song's anti-heroine.
As the chorus comes back in; one wonders how things worked out between the two. The girl has fallen for someone else but is still causing tremors and fracturing. Our hero has seen enough and wants to get away from things. Even at the worst points: there is that need to inject some passion and compassion; a little bit of harmony and resolution. In spite of things, the heroine seems icy and noxious. Unwilling to compromise and bend: things have been torn and blown beyond reconstruction and reconciliation. Life is not a film, it seems. She was seeking a chiseled, cool-as-crap film star with unnerving swagger and confidence- her new man might be closer to the mark. It brings me back to the opening sentiments- that sense of nihilism and destruction that seems so common in today's society. What happens from here is anyone's guess. Delroy Lindo is a song that addresses love's lack of virtue and harsh representatives. The lovers moved to the West Coast to be together. It all looked good and wonderful: the fact it has turned sour was maybe unavoidable. It is certainly not the fault of our hero. He has been honest and tried to make things work- it is his girl that has shown a lack of humanity and honesty. In the midst of such a heartbroken and angry song: you get plenty of light, beauty, and melody; intelligence, wisdom, and memorability. A song you will want to come back to again and again; Delroy Lindo shows Forebear at their absolute precipice.
Tomorrow, the band will be hosted by Harvard & Stone: a local gig that is just the start of things for them. In July, they head to Silverlake Lounge for a trio of performances. It cannot be long before gig requests come in from around Europe. London is a competitive and bustling city: that is not to say Forebear could not find fans here. Yes, there are challenges getting your music recognised in any big city. The reputation they have in L.A. will create enough momentum and intrigue to wet the mouths of London promoters. I hope the gang does make it across our way: plenty of people would brave the summer heat to pack themselves into small venues; get a taste of the group up-close. Delroy Lindo has already picked up a lot of great reviews- scheduling and all means I am a bit late to things- and that is hardly a shock. Building from solid foundations- their previous material is hardly slap-dash- it seems the Los Angeles troop are in fine voice. They are not a traditional, straightforward act by any means. Just reading their biography and you need a moment to untangle the phrasing. Essentially, they do things unlike anyone else. Brooding solos and existential dread sit with gorgeous harmonies and Cinematic-Dirt- a sub-genre that they have created. Do not view them as an arty band that cannot connect with the people. They are the epitome of the common-man band. Their music is not abstract and impressionistic; their lyrics not oblique and intangible.
Everything they do has a reality, urgency, and relatability. They address common themes- fears around political implosion and modern violence- yet ensure their music has a utilitarian, conquer-any-plains drive to it. All topped off with luscious, supernova harmonies: a group that will inspire many others out there. Picking up paen and respect around L.A. – the gigs are not drying up any time soon- this faith and reputation surely will lead to great things. When their album is released: it will give the larger world a chance to treasure and embrace their addictive cocktails. I have speculated their London-appeal future: I shall try and spread the word around the city. In the larger sense, the guys should set their sites across the continents. L.A. has plenty of opportunity and places to play- I can imagine it is impossible to be bored there. In spite of the loyalty to the home crowds: chances and exposure await them. I am unsure whether they have any other U.S. dates- maybe a chance to get to the east and play New York? – but there are plenty of nations that would take them to heart. Perhaps budget- another theme I explore with new bands- will limit their horizons and see them stalled for a little while. An expensive and unpredictable ambition: maybe in years to come their itinerary will take in more nations and cities? There is so much to love about Forebear. Their drama and heartache is always organic and never forced. The highs and electric peaks are not forced or insincere. The polyrhythmic instrumentations and state-of-the-world lyrics integrate together and transform the songs.
Their latest single is a worthy addition to their back catalogue. Perhaps their finest-ever track- depending on what you look for in the band- the signs are all very bright and positive. The portmanteau aesthetic and exceptional performances make Forebear one of the acts to look out for. They have not been around too long: they are sure to remain for many more years. If their latest cut is more shade than sun- going against the typical image of L.A. cheeriness- then do not be aghast. The band has so many different sides and songs; they are never too maudlin or introspective- capable of eliciting warmth and beauty when called upon. Delroy Lindo has been explained by the band- the origins of the song and what it means- but can be extrapolated in a number of different ways. Their movie-hero-moniker song hides dark romance and false expectations: heartbreak and jadedness; two people- from separate ends of the geographical track- that are consumed in disappointment and reality. It may all sound rather dark and foreboding on the page: hearing the track will change your impressions and expectations. Love songs are always hard to get 'right'. With so many being written- every band and artist who ever lived has to do them- putting a new spin on (a worn and heavy genre) seems like a mean feat. Luckily, the Los Angeles band have more imagination and depth than your average musician. It is not just their story-telling and words that get into the mind. Having been lauded to high degrees: the vocals are exceptional and entrancing throughout. The composition is busy but never too cluttered; the production has a richness and gloss to it- without making everything sound ultra-glossy and vulgar. Let's hope the boys (and girl) of Forebear come to our shoes, as truly, there is nobody…
QUITE like them.
______________________________________
Follow Forebear
Official:
Facebook:
https://www.facebook.com/forebearband
Twitter:
https://twitter.com/forebearband
Instagram:
http://instagram.com/forebearband
_________________________________
Music
https://soundcloud.com/forebearband