TRACK REVIEW:
Darla and the Blonde
In Admiration of the Female Spy
9.5/10.0
In Admiration of the Female Spy is available at:
https://soundcloud.com/darlaandtheblonde/in-admiration-of-the-female-spy
RELEASED:
May 2016
GENRES:
Alternative-Rock
ORIGIN:
London, U.K.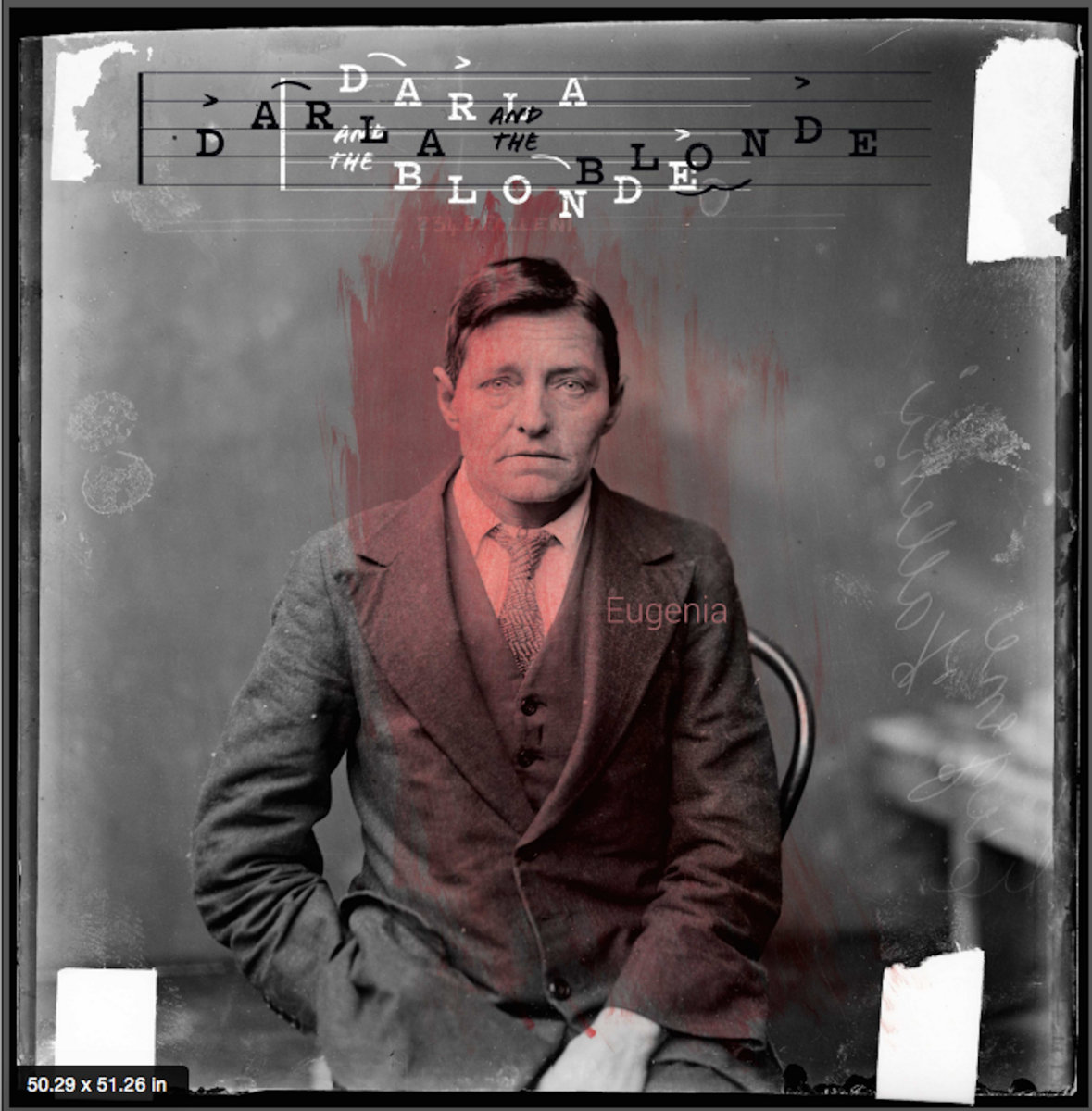 The E.P. Eugeina is available at:
https://darlaandtheblonde.bandcamp.com/
TRACK-LISTING:
In Admiration of the Female Spy
Vampyr
The Article
Hexenhammer
End of the Party
RELEASED:
May 20th 2016
RECORDED AT:
 Heart of Gold Studios
 PRODUCED BY:
 Tom Loffman
 MUSIC PLAYED BY:
 Darla and the Blonde
MUSIC AND LYRICS BY:
 Nina Lovelace
____________________________
IN the coming days the nation will decide…
whether it wants to remain in the E.U. or not. It is, as everyone keeps telling us, the most important decision to face this generation- perhaps the most vital box-tick of our lives. Whilst there is hyperbole and over-exaggeration in there: there is also some fact and truth. I know which way I am going to vote- none of your g-darn business, to answer the question- but there is referendum and decision-making in music. Rock- whether Alternative or plain-old Rock- used to occupy a rarified position in music: the go-to genre for new bands and musicians; sounds that were celebrated by critics with Devil-horned regard- the most sought-after sound at festivals and events. Over the last few years- whether signaling a decline of quality or change in tastes- other genres are becoming popular and dominant- leaving Rock to fight for its status. To be fair, there are a lot of hungry, young Rock bands making impressions- in the mainstream, their numbers are becoming fewer. As I have explained in these pages- and shall do so for the final time this month- British wonders like James Blake and Radiohead have thrown down the gauntlet in 2016: producing the (two) finest albums of this year. When the nominations for the Mercury Prize are announced: not only will both be nominated (they should: Radiohead's A Moon Shaped Pool and Blake's The Colour in Anything) but they should be odds-on favourite for the win. Electronic and Post-Dubstep artists are becoming more prominent: Radiohead have abandoned their Rock glory days- when The Bends and OK Computer ruled the land- and embracing something more textured and experimental.
Festivals- aside from those who specifically cater for Rock acts- are seeing their line-ups reflect a broader, lesser-seen range of genres and acts- in the past, Rock/Alternative were staples of these festivals. It brings me back to an age-old question: Is Rock Dead? Hell no! Rock will continue to rock until the end of time: we just need to give it a kick in the posterior. There is a bit of a vacuum in the mainstream. The likes of Royal Blood– busy working on their new album- and other titans seem quiet and M.I.A. for a bit: how many great, current Rock bands can you name? Yuk, Drench and Car Seat Headrest: Loose Meat and Downtown Boys are worth watching out for. Rock is not dead: it is just developing body hair and starting to grow up. Away from the Punk revivalists and straight-ahead, go-for-the-guts Rock acts: the genre is evolving, expanding and becoming more textured. Bands are introducing other genres in- primarily Electronica, Indie and R&B- and giving Rock more contour and layers. It may sound like a gentrification, but you'd be wrong: acts that stay true to Rock's values are capable of rubbing shoulders with the best bands out there. More bands- who play Rock and Alternative- are mixing genders- rather than the depressing slew of all-male acts- and becoming a lot more interesting.
All of this brings me to Darla and the Blonde: a beautiful moniker that sounds U.S.-based; perhaps a sunshine-coast band or highway-wandering band of dreamers. Before I continue- and dispel that romantic vision- let me introduce Darla and the Blonde to you:
"Encompassing the seductive glamour of goth, the catchy harmonics of pop, the experimentalism of prog and the narrative traditions of folk, Darla And The Blonde are a broad-based five-piece who craft their influences into a bold and distinctive brand of dramatic alt-rock.
Formed in East London by chief songwriter Nina Lovelace (rhythm guitar and backing vocals), the band are completed by Jen Demaris (lead vocals), Rob McCabe (lead guitar), Craig Page (bass) and Tom Loffman (drums). While Darla And The Blonde's sound is influenced by the likes of Nick Cave, Patti Smith and PJ Harvey, and their live performances take cues from musical theatre, Lovelace's lyrics are primarily inspired by the concerns and experiences of inspirational women, both real and fictional, all set to the band's impassioned and inventive alt.rock sonics.
Having shared taster track 'The End Of The Party' in March 2016 – whose searing glam-rock groove underpins an infectious lyrical riff on revolution – to much acclaim, radical Hackney rockers Darla And The Blonde reveal the details of their first full EP, 'Eugenia', released on 20 May.

The first of five eclectic but equally invigorating indie-rock nuggets, 'In Admiration Of The Female Spy' is a melodic musing on the escapades of feminine espionage set to a forceful three minutes thirty of edgy new wave. The dexterity of the band is to the fore as Craig Page's intricate bass shadows the catchy vocal harmonies through the verses before the chorus is announced by a crescendo of crunching overdriven guitar.

Follow-up ballad 'Vampyr' has an air of fragile beauty that belies its themes of age, decay and mortality, its celestial vocal pattern meandering across a metronomic tick-tock rhythm that lends the song a further touch of the fantastical.
'The Article' tells the story of Eugenia Falleni (after whom the EP is named), a female-to-male transgender man who was falsely tried for murder in the early 20th century. Atop the song's heavyweight folk-grunge score, Jen Demaris and Nina Lovelace's voices ring out a powerful shanty-like tale to resound long in the mind.

Part prog-rock, part widescreen gothic-pop, 'Hexenhammer' was originally released as a single on Halloween 2014 and its unorthodox melody lines are a fitting fabulist homage to the novel 'Dark Aemilia' by Sally O'Reilly, in which the protagonist dabbles in the dark arts. "If you say his name I'll lay a Hexenhammer at your door" runs Demaris and Lovelace's anthemic chorus".
From their party manifesto: it is clear the East London band do not do things in a predictable manner. They have the heart of Alternative-Rock beating in their chest: their soul and blood contain a range of different shapes, sounds, and ideas. Able to fuse (catchy) vocal harmonies and melodic Pop; Gothic darkness and Progressive-Rock experimentation: they are the perfect representation of a modern-day Rock act. When they want to- and that is quite often- they can dispense a brutal, ball-shaking, three-minute assault to the senses. Being a savvy and intelligent band: they do not drag knuckles and aimlessly slam; they inject hooks, nuance, and kaleidoscopic energy. Basing themselves out of Hackney, one could be forgiven for thinking they are an uber-cool, hipster band that are all words and no action. On paper, there are few that can rival the individuality and fascination of Darla and the Blonde. When you dig deep- and read interviews they have conducted- the band are cool, down-to-Earth folks that are exceptional musicians. The kinship and closeness feed into their stunning, instantly-addictive tunes. Eugeina is the band's new E.P. and is crammed with festival-ready tracks full of personality and contrast. Among the masses of new, fresh-faced band; Darla and the Blonde offer something distinguishing and unexpected. Part-frightening, part-welcoming: the polemics and contradictions ensure everybody is on board. You do not have to be a die-hard Alternative-Rock fan to appreciate Darla and the Blonde- they are a group that blends so many sounds and ideas together; few will be able to fault their ambition and range.
Darla and the Blonde have not been playing for long: usually, I would look back and see how a band/artist has changed/improved. When it comes to the Hackney collective: Eugenia is the best place to start. Not only is- their five-track E.P.- a jam-packed creation with anthems all over the place- it shows how confident and together the band are. You would not imagine they have only been around a little while. Inspired by the likes of PJ Harvey and Nick Cave: you get that inimitable blend of dark and light; Gothic and fantastical; dreamy and hard-hitting. For a band who have so many different sides- and weapons in their armoury- you would assume they'd have little focus and ragged edges. In truth, that is not the case. Nina Lovelace writes songs that reflect the needs/issues of men and women. She is never defined or tied-down: not a songwriter that can be predicted. Whether looking at historical, transgender heroes or female espionage: every song has such personality, originality, and charm. The band has such an affection and intuition it means every song gets straight to the core- stone-cold anthems that will get the crowds unified and excited. The big test is whether Darla and the Blonde will continue their hot streak and maintain their cool. Many bands- that start off with distinction tend to succumb to mainstream tastes- lose their identity and that initial spark. I feel Darla and the Blonde will only grow stronger and more distinct. They are a band that has commercial appeal but a loveable quirkiness.
With the band's E.P. having been dropped last month: the band released In Admiration of the Female Spy to give a taste for fans. Reviews have noticed the riotous, defiant sound and powerful swagger: the breath of fresh air that has been put into Rock. Keen to separate myself from other blogs/reviews- and form my own opinions- the opening seconds had me fascinating. Woozy, Grunge-influenced guitars ensure the song gets off to a gentle- if extremely intriguing- start. The guitars build, fleck and shine- so many different little ideas and notes into a glorious collage- whilst the percussion adds heartbeat and anxiety. Perhaps the band's attempt at a Bond theme- it would be a super-cool, if slightly ironic, twist on the format- the sense of restraint and tempoirisation is to be commended. Too many Alternative-Rock bands go for the jugular from the off: it makes the songs too intense, too soon. Darla and the Blonde build Rome with more care and discipline- ensuring the track does not crumble and crack. There are so many clues out- so many that will drown the heroine- which instantly leads your mind in many directions.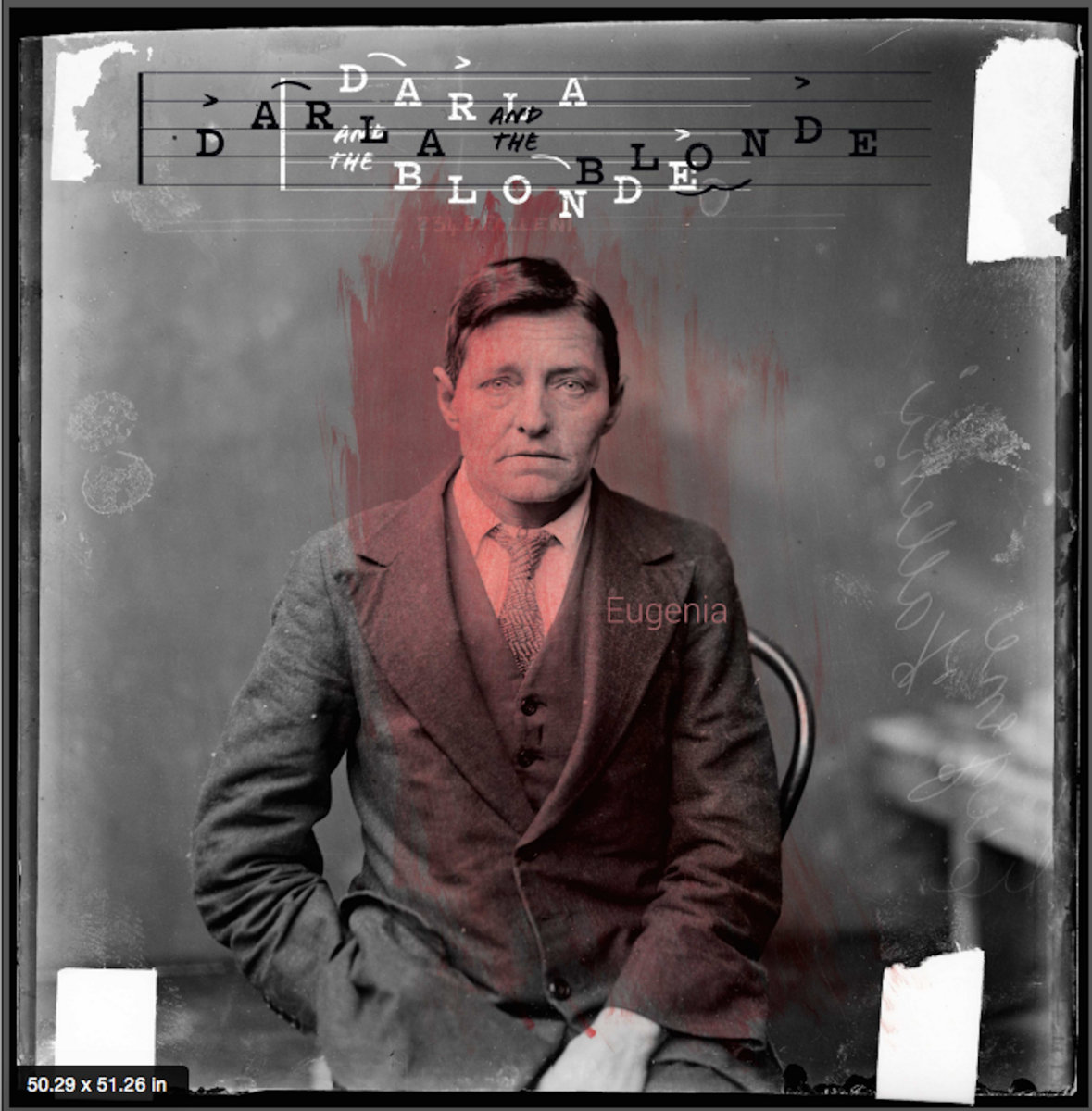 On the one hand, you imagine espionage and spies about town. The song's protagonist- a female Bond that is hunting down a traitor or villain- is prowling the city (perhaps in the cold of night) and looking for answers. That would be an easy- if perhaps accurate- assessment of the song. The band is laying down a paen to female espionage: the escapades and adventures that can be found. In another sense, there are emotion and romantic possibilities. Maybe- the song's heroine- is trying to piece together a break-up or hard time; making sense of why things went wrong and seeking happiness. I am not sure whether Lovelace employs a spy figure as a metaphor: the early words are certainly compelling. Bubbles of doubt have formed- our heroine is keen to prick it- and there are obstacles, sweet ripostes, and come-hither possibilities all around. Maybe (the song's heroine) is faced with her male counterpart: someone who's a cliché and stereotype; the traditional embodiment of a spy. Here is a fresh and bold alternative who does things her own way.  A sassier and more eye-catching option: the song's anti-hero dispenses "sweet nothings"; they have no effect on our girl; she is immune to cheesy lines and flat sentiments. The heroine is calling the shots- a "sweet dumb boy" has his cheeks red; laying his smoothest rap down- and completely in command.
Driven by rumbling, galloping drum and detailed, melodic basslines- the composition adds so many different emotions and visions into the mix. As the story unfolds; we learn more back-story and revelation. The only one (the heroine) ever loved has been condemned to the grave. Maybe the result of cross-fire or caught in a trap- a pawn in a dangerous cat-and-mouse game- he has paid the price. A treasured and loved sweetheart: that sense of regret and longing comes out in the vocal. "The same dogs/in the same starting trap": life is not as simple and clear-cut as all that. Whilst blame could be assigned and culpable parties hunted down- maybe honest mistakes were made and nobody is really to blame. That explanation never washes and you become more invested in the song. The composition starts to build and brood in the background- you know something combustible is afoot- whilst the vocal has an anger and malevolence to it- a woman that is about to unleash Hell. "Better dead" is a bellicose taunt that is chanted with fierce determination and aim: the spy is on the prowl and hunting down the perpetrator. Whoever took her man- perhaps taking a bullet for his lover- will pay dear and have their day. The immediacy and tightening tension is exemplified by the rise in volume and force.
The drums and guitars get heavier; the bass more stinging and viper-like. After a melodic- if dramatic- opening half; the song reaches fever-pitch. Caught in a whirlwind of pain and nightmares: our heroine wonders when she will wake up. A bad dream that never seems to end: you empathise with her plight and hope she can find solace and answers. There is that need to track down the culpable and see justice done. Coming face-to-face with her man- the one she is tracking- there are similarities and reflections. The two are very similar and not too uncommon. If you stick with espionage themes- the female spy going in pursuit of vengeance- there is a slight U-turn and about-face. Packing up her bags- and starting to assess the future- there might not be the cliffhanger we predicted. Taking it down another route- something dealing with heartache and more everyday: you start to wonder whether the "better dead" projection refers to (the deceased) or our heroine. Judging by the wracked and intense vocal performance: one would assume there is heartbreak and regret.
In Admiration of the Female Spy has plenty of mystery and obliqueness underneath its raw and primal growl. A song of two halves- the slow-building and atmospheric opening; the burning and crunching second-half drama- it is the standout track from Eugenia. Nina Lovelace proves what a stunning songwriter she is. Her lyrics are never formulaic and predictable. Together with Jen Demaris Tom Loffman; Rob McCabe and Craig Page: they form one incredible unit. There are a lot of terrific bands in London: few have the personality, talent, and originality of Darla and the Blonde. I know the guys will keep the pace up and go on to create some wonderful music. In Admiration of the Female Spy is a marvelous example of what they are capable of. Always entrancing and together- one of those bands that are unbreakable and has that telekinetic bond- they put a smile on the face and get the feet kicking.
Although I have expended time assessing In Admiration of the Female Spy– coolest title ever- their Eugenia E.P. does the business. Vampyr has yearning, aching beginnings: a Country-Rock/Pop beginning that is dreamy and enticing. Complete with vivid images- our heroine will "kick your shin/and spit in your eye"- it is a celestial, twilight song that has such fragility and serenity. Juxtaposing a beautiful mood against lyrics of age, decay and death- the band never do things the way one would expect- the song is a haunting thing. You are drawn in- the first few times- by Lovelace's spellbound vocal. Few listeners could resist the contrast of stark and tender: you get washed inside the vocals/composition; the lyrics paint fascinating/unforgettable images and burrow in the head. The Article begins more prominently and with austerity. Grunge/Alternative notes open the song with restrained- if rather imperious and threatening- strings. The twin vocals of Lovelace and Jen Demaris tell the tale of Eugenia Falleni- after whom the E.P. is named- who was a female-to-male transgender man in the early-20th century. Such a unique and unexpected source of inspiration would stymie and restrict other bands.
Inner-stress and turmoil- the song's mercurial centre- are balanced by shanty-like sway and beauty- a song that could only come from Darla and the Blonde. Hexenhammer builds and builds- a song that grows hotter and more rushing; a fabulist lament that (sees the heroine) dabble in dark sciences- replete with a knock-out, quotable chorus. End of the Party is a swaggering and cocksure track that blends Progressive-Rock and Punk: one of the heaviest songs from the E.P. Kick-ass riffs and endless confidence go into a song sure to be a live favourite. "All apologies are lies" our heroine explains: a cynical assessment that you (somehow) buy; it seems completely compelling and right. The band comes together in a song that- whilst never exploding and unshackled- has a lingering bite and real electricity. One of the most-played tracks on SoundCloud– fans and followers have bonded with the track- it is a beautiful end to Eugenia. Over a five-track E.P.; Hackney's Darla and the Blonde show just what a special proposition they are. They are never divisive and off-putting- if Gothic sounds are not your thing; there are plenty of light moments and 'traditional' elements- the group has a future ahead of them. They have not been playing long but already seem like a complete article- a band that has been pounding the tour circuit for decades. Festivals like Reading and Leeds will showcase some of the world's finest Rock and Alternative bands. From Red Hot Chili Peppers and Fall Out Boy to Eagles of Death Metal and Cage the Elephant will take to the stage.
Anyone who thinks Rock- and bands that play down harder, edgier avenues- is dead better think again. Darla and the Blonde will play their E.P. launch at Finborough Arms (The Cellar) on June 24th. Try and get down and see the band in their element. Eugenia is a stunning effort from a band that definitely stand out from the rest. If their character-filled, literary lyrics do not get you; the stunning vocals and tight performances will- failing that; their anthemic songs surely will. It will be interesting seeing how the London band blossom. Given the reaction to their new E.P. – and the fact they are a new band- things will only get better. So much depth and authority (on their E.P.) means they have no need to retool and adapt their sounds. The road, people, and life will provide fresh song inspiration; live dates and touring will galvanise and strengthen their performances- ensure they are as natural and tight as possible. Right now, the quintet sounds completely whole and fully-formed- how much better can they get? If they get the support they need- increased social media numbers and people going to their gigs- it cannot be long before festivals and venues come knocking.
I have been a bit ambivalent towards bands lately. Someone who loves traditional Rock and heavier acts: perhaps I have ignored a lot of great acts; had my head in the sand. Whilst there are fewer bold, original bands than a few years ago- what with the proliferation of solo acts and changing sounds- that is not to say we should give up. Far from it. If you want head-pounding, fists-in-the-air Rock then there are options out there. Those who seek deeper and more layered bands have a lot more options (than a few years back). Darla and the Blonde are one of the most interesting and unique bands I have heard in a long time. Their music has so many details and fascinating parts; the compositions switch genres without losing focus; the vocals are consistently bold and beautiful. Altogether, it goes into a glorious band that seems natural in London. Given the competition and quality in the city: the guys will have to fight hard for market share and fans; their music is already recruiting many followers and eager listeners. In Admiration of the Female Spy is a song I will be playing for a long time: there is something inescapable about it. Take time out of your day to…
DISCOVER your favourite new band.
_______________________________________________
Follow Darla and the Blonde
Official:
http://www.darlaandtheblonde.com/
Facebook:
https://www.facebook.com/darlaandtheblonde
Twitter:
https://twitter.com/darlatheblonde
Instagram:
https://www.instagram.com/darlaandtheblonde/
_________________________________
Music:
https://soundcloud.com/darlaandtheblonde
______________________________
Videos:
https://www.youtube.com/user/scowlinowl