TRACK REVIEW:
River Becomes Ocean
Seven
9.4/10
Seven is available at:
https://www.youtube.com/watch?v=u4YOpRP_ZFg
RELEASED:
7th April 2016
GENRES:
Post-Hardcore; Rock; Alternative
ORIGIN:
Brighton, U.K.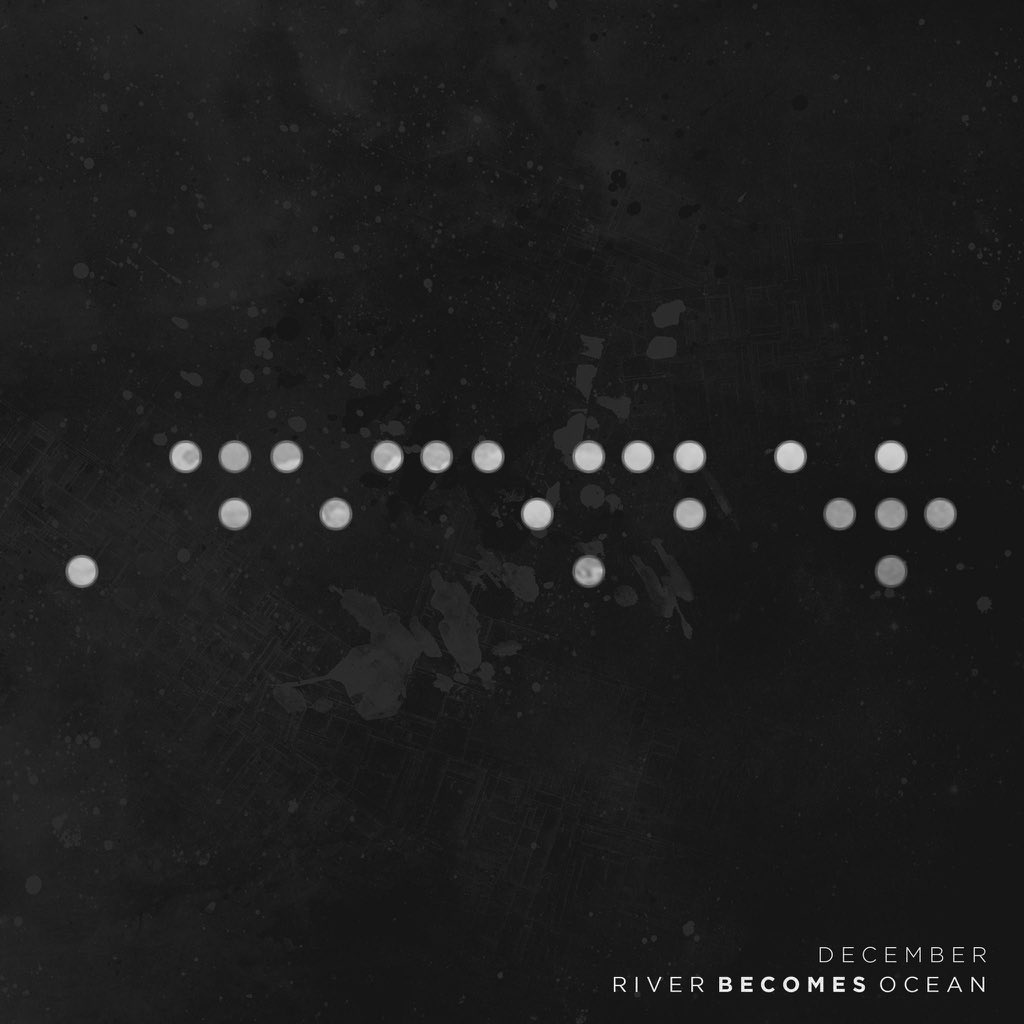 The E.P., December, is released on June 21st 
TRACK LISTING:
We Will
Lies
Seven
Buried at Sea
For Now
PRODUCED BY:
Sam and Joe Graves (Asking Alexandria)
____________________________________
MY previous review- for Effie, and her track, Pressure– extolled the virtues…
of the female singer-songwriter genre. This review will focus on the new bands: those making impact and forging their way onto the scene. Before I come to my featured act: I wanted to look at bands outside London; the Post-Hardcore/Rock blends; gaps that need filling in music. I have a lot of respect for bands but feel they are over-exposed and put under too much pressure. Most of the mainstream press tends to focus on bands- rather than the solo artist/duo etc. – and very few (of the groups) live up to the hype. For every example of Royal Blood- a duo, I know- there are dozens of ignoble, weak-bloodied servants: those with little grit, majesty, and presence. I feel there is too much copycatting and laziness happening: too many fresh bands wear their influences too heavily; replicate their music in a hope for reciprocal success and support. While it is hard to be truly original and distinct- given the genres and styles of music that have come before- there is still enough room for maneuverability. The lure and zeal of the festival circuit is compelling musicians to pick up instruments and take a chance. It is always great embracing music and dedicating your life to it. Maybe I am subjective and a partisan: there is no finer cause than music; who would want to do anything else?
Rebelling against the day-to-day drudgery of the office place: music is a creative outlet that encourages freedom, expression and passion; bringing people together and exploring what is truly possible. For that reason, bands are springing up at an alarming rate. Whilst there have been some unwisely-tipped groups- the media need to calm down when it comes to crowning every new band- there are plenty of wonderful groups out there. Away from the Foo Fighters-parodying guys: one has plenty of options with regards originality and quality. If you want to look beyond London and the major cities: you would assume your choices (for great acts and variation) is somewhat stifled. That is where you'd be wrong. Brighton is an area that is becoming more popular and desirable. Those who are not keen with the hustle and shoulder-barging of London find solace and beauty in Brighton.
It is a seaside city that offers plenty of cosmopolitanism and community: fascinating side-streets and peaceful retreat- all within walking distance of one another. Out of this veritable cauldron of inspiration and fascinating grows wonderful music. Many would assume Brighton to have a rather slight and quiet music scene. Acts like British Sea Power, Rizzle Kicks and The Eighties Matchbox B-Line Disaster hail from here: Blood Red Shoes, The Levellers and Phatfish call Brighton home. If you have a proper search- and get onto Google- you can see just how many great bands emanate from the southern city. Royal Blood are one of the most-famous and laudable acts to originate for many years: although they no longer live in Brighton; they cut their teeth in the bars and local venues- drawing influence and subject matter from the people and communities. River Becomes Ocean is a band gaining similar nourishment from Brighton. Whilst they may locate to London in years to come- eventually, bands do tend to make their way there- I hope they remain at home for a while. Before I go into more depth; let me introduce the band to you:
Marvin McMahon: Vocals, Piano
Danny Snow: Guitar, Backing Vocals
Ben Bartup: Guitar
Dorian Neidhardt: Drums
"Forming in late 2013, River Becomes Ocean represents the movement of something small emerging into something bigger and reflects their music style combining heavy rock riffs with a bold cinematic sound. The lineup features Marvin McMahon (Vocals), Danny Snow (Guitars, Backing Vocals), Ben Bartup (Guitars) and Dorian Neidhardt (Drums). All coming from a musical background, members of the band moved from Germany and France to focus on their musical careers by building the band and developing their sound from scratch. 
The first year consisted of hard work, building their debut 5-Track EP released in March 2014. The band immediately impressed and this led to their first European tour. Following the release of this EP the band consistently toured the UK and Europe picking up support slots with Silverstein, The Qemists, Funeral For A Friend and more.
Their debut EP 'The World Around Me' produced with Ben Humphreys and John Mitchell, consists of 5 songs mixing heavy rock riffs and sophisticated clean guitars with cinematic themes and atmospherical orchestral arrangements. The EP also features Canadian post-hardcore veteran, Shane Told of Silverstein on the emotional and hard-hitting track 'What If I Stay'. This track became a huge success for the band and saw the video picked up for full circulation by MTV, MTVu and VH1. Using this as an opportunity to support projects the band are passionate about, the band donated proceeds of this song to the organisation 'To Write Love On Her Arms'. The band are strong advocates of animal rights and all members are vegetarian and vegan.
River Becomes Ocean are now building up to release their second EP 'December' on June 21st , produced by Sam and Joe Graves (Asking Alexandria) 
Speaking about the record, vocalist Marvin McMahon said:"This record is very close to us and is reflective of the times we went through whilst writing it. After our old bassist left, we chose to start from scratch writing this record. We still had to hit deadlines and were pushed to finish this record within three weeks. However, this limited time frame and the strong emotions we felt enabled us to write December whilst including our experiences of that period of our lives. The songs each have the influence of our individual feelings. We used this negative energy in the most positive way possible and produced these songs which encompass our passion, drive and heartache. We could not be more proud of this release, seeing as it's a new chapter for River Becomes Ocean, releasing all the negativity we felt and replacing it with the positivity we now experience on a daily basis right now."
Having just completed a European tour that saw the band perform to sold out audiences across Germany, Austria and Italy, River Becomes Ocean are now looking towards the release of the new EP 'December' and will be touring the UK in June in support".
From a city that gave us Poison Girls and The Go! Team: it is no shock to hear a band as heavy and urgent as River Becomes Ocean. Brighton- aside from atmospheric and sky-scraping bands like British Sea Power- hosts a lot of Alternative/Post-Punk/Post-Hardcore bands. Maybe it is the 'uniqueness' of the city- the tattooed, eye-catching folk; The Lanes and all its idiosyncrasy; the general sense of rebellion and youth- but there is something very exciting and promising about River Becomes Ocean. Their name says it all, really: they may be small (or relatively so) now but will become bigger and more ominous: a proper force of nature who will conquer the festivals and major venues. Their sophomore E.P., December, is released very soon- something getting tongues wagging and pens inked. Following the success of their debut E.P.: December shows just what a talent is unfolding; the signs all are incredibly positive. Post-Hardcore-cum-Alternative mashings are becoming more popular and marketable. Distinct from the- comparatively held-back and limpid- sounds of Indie and Rock: here, we get more grit, depth, and passion. River Become Ocean are not your average go-for-the-jugular, riff-heavy group. They offer layers and emotional variation: something primal yet intelligent; forceful and emotive. We need more bands that offer the epic tunes of Royal Blood; the blister and energy of The Go! Team: step forward, River Becomes Ocean.
December is on its way: for a full impression; you should listen to the band's debut E.P., The World Around Me. The guys launched (The World Around Me) as their introduction to the music world. They had enough time to craft the songs and create something layered, detailed and colourful. Whilst not a huge departure from their current E.P.: cinematic strings and orchestral elements sat with clean riffs and a blend of sophistication and heavy Rock. What If I Stay saw Canadian Shane Told (of Silverstein fame) lend his talent- the subsequent video was picked up by M.T.V. and a string of music stations. John Mitchell and Ben Humphreys' production suited the band's ambitious tracks. While songs looked at struggles and love; the girls and gambles that motivate their creativity- the compositions boasted a range of instruments and emotions; gravel and grime among the romance and embrace. After their original bassist left, the band was faced with a serious challenge. Against the tide of commercial pressure and regrouping: December is a surprisingly focused and consistent E.P.
The boys have gone for something more to-the-bone and stripped-back. Whilst there are moments of lush beauty and reflectiveness: they have switched producers and embraced something more uncluttered and Post-Hardcore. Their debut E.P. leaned more towards Alternative and Rock sounds. Given the upheaval and changes they faced: their music has changed with them; the guys present River Becomes Ocean 2.0.  On a tighter schedule- and with new influences and themes in their songs- December will bring in new listeners. You do not need to be familiar with their early work to get where they are now. The five-track collection sees clean guitars and stirring strings switched with something dirtier and raw. As I stated: all the original River Becomes Ocean elements are there; they have made some minor alterations. These tweaks go into their best work so far. The band sounds more comfortable in their skins. The songs have greater longevity- you will be replaying them and remember riffs and choruses long after they have finished- and the performances are universally tighter and more studied. The boys are at once looser and more honed. These contradictions and progressions would cause problems in lesser bands- fans going off them and the media becoming a little skeptical. River Becomes Ocean's touring experience and knowledge of the music world sees them overcome pitfalls; they have crafted a superb E.P. December is the new single that shows what one can expect: if you love this track (which I do) then you are in for four more musical treats.
Seven is a song that spares no time flirting and dispensing small talk. After some low-in-the-mix electronics- the beast grumbling in the undergrowth- the volume starts to increase and the guys notch-up the offensive. Pusillanimous, spoiling-for-a-fight riffs whip the senses; the percussion goes for the gut- the bass gets the blood flowing and the veins pumped. Right from the get-go, the band dispenses their distinct brand of rough justice: a gut-punch offensive that is like a shot of vodka in the eyeballs. A song that seems primed and oiled for the small venues: you can imagine it sounding pretty roof-raising and immense. Once the introduction has done- and you stop head-banging for a second- our lead comes to the microphone. Anyone expecting a Prince cover or David Fincher reference will be in for a surprise- or perhaps not. There is bloodshed and mystery from the off; sinfulness and deceit; something bleak and harrowing. Our hero has been spurned and tormented. His girl has left him- one assumes the breakup was acrimonious and acidic- and has backs sticking from his back- you "might wanna pull them out" is a helpful stage direction. With the band still adding fuel to the fire- the guitars murmur and the percussion has a low-lying shadowiness to it- the vocal is one of McMahon's most impressive. Whether taken from a painful memory of past love- Seven might refer to a sin or metaphorical murderousness- or based in fiction: you can feel that pain and anger come through in every note. Society, it is claimed, is a cabaret: a shambles that propagates vitriol and attack (if you watch the video- set on the grounds of a council estate- it sees two guys square-up and fight; leaving one of them fighting for life). With his voice at its most gravelly- like his tongue is being pulled through his brain- our man counts to four: "Four for a funeral" is the final commandment/declaration. That mystique and obliqueness make one curious. Whatever the numbers refer to- biblical relevance or part of a modern-day version of the seven deadly sins- it is hard to say. No matter what the origins and relevance: the lines are delivered with maximum intensity and growl; making sure the listener is fully involved with the song.
The girl is officially a bad smell- someone dead to our front-man- and he is in no forgiving mood. Seven is a song that could have been a one-take wonder: such is the anger and purposefulness of the delivery; every player is completely committed and tight. Between the bursts of Hardcore venom: there is a chance for reflection and appraisement. The experience has been rancorous and life-changing- not always for the worse. A learning experience that has brought clarity- our hero is better off without the girl; a weight off his shoulders- those lies and knife wounds are still bleeding and hurting. The Brobdingnagian burden is poking at the psyche; flashing into view at the most inopportune times- causing sub-psychotic burst of recrimination. By the second set of commandments/sins- which are a little too intense for intelligibility- the story is told- the girl is well-and-truly gone. The final minute sees the band introduce a choir (a girls' choir by the sounds) which gives the song a feel of Linkin Park's In the End. Running up the numbers- five is for Heaven; six is for Hell; seven for The Devil- the song is lending a spooky, The Shining-type vibe. The band does not encroach and bleach-out the vocals- remaining brooding; they lurk and fire in the background- which gives the choir an unfettered and harrowing sound. When they come back around- that sweet-sounding, if chilling, vocal- the boys come in heavier and turn the volume up. With the amp set to '12'- a Harry Potter, platform 7-and-3/4; a recess even Spinal Tap were denied access to- the guys throw everything into the mix. The percussion rifles with determined glee; the bass keeps the song focused and together- the guitars are lupine and without morals. The overall effect is symphonic, grand and operatic- albeit, one that attests love's bloodshed and perils (a Wagner opera I guess?!). A musical/operatic mash-up of Der Ring des Nibelugen and Tristan and Isolde: Seven completes its plight and tells his tale. A wonderful, intense song from one of Britain's most promising Post-Hardcore bands.
The Brighton boys have just completed a tour of the continent. Even this early, the guys have accrued international demand and enormous appeal- few bands can attest to that. Right now- in preparation of their forthcoming E.P. – the gang play Sticky Mike's Frog Bar (cool name) on 21st; they move from Brighton to London the following day- The Garage will play host to the quartet. December is going to be met with acclaim and celebration. We Will begins with layered chants and something peaceful: it explodes into a blood-pumping rage before too long; loses control and becomes an insatiable, free-from-the-shackles beast. Lies is not quite as fevered and intense as other tracks: there is more depth and restraint here. Not wanting to fight anymore- tired of the lies and duplicity- there is plenty of emotion and determination on display. The band put together one of their tightest performances here: in a song that is hugely dramatic and memorable. McMahons vocals always threaten to explode and completely lose their head: the fact he manages to keep his cool (by the band's standards) is impressive. Buried at Sea packs plenty of meaty riffs and punchy, precise percussion. Our lead's heart has turned to stone; his soul has been frozen and broken. Using a sweetheart as oceanic metaphor- the waves that crash into him- you get some vivid and poetic lyrics; a huge sense of atmosphere and anger: that tension manifests itself in guttural punctuations- perfectly juxtaposing the accessibility and Alternative vibes.
For Now is the swansong that begins with tenderness and sensitive build. The track aches and yearns; bubbles and spikes- before a croaked and heart-aching vocal unfolds. McMahon is at his most sincere and soul-baring here: reflecting on a love that has gone sour; memories that are spinning around the mind. A lighters-aloft anthem for tormented hearts: it is one of the most honest and open songs on the E.P. When assessing the E.P., McMahon explained it, thus:
This record is very close to us and is reflective of the times we went through whilst writing it. After our old bassist left, we chose to start from scratch writing this record. We still had to hit deadlines and were pushed to finish this record within three weeks. However, this limited time frame and the strong emotions we felt enabled us to write December whilst including our experiences of that period of our lives. The songs each have the influence of our individual feelings. We used this negative energy in the most positive way possible and produced these songs which encompass our passion, drive and heartache. We could not be more proud of this release, seeing as it's a new chapter for River Becomes Ocean, releasing all the negativity we felt and replacing it with the positivity we now experience on a daily basis right now".
That negative energy has resulted in something wonderful and immersive. Whether you are a fan of Post-Hardcore (or not) you need not worry. December is an E.P. that ventures into Alternative and Rock avenues: there are plenty of gentle moments and radio-friendly sounds; enough teeth and lust to satisfy that more at home in a mosh-pit than the higher reaches of huge venues. That is the thing about the band: they cater for polemic tastes and needs. They could fill large arenas and produce a stunning live performance- something that would enthrall the capacity crowd. To my ears, they sound more suited to the intimate, sweatier confines of Britain's unique clubs and venues. I will try and catch the guys in London- unless they come my way- as they seem like a hugely impressive live band. The fact they have filled locations across Europe bodes well. It will not be too long before they go to the U.S. and get demands up and down the U.K.
The World Around Me announced their arrival with a vibrant kick: like a band who had been performing for years; they sounded natural and confident right out the traps. The band are all vegan/vegetarian and advocates of animal rights: loving, conscientious guys who are not afraid to show their sensitive sides. Inside this compassion and love emerges a band who are capable of getting the voice shouting and the bodies jumping. The boys have been to Germany, Austria and Italy: they are back home and looking forward to launching December. After that, they will be on the road and taking their music to the masses. I cannot wait to see how the band's career maps out- whether an album or E.P. arrives next year; what they have in mind. Seven is a song that tells you all you need to know (about December). One of the most complete and memorable songs of the band's career: the Brighton collective are in rich form- rarely have they sounded as confident and determined. Maybe the rough time schedules and negative experiences are conducive to wonderful songs- not something you'd recommend as a recording regime- but whatever works. The guys have taken the stresses and rigours of creative/personal life and turned it into something wonderful. Go see them- in Brighton or London- if you can, because, as bands go…
THEY are filling a gap that few others can.
____________________________________________
Follow River Becomes Ocean
Official:
http://www.riverbecomesocean.com/
Facebook:
https://www.facebook.com/RiverBecomesOcean/?fref=ts
Twitter:
https://twitter.com/TheOfficialRBO
Instagram:
http://instagram.com/riverbecomesocean
___________________________________
Music
https://www.youtube.com/user/TheOfficialRBO