TRACK REVIEW:
Quinn Archer (Ft. Marcus Foster) 
Rest of My Days
9.7/10.0
Rest of My Days is available via
https://soundcloud.com/quinn-archer/rest-of-my-days-quinn-archer
RELEASE DATE: 10 MARCH, 2014
COUNTRY OF ORIGIN: U.S.A.
2014 WPIL
__________________________________________________________________
L.A.-based star Quinn Archer has a seductive and potent voice that can melt the steeliest of hearts. Having struggled in the quagmire of the U.S. music scene, it seems that the future will be a lot less oppressive. The young artist should prepare for a prosperous and busy future.
_____________________________________________________________________
I have been meaning to review this artist for a hell of a long time now.
At the moment, Quinn Archer is working out of L.A., enlivening and seducing U.S. audiences with her incredible voice and stirring music. Many Brits who travel to the U.S. (and find it hard-going) find themselves repatriating, and returning to the U.K. Archer is going to be a future name to watch, and sets herself aside from her contemporaries. As well as her stunning looks and incredible voice, Archer has a genuine passion for music; she has a fond appreciation for her fans, and is always touched when positive feedback and praise are provided. Before I go into more detail, here is a bit more about her:
"British born singer-songwriter Quinn Archer's music is a remarkable blend of gothic soul, a startling combination with a voice of an old-school diva and the temperament of a well-brought up angel. After spending her teenage years at a catholic boarding school in Surrey, Quinn escaped to the bright lights of Los Angeles. While there she played the circuit with her hard rock band Stereofiend, sang back up for Shooter Jennings' band Stargunn and did solo projects with Ricky Philips (The Baby's, Bad English) and Gavin Mackillop (Sugar Cult, The Rembrandts, Goo Goo Dolls). Most recently, Quinn has been playing with her band Juliet's Royal Blood, before deciding to focus on her solo career once the band disbanded. Quinn's tumultuous experiences while touring and playing the Los Angeles circuit come through in her music, expressing feelings of suffering and resolution all at the same time."
It is difficult to compare Quinn Archer to anyone else, too directly. Her powerful and emotive vocals incorporate an element of Adele. There is that same raw power and sense of passion in her tone; when the voice is more romantic and imploring, it has elements of Christina Aguilera and (one of the U.K.'s newcomers) Alison Levi. In all honesty, Archer comes across as a unique and original talent. If you are a fan of Adele and Aguilera then you will not be disappointed, but her music appeals to those whom adore a strong and compelling voice: one that is filled with conviction, urgency, beauty and seduction.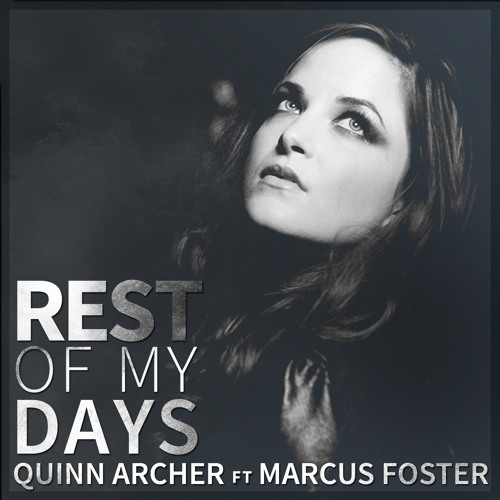 Rest of My Days is a slight departure from Archer's previous works. Dark Places have a weighed and empty heart; the track looks at a former love who has broken Archer's heart; she confesses she is done wasting tears (on him), and the song looks at a break-up that has left its scars. Walk Through The Fire investigates love and trial-and-error; going through the bad times and making mistakes, in order to get things right. Thematically, Rest of My Days is more redemptive; its heart is more romantic and touching- yet a lot of common voice remains. Impassioned vocals, touching lyrics and a tender composition can be heard (as you'd expect), and Archer keeps all of her hallmarks and singular voice in tact. The song is a natural progression and a creative step forward; imbued with a sense of optimism, it could well point to what future songs will sound like.
Touching and moonlit piano touches begin Rest of My Days. Instantly, anxieties and stresses are calmed, as the soothing notes seep into your senses. When Archer approaches the mic. her voice is beautifully still and evocative. Speaking to her sweetheart, she knows that he'll come "through the dust and smoke"; Archer's heart is firmly on her sleeve and you can sense an emptiness and longing; a pining for her love as it were. When Foster come into the mix, you cannot help but ignore the instant impact. His voice has undertones of Aaron Neville, but is a darker and richer instrument; a perfect counterpoint to Archer's sweetness and delicacy, Foster's silky and husky tones are compelling and beautiful. When the duo's voices are entwined, the biggest emotional hit is elicited; the song's aching and heartfelt words come starkly to life. When the two sing "I still find it hard to believe/that I'm never gonna break your heart", you can hear that sense of loss and strain; the sense of heartbreak is evident. The song acts almost like a call across the oceans; you imagine Archer being in a lonely cafe in L.A.; Archer being in London or further afield- singing and calling to one another across the land. Throughout the early stages, the vocals are left to speak the loudest. Piano elements and intonations are kept sparse and unobtrusive; there is no needless noise or force, meaning that the whispered notes blend seamlessly into the mix- and augment the lyrics wonderfully. Our duo confesses that to be without one another forever would be too much to take; if life meant being without one another, then sorrow and loneliness would overcome them ("I could never make it through"). It is hard to thing or any modern-day duets that have such a force and beauty. A few recent attempts (by mainstream) acts have trodden the same themes and lines, yet none (for my money) have done so as effectively and stirringly. Archer and Foster's voice seem ready-made for one another, and it sounds like they have been singing with one another for years- that sense of intuition and naturalness come through in every note. The composition reminds me slightly of To Build a Home (The Cinematic Orchestra ft. Patrick Watson). There, subtle but yearning strings mingled with open-hearted piano to give the track an immense beauty, stillness and tenderness. As the closing notes are proffered, you wonder whether the duo ever made it to one another, or are whether their hearts are destined to remain disconnected and longing. Rest of My Days is a song to reflect to; when the light is fading and you are taking stock of your life, it is a track that helps the decision-making process. Similarly, anyone involved in a difficult relationship can find solace and meaning here; as can anyone who pines and longs for someone they cannot have.
In spite of suffering the jet lag of the touring circuit and struggling a little in L.A., Quinn Archer should hold firm, and be very proud. The handful of songs under her belt suggest a talent that has a long-term future. Archer's emotive and striking voice is very much her own; it is hard to compare it with too many other acts of the moment. Her songs cover a wide range, and Rest of My Days is a track that gets inside of your heart, and strikes a chord. Tenderness, romantic implore and emphatic emotion come to the fore throughout, and Archer and Foster blend wonderfully. I feel that Quinn Archer will be making E.P.s and albums for years to come, and will be getting the recognition she deserves. With a starling beauty and an incredible songwriting talent, it will not be long until many more faces and names are familiar with her music. It is clear that Archer loves what she does and is determined to make it big in years to come. Music is a notoriously tough and crowded sector, yet she sets herself apart from her peers with her unique voice and down-to-earth approach. When she finally does make it big in the U.S. I just hope that she allows herself a chance to relax…
AS well as come home and see us here in the U.K.
____________________________________________________________________________________
Follow Quinn Archer:
Official:
Facebook:
https://www.facebook.com/QuinnArcherMusic
Twitter:
https://twitter.com/Quinn_Archer
YouTube:
https://www.youtube.com/user/QuinnArcherMusic/feed
SoundCloud:
https://soundcloud.com/quinn-archer
Last F.M.:
http://www.last.fm/music/Quinn+Archer
Google+:
https://plus.google.com/100002515165955233869/posts
Instagram:
http://instagram.com/quinnarch#
iTunes:
https://itunes.apple.com/gb/artist/quinn-archer/id778724979
____________________________________________________________________________________
Tour dates available at:
http://quinn-archer.com/?page_id=95
____________________________________________________________________________________
 Quinn Archer's previous videos can be viewed at:
http://quinn-archer.com/?page_id=15