TRACK REVIEW:
Ruby Macintosh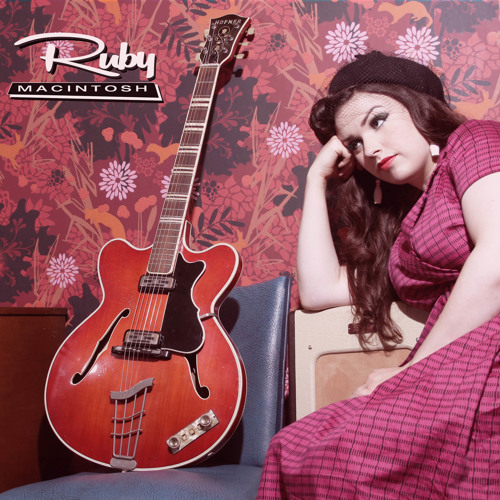 Lady Killer
9.2/10.0
The song, Lady Killer is available from:
https://soundcloud.com/rubymacintosh/lady-killer?in=rubymacintosh/sets/ruby-macintosh
The album, Ruby Macintosh is available via:
http://www.rubymacintosh.com/shop/4578920652/Ruby-Macintosh-Album/6427563
___________________________________________________________________
From a county which is offering up some of music's biggest treasures, Macintosh's '40s-'50s-influenced music provides originality and glamorous lustre. Her debut L.P. marks her out as one of new music's most exciting talents.
_____________________________________________________________________
SOMETHING has been missing from music as-of-late, it seems.
Well, probably a few things are missing. It has been a while since I reviewed Yorkshire-based artist Little Violet. Last March I surveyed her tracks Don't Stop and Shut Up; not only surprised by the vibrancy and quality of the tracks on offer- but how different they sounded. Up until that point, most of my reviews concerned bands and Rock acts; each of whom were brilliant- but tended to sound a little too samey. Compared with Little Violet, they sounded damn right homogenised; missing the sparkle and kick that made her music so revealing and awe-inspiring. A lot of modern acts tend to project modern sounds and reflect the sound of modern-day life. Obviously, various artists take influence from other acts and time periods, but you find few artists whom have their (musical) heart and soul lodged in a bygone era. Little Violet's music invokes the spirit and jive of '40s and '50s Swing music. Giving it a retro shine and updated sound, her mandates are awash with the sights, sensations and sonics of the time- parping brass, twanging double bass and a whole lot of merriment. When I listen to a track such as Don't Stop, it is as is the kind of song you could imagine The Andrews Sisters recording. Cherrie Gears' (the lady behind Little Violet) voice drips with style, conviction and panache; the song has a rhythmic dance that one would move their feet to in a London ballroom during the Second World War. Our heroine herself is a stunning and gorgeous icon whom is one of the bravest musicians out there at the moment. I know of other acts whom are dipping into the annals of history (when creating their tracks), but they are in the minority. The reason that Little Violet got under my skin (and still does) is because her music is so different; it compels you to investigate the Swing-era; the tunes whip your feet into a frenzy; you cannot help but sing-along- how often can you say that about a new act? Contemporaries such as Caro Emerald are at the forefront of a wave of pioneers whom a daring to be different; Little Violet is amongst them for sure. The other facet that really appealed to me, was her aesthete and image. Her live performances are memorable and intimate, and she travels with a small band- bringing her brand of modern/Electro-Swing to hungry audiences. In her music videos, Little Violet looks the part of the 1940s heroine; the fashion and scenery is all authentic and as it should be. There is colour and flair to her music; an innate passion for music itself; a sense of adventurousness- her music is influencing more people than she may be aware of. One of the most disappointing things about new music, is the lack of endeavour and thoughtfulness, when it comes to the music. There are entire genres that have been relatively unexplored, such as Jazz, Doo-Wop and Blues, yet you hear few modern artists re-invigorating these styles of music. They should not be relegated to niche segments and audiences, and have a definite place in the mainstream. New music will thrive hardest when there is genetic diversity and variegation; if we hear Rock, Indie, Pop (and a few other genres) then stagnation and predictability occurs. You do not have to be a fully fledged copycat Billie Holiday, Robert Johnson or Ella Fitzgerald; you can incorporate a semblance of their artistry, update and reconfigure it appropriately- and then disseminate and distribute it to your audience. I just feel that there is not enough colour and innovation in new music; perhaps artists are too scared to embrace previous eras and artists- we need to be bolder. My featured artists has a long history ahead of her, and embodies a great deal of originality, classic evocations and vibrant sex appeal. I shall introduce her anon, yet will raise one more meeting subject. You may think that I have a bias towards Yorkshire (Little Violet's Cherie Gears is based in Leeds); but there is a lot of bustling and eager music-making occurring here. Many a time I have mentioned Cuckoo Records, the Leeds-based record label. I shall not go into too much biography but they are representing some of the county's brightest stars (including Little Violet). The likes of Annie Drury, Raglans (who hail from E.I.R.E.), Cissie Redwgick, Rose and the Howling North and Jonnythefirth have all been under my radar, and I am always staggered by the breadth and depth of their music. Detroit-flavoured Blues-Rock mingle alongside stadium Rock; there is so much on offer for all types of music-lover. Away from the Cuckoo nest, modernists Jen Armstrong and ISSIMO are flying the Yorkshire flag proudly. Some of the bigger cities such as Manchester, Liverpool and London are doing their bit for music, but for my money, they provide too few genuinely terrific acts. Perhaps there is too much media expectation; a lot of up-and-comers waiting to take centre stage, but I feel that there is not enough variation and ambition. I have reviewed acts such as The Castro's, Crystal Seagulls and Bourbon Street Beat whom emanate from these areas, yet I am hearing little evidence to suggest that the larger cities will be providing great future-potential. Leeds is the best example of a city where its musical citizens are making waves; its environs and sister towns are playing host to new music's biggest dreamers- those whom not only deserve future glory, but will go out and get it. I am always filled with admiration when it comes to a new act. The job of getting yourself 'on the map' is hard enough; getting people to listen to music at all can seem like an endless migraine- often artists capitulate before they have even begun. I have witnessed too many acts come through and fall at the first hurdle- I can always sympathise hugely when this happens. There is a veritable labyrinth of considerations (financial, personal and otherwise) the fledgling artist has to negotiate, so if you are able to overcome these- and obtain success- then full credit should be given. I have had to dig too deep and hard to unearth some really wonderful talent, and it is getting a bit tiresome. I know for a fact that some new music websites are coming through, taking on the burden of promoting the best out there; as much as anything, a lot of artists are having to work overtime (when they don't need to)- it is worse for solo acts. Because major festivals and venues still place a premium on bands, the solo artist has their work cut out trying to get onto the radar. What has impressed me most by the (solo) artists I have reviewed, is their sheer determination. They are aware of the effort and persistence that is needed, and are headstrong and unfazed. My featured artist is someone whom has been working tirelessly to promote her music, and is deserving of a wider audience.
Ruby Macintosh is a talent I have been aware of for a little while now. Having reviewed various Yorkshire-based talents such as ISSIMO and Jen Armstrong, I was made aware of Macintosh's name- and varied musical palette. Here is a young artist that- whilst being a definite pin-up and poster girl- is as hard-working and ambitious as they come. Our gorgeous heroine has been wowing and entertaining her home crowds for a long time now; she is someone whose name and talents will be made seeping into the mainstream before too long. On her Facebook page, Macintosh lists her interests, thus: "The glamour and fantasy of old film stars, the way I wish the world was in my head, sometimes real life, my family but mostly my songs are about myself or how I feel about someone else – aren't all songs?". There is a clear sense of vintage scenes, dreams and real-life heartaches that come through in her music. If you look at Macintosh, she has the look of a classic movie idol; her Vivien Leigh beauty, mixed with a vintage wardrobe stands her apart from the crowd. It is unusual (in 2014) to see someone whom has the look and feel of a '40s/'50s movie star- you are fascinated before you ever hear her sing. The pathway to prominence has not been an entirely seemless and smooth. Our heroine has had to work hard to get to where she is now; she is working hard (as we speak) to ensure that as many people as possible are attuned to her brand of song- it is a tactic and determination that will pay dividends. Before I take you further into Macintosh's mind and music, here is a short biography about our Yorkshire heroine: "Ruby Macintosh is a vivacious singer songwriter from Yorkshire inspired by music of the 50s and 60s. This retro pop siren with an air of nostalgia about her continues to captivate audiences up and down the country with her old school glamour and down to earth humor. Ruby studied at LIPA where she sang for Sir Paul McCartney, supported the Kooks at a secret gig and played at the Cavern for the prestigious Sound City festival in Liverpool. Since leaving university she has performed all over the country, from Catterick's Help for Heroes party to London's Vintage fashion fair. This songstress is now working as a full-time musician to promote her original music with the help of the Princes Trust. Since gaining support from the Princes Trust she has performed for HRH Prince Charles and recorded a self-titled debut album of original material. You can find the album on Itunes, on her website, at The Princes Trust Tomorrow Store in London and at her local record shop Wah Wah Records. The album has been featured on BBC Introducing Leeds with Alan Raw playing her original material, Ridings Fm as well as a few local internet radio stations. Currently, Ruby is being talked about the local press and is set to tour a myriad of independent venues and events, promoting herself and local live music to reach a larger audience. To see where is playing next, please see the 'gigs' page. For up-to the minute information about what she is doing you can join her Facebook 'like' page or follow her on twitter. Keep your peepers at the ready for tour dates coming soon near you". One of the most impressive things about Macintosh is how she can project a genuine knowledge of the music from the '50s and '60s; update its sound and energy- wrapped around lyrics that are relevant and modern. It is the down-to-earth and girl-next-door quality that comes through when you hear the music. Our heroine is a musician whom is both striking yet approachable; vivacious yet sensitive- someone who can fit directly into the modern (mainstream) music scene. When looking at the interests of our heroine, she herself gives us some insight: "Dresses (obviously), glitter and shiny things, cake, Dr Who (David of course), dirty blues and jazz, musicians that make you melt a bit when they play, adventure, shoes that make me look like a normal height person, sunshine and clear water, my loved ones, my glue gun, not dropping my guitar, well-being, truth, warmer weather, touring the country in my VW camper van (that i don't have yet.. feel free to buy me one), hope, wine and cheese, and many other things that aren't important enough to list or i don't know how to spell". It may seem like I arriving late, with regards to her debut album (it was released last year), yet it is a collection that is deserving of attention and consideration. There are plenty of female solo acts working away at the moment, yet few whom have the same sound and identity as Macintosh. Reception for her debut L.P. was effusive and positive, and the local media were quick to highlight how confident and vivacious it was:
"…love child of Paloma Faith and Lily Allen, bringing fifties sex appeal to catchy and modern lyrics."
Leedsstudent.org
"…talent that should be on everyone radar …"
David Pickersgill, Wakefield Express
"What a debut!!! I can't believe this is a debut album! From start to finish the songs take you on a wonderful journey of love and heartache and cherry pie's! All set in a wonderful fifties setting. Then all the way through, this edge starts to build – it starts in Hey There Cutie.. a real attitude! Then again in I Don't Miss A Trick and it just hits you in the ears by the time you get to Lady Killer!! What an album. highly recommended piece of work from a lady who is going to wonderous places!! Good luck to you Ruby!! Fantastic! A masterpiece!"
Tim Hearson, iTunes reviewer
" Yorkshire's Sweetheart"
Bangtidy Burlesque
Macintosh has vibed and fed off of the positive feedback- as well as support from fans and friends- and I hope it is momentum that will compel her to record some new music very soon. There are not too many new acts whom expend a lot of consideration and time with regards to their online profile and web page. Our heroine's official site is about as striking and well-designed as they come, and your eye is instantly struck. 'Colour', 'vibrancy' and 'style' are the first words that come to mind; everything is clearly laid out and beautifully presented. The music from Macintosh- which I shall investigate shortly- is compelling and layered, yet her background is equally impressive. Macintosh comes from a working-class background (in Yorkshire) and has fought hard to get where she has. Ten months ago, the Wakefield Express ran an article about Macintosh; one which went into detail about the hard times she has faced, and how determined she is: "The 26-year-old who has always wanted a music career, said the best thing she has ever done is turn to His Royal Highness's charity, The Prince's Trust for help. She said: "I was working 50 hours a week in a coffee shop and handed my notice in after getting a new job that would give me more time to concentrate on my music, but it fell through just before I was about to start". After ringing her family in tears, it seemed as though future endeavours would be bleak and tumultuous. Macintosh has a quandary to face, and seemingly had only one option: "I decided to go busking. I made £200 in a day and it made me realise that music really was what I should be concentrating on." Having contacted the Prince's Trust, they put her on its Enterprise Programme- assisting her fulfil her music ambitions. Finances were made available, ensuring that Macintosh could buy equipment (to help record her album); something provided invaluable: "My family is poor, so there is no way we would have been able to pay." This opportunity and largesse afforded our heroine the chance to bring songs to life; to ensure that the public got to heard music that had been in her mind for a long, long time. This turnaround not only inspired Macintosh to drive through with her music, but revitalised her as well: "I am so grateful to the charity – and this event will help raise money for other people who find themselves in the position I was in. I am a completely different person now to the one who picked up the phone. I've got my confidence back and have lots to look forward to". I sat down to investigate the wonders, personal insights and scenic tableaux of Ruby Macintosh's debut album; surprised and stunned by the quality, range of sounds and energy that runs through the eight tracks. When selecting a fitting representation, my mind was struck by Lady Killer: a track that highlights our heroine's strengths; draws in all her inspirations- and shows what a talent she is.
Here is a track that has been marked out as a fan favourite; it is a number that has garnered a lot of attention. From the outset, it is a song that means business. Some vibrating and echoing guitars blend with our heroine's voice which is instantly striking and purposeful. The mood is darker and more twilight here; not only marking a sonic and emotive shift, but showing another side to Macintosh. The subject of the song is shadowy and is a homme fatale. The streetlight is on, and the moonlight shining bright. With our hero "Standing outside/With your glass of red wine", our heroine is beckoned in; tempted by a force that (she should stay away from) she is helpless to resist. There is an air of 1950s Jazz; you get the impression of Billie Holiday and Ella Fitzgerald coming through in Macintosh's vocals- as well as the smoky and steamy composition. With her voice inflamed and overwhelmed, our heroine begs the question: "How do you do this to me?". The song's opening moments were calm and steady; they lead you into the night and tempt you forth. Her beau is tall and handsome, a man whom has the looks to lead our heroine astray. Macintosh's voice is strong and determined, yet shows a vulnerable edge in this number; it trembles and quivers with emotion during some of the words. Backed by parpring and spritely brass, our heroine proclaims: "I don't know if you're lying or being true". Our anti-hero is a poison apple; an arrow to Macintosh's heart, and someone whom has cast his spell. Whether the central figure is based on a former sweetheart, or fictional, I am not sure; yet it seems that he is causing quite a stir. There is a great quiet-loud dynamic in the song. It bursts into life into the chorus, allowing the vocal and composition to explode; yet is soft and teasing int he verses. Our heroine explains that "You could have any girl to hold your hand"; extolling his aesthetic virtues, Macintosh is curious why she is being chosen; why he has this hold on her. There is conviction and emotion in the vocal performance; as the song progresses you get the sense that there may be some personal history and relevance to the lyrics. With a sense of capitulation, our heroine states: "I surrender myself at your feet". Our man in the scene is throwing our heroine off her game; throwing her off her feet and seducing her truly. When brass mingles, melts and spars it adds the emotion and energy; emphasises the tension and sense of anticipation as well. There are questions in Macintosh's mind, as she wonders "where is this going?"; if she is going to be adored and kept safe, or merely cast aside. The song's energy and kick marries '50s Jazz together with '40s Swing, and will lodge inside your head. It would make for a great potential music video as well, and there are multiple angles and ideas that can be explored. Such is the nature of the song, that you are always rooting for our heroine, yet have a cheeky and guilty affection for the Lady Killer himself. Our heroine wants a romance for life; some security, but as she explains (with regards to our hero): "I couldn't take you home to meet my parents". Like previous numbers on the album, its heart and images are rooted in a past time; where there was some innocence and mystery to romance, yet there are plenty of modern touches and roots, too. When our heroine declares "I was a fool to think I could take you", there is a sense that the battle may be over and there is no way back. The song evocatively projects images and scenes into your head. To my mind, events take place in the '40s; in a smoky bar and with cigarette in his mouth, the hero never lets his gaze drop. Across the other side of the room, our heroine coquettishly averts her gaze; keen to not be caught in his web, she admits: "You're such a charmer". As the song comes into its final third, Macintosh realises that everything he says is a lie; she feels foolish for not realising it sooner, and is keen to become disentangled. The man is no more than a "cheap thriller", and is bad news. It seems that there are just skin deep qualities; no soul underneath- just looks and (misdirected) charm. With the mood subdued and calmed down, our heroine confesses; "Lady Killer/My heart beats faster". Elongated holding her words, she elicits a whoop; before the atmosphere bursts into life. With harmonica entering the fray and adding electricity and rush, a delicious Blues sound comes into view. Brass is still there in the mix, but it is the (electronic) harmonica which weaves and strikes; it dominates and gets under your skin. Perhaps the appropriate weapon of choice, it not only evocatively scores the mood, but also perfectly takes us into the final moments. With the lights down and the pace relaxed, our heroine is back on the mic. The song's title is sung and teased once more; and with her voice quivering and overwrought (backed with one last blast of harmonica) the song reaches its conclusion.
On the evidence of Lady Killer alone, Ruby Macintosh is a name to watch closely. She has the stunning beauty and heart-melting looks to seduce, yet it is her music which sets her apart from her peers. As well as Lady Killer, I investigated the album as a whole, and was mesmerised by the confidence within. See You Later builds off of a dreaming brass sway; one which is both breezy and romantic. You get images of a '40s heroine, walking down a black-and-white street. Our heroine wonders if love is a waste of time; with her voice sturdy and direct, we survey the break-up of a relationship; her man claiming: "It's not you/It's me". With the offer of friendship, our heroine is let down gently; her beau offering excuses and platitudes- words and lines trip and dance their way into your brain. With a strong vocal performance and an impassioned and memorable composition, it is a solid opener which lays our Macintosh's strengths- sharp and personal lyrics, tied with music which puts you in mind of the (female) Jazz greats; as well contemporaries such as Paloma Faith and Caro Emerald. I Don't Miss A Trick is a skippier and more rampant number; our heroine directs her attention to an unnamed target- one whom has a "hidden agenda". Someone whom offers "no-good cheating" is being read the riot act; scrutinised and dressed-down; against a striking sonic backdrop, Macintosh let's her voice run riot; rising and punching- as well as having tender and sensitive moments. The subject matter is something that can be understood and relate to nearly everyone, and almost everybody can picture the type of person our heroine is singing about. With a composition that is subtle yet evocative, it is another song filled with conviction and passion- and completes a memorable duo of tracks. Dreamy and twinkling pianos score the musical recipe that is Cherry Pie. A "pinch of salt" as well as "some sugar" are thrown into the mix- Macintosh's voice is teasing and striking throughout. The charming themes and lyrics are what hit hardest, and whilst our heroine is "similar on paper" to her target, she is not made "so simply". Casting herself in the guise of a cherry pie, the song is a unique take on love, with our heroine sitting on the shelf- "waiting for you to take me home". A punchy and pervading percussive thud, together with wordless vocals, open up Hey There Cutie. Our heroine asks her man "Why don't we Jitterbug?"; her voice sounding far-off but empassioned- sounding quite like a classic Swing track. The chorus is problem one of the catchiest on the album, mixing cute wording with carefree romance, Macintosh wants her subject to "get off your booty". The track is filled with great imagery; the song's smile puts you right in the picture- once again you can imagine what is happening in each scene, and what our heroine sees. Some distorted vocals and skiffling strings give the track a sexiness and smoky allure- you can feel the lights dim and the intrigue build. Whereas the opening tracks have had their unique sounds and themes, Hey There Cutie is a chance for Macintosh to showcase her vocal range- as well as take us somewhere new and fascinating. Wild Horses is a beautiful and calming number; our heroine begins by stating that "Wild horses/Couldn't keep me away from you". If you are expecting a Rolling Stones cover, then think again. It is a touching and tender paen to a lover; a man that she can not keep away from and longs to be with. There is a unquenched sense of innocence and purity throughout, and it is a song with no hidden agenda or flaming ace- no sharp tongues are waiting to strike. The song boasts some of Macintosh's most memorable and humorous lyrics. With alien invasions and vehicular strife, she states that- in spite of any obstacle- "I'd fly to wherever you might be". It is a sort of transposed and re-inspired take on 50 Ways to Leave Your Lover. Instead of escape routes and sour love, our heroine is prepared to negotiate a plethora of hazards and natural disasters- so that she can get to her sweetheart. Once more, our heroine is up front; backed by a augmentative and playful composition, her voice is queen- you can hear the cheeky grin and sly wink in her delivery. A beautiful mid-way point, Wild Horses leaves the listener in a better mood; and keeps the album's momentum going. Kicking feet and Swing-like sway put Will You Be Mine into the spotlight. Rolling and pattering percussion; mixed with brass give the song a lively and dancing swirl. Our heroine is in love-struck mood, looking out to her hero, and asking: "Will you take me out to dinner?". Macintosh is fond of her beau, whomever he may be has clearly caught her eye (and heart). Wondering, "Will you take me to meet your mum?", our Yorkshire girl is prepared to charm her man; take him out and show him a good time. There- once again- is no proclivity or seediness; vintage romance is the order here, and dignity and pure romance at the core. You cannot help but to be carried along in the song's charm (it is becoming a byword for Macintosh), as well as get your feet moving. Starting life with soft and seductive acoustic guitar, Raspberry, Strawberry, Gooseberry Jam's first few seconds are a slight red herring: before long our heroine is in full voice. With a composition that is waltz-like and woozy, early words have an oblique quality, and sense of mystery: "I didn't try very hard to fit in/I lost all of the game that we played". There are childlike qualities to the words; cautions and fait accompli mingle alongside painted rails and future questions. Our heroine wonders what her life will be; "What will I do for a living?"- yet they are not issues that are weighing her mind down. The song is almost a nursery rhyme, a number that sees a carefree heroine smile: "Raspberry, Strawberry, Gooseberry Jam/Tell me the name of your young man". With swooning brass and another set of charming and quotable lyrics, it is another strong and memorable track. Considered what a difficult time Macintosh had (getting her music career started), it is impressive and a huge relief that she has come through it. A lot of people would be deterred and scarred too much; afraid that they would not make it, yet our heroine (with the help of the Prince's Trust) has succeeded in putting together an incredible debut album. The tracks are carefully considered and beautifully realised; our heroine's voice is a striking facet that wins you over with every new track. For someone making her first in-roads into music, her songwriting is remarkably assured and well-structured. She is a skilled lyricist and storyteller, and mixes personal heartaches and set-backs, with positivity and tantalising slice-of-life scenes. Coming from a county that is showing itself to be at the forefront of modern music, Macintosh is one of the best Yorkshire has to offer. As well as an incredible sex appeal, an engaging and lovable personality, there is no air of woe-is-me to our heroine. If we were on a reality talent show, contestants (in her situation) would be milking it for all they are worth; prodding for sympathy at every turn. Our heroine has had a difficult trajectory, yet her music is what matters most, and she is determined to keep the momentum going. With her inaugural album a year old, I am sure there are going to be plans for a forthcoming E.P. or album. Our heroine is a busy and vibrant creative mind, and is someone who is intent on being a big future name. In many of my reviews I have seen artists arrive whose sound is ready-made for London; for U.S. audiences and European crowds. Macintosh's vintage chic and modern-day mandates are a rare breed in the current scene, and I hope that her originality and intentions lead her to huge things. I can genuinely see her playing some huge venues in the future; if she comes to London I would love to see her perform. Her voice and music- to my ears- can be extrapolated and adapted for American audiences, and there is a huge gap that she can fill.  Similarly, her sound has European tones and qualities (Caro Emerald is one name that springs to mind), and countries such as Germany and France would welcome her with open arms. It is probably the least she deserves, as it is clear that music is paramount to Macintosh; the business of taking her music to as many people as possible, you sense, means more than anything else in life- it is a passion that shines through in her songs. It may have been a difficult last couple of years, but things seem to be on the up. There are record labels and venues whom could benefit from having Macintosh on their books and many people I know whom love her brand of song. Being from a working-class background- and having very little money to by name- I can emphasise and relate to our heroine's plight. Whilst writing my songs, I am acutely aware at how much it will cost to get them recorded; every note and line has a pound value added to them- it can be a depressing realisation. I am sure that back in 2013 (and before) Macintosh was working all hours; writing music at the same time; wondering whether she would every be able to afford to record them. After losing her job, the idea of having a successful music career would have seemed non-existent. This year has seen our heroine earn some plaudits; play some great gigs and make her name known to more people- and there is still more work to do. The rest of this year (and 2015) will see her build upon that, and prepare her future. I started this review, by looking at a relatable case study: Little Violet. Signed to a notable and reputable Yorkshire label, she has a natural home that has allowed her to cement and build her career. I know that there are new songs afoot (for Little Violet), and her brand of Electro-Swing and evocations of the roaring '40s have been in my mind for a long time now. Macintosh is a name that, not only could see herself snapped up by an eager label, but go onto bigger things. Those whom show themselves to be unique and different will always have a harder fight, yet will always earn greater rewards. I have reviewed many bands and acts this year whom are wholly individual, and I am seeing their stocks rise, and their names celebrated. I am sure that Macintosh has her feet firmly on the ground, but she should be thinking of the future. Our young heroine's debut is a stunning collection of tracks that will appeal to music lovers of all genres; her music does not alienate or divide- it is universal and relatable. There are too many new musicians whom get undeserved credit, or else gain unwarranted acclaim- which always erks me. Too many are overlooked or undervalued, and if music is to grow and adapt, then we should be fostering talent such as Macintosh. It may be early days (with a lot more to come), but you can sense a young woman with a lot to say; she wants to get her music heard and remembered- and be on the scene many years from now. It is not often that I get excited by a solo talent to such an extend, but I am with Macintosh. If you are tired of some new acts and are looking for something that can not only inspire but make you smile, then do yourself a favour…
AND investigate one of the U.K.'s future stars.
____________________________________________________________________
Album Track Listing:
See You Later
I Don't Miss A Trick
Cherry Pie
Hey There Cutie
Wild Horses
Will You Be Mine
Raspberry, Strawberry, Gooseberry Jam
Lady Killer
Ruby Macintosh BBC Radio Leeds 22 – 2012 – 1
Standout Track: Lady Killer.
____________________________________________________________________________________
Follow Ruby Macintosh:
Official:
http://www.rubymacintosh.com/home/4583476710
Twitter:
https://twitter.com/RubyMacintosh
Facebook:
https://www.facebook.com/pages/Ruby-Macintosh/262222443806442
SoundCloud:
https://soundcloud.com/rubymacintosh
BandCamp:
YouTube:
https://www.youtube.com/user/RubyMacintosh
Last F.M.:
http://www.last.fm/music/Ruby+Macintosh
Songkick:
http://www.songkick.com/artists/5076138-ruby-macintosh
iTunes:
https://itunes.apple.com/gb/artist/ruby-macintosh/id724138385
Flickr:
https://www.flickr.com/photos/john2755pics/10804682025/
Tour Dates: